THE WORK CONTINUES
Reflections from President Bill Clinton, Secretary Hillary Rodham Clinton, and Chelsea Clinton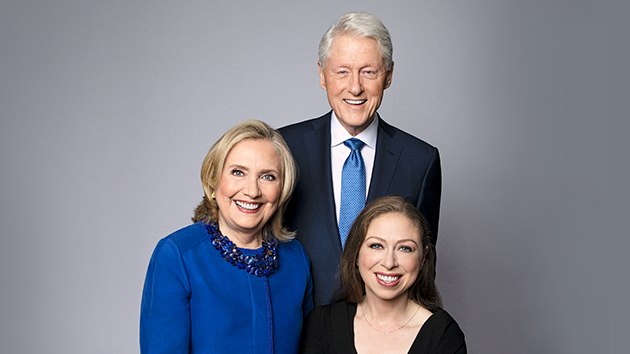 Dear Friend:
We have always believed in "putting people first" and that everyone plays a role in building a more inclusive, equitable, and sustainable world. Over the past year — as we've continued to grapple with the realities caused by a global pandemic, climate change, economic inequality, nationalism, and attacks to our fundamental human rights — it is as important as ever to confront these challenges and continue the work of creating a better future. 
In 2022, we were proud to come together with you and the Foundation's partners to meet the urgency of this moment. 
We reconvened the Clinton Global Initiative community with a simple mission: take action together. Partners from the private, public, and nonprofit sectors came together to announce 144 new Commitments to Action. These projects will drive measurable action on climate, health equity, economic inclusion, women's rights, and humanitarian response for refugees — particularly those suffering under the atrocities carried out by Russia's unprovoked and unjustified war on Ukraine. They join a growing portfolio of more than 3,800 projects announced through the Clinton Global Initiative since 2005 that are making a meaningful difference in the lives of 435 million people worldwide. We're looking forward to building upon that impact throughout the year, especially at our next annual meeting in September. 
We launched a special exhibition called "Women's Voices, Women's Votes, Women's Rights" at the Clinton Presidential Center, exploring the risks women and their allies took and are still taking to fight for human rights over the past two centuries. These issues remain a priority across the Foundation, and each of us plays a role in defending and advancing the fundamental human rights of girls and women — once and for all. 
We engaged the next generation of leaders who are tackling pressing issues facing their campuses and communities. Together with the American Association of Community Colleges, the Clinton Global Initiative University grew to more than 11,000 student leaders and alumni dedicated to social impact learning, leadership, and action. We also announced we'd bring the meeting back together in person for the first time since 2018 at Vanderbilt University. (In case you missed it: we were in Nashville in March for an inspiring and unforgettable few days focused on the future). 
As always, we continued to keep score and expand our programmatic impact through our unique partnership-driven model:
1.4 million children's books provided.

Now in its 10th year, Too Small to Fail has provided 1.4 million free children's books, toolkits, and early literacy resources to communities across the United States.

665,000 doses of lifesaving naloxone distributed.

Together with partners, the Overdose Response Network has distributed more than

665,00

0 doses of overdose-reversing naloxone to recovery residences, high schools, universities, and community organizations.

479,000 students and educators reached.

The Clinton Presidential Center has helped students and educators connect the lessons of the Clinton administration to the challenges of today t

hrough free

educational and cultural programming.

160,000 farm workers supported.

The Clinton Development Initiative continued work with farming communities in Rwanda, Malawi, and Tanzania to support 160,000 farmers with improved access to markets and economic opportunities.

3,500 administration and campaign alumni engaged.

Through Project 42, we're re-engaging alumni to help us in applying the enduring lessons from the Clinton administration to the challenges of today.

400 Presidential Leadership Scholars connected.

The Presidential Leadership Scholars welcomed a new class fr

om nonprofit, military, public, and private sectors to their 6-month leadership program

—

a

community of bold and principled leaders committed to working together despite their differences and driving progress on the issues they care about.

71MW of clean energy projects facilitated.

These projects, under the Clinton Climate Initiative, serve the populations hardest hit by climate change and demonstrate what's possible in the global fight to cut carbon emissions.
Last year also marked the 20th anniversary of the Clinton Health Access Initiative (CHAI), which originally launched as part of the Foundation and has since grown into its own independent charity. Over the last two decades, CHAI has partnered to scale lifesaving treatment to more than 21 million people globally — a feat once thought impossible. At the beginning of this century, treating HIV cost more than $10,000 per person per year in low- and middle-income countries. Today, that price is $60 per person thanks to CHAI's pioneering work negotiating price reductions and generic licenses, as well as critical efforts from partners like the Global Fund, PEPFAR, and Unitaid.
Additionally, the Alliance for a Healthier Generation, founded as a partnership between the Clinton Foundation and the American Heart Association, is transforming the everyday places children spend their time into healthier environments that can help set them up for success. Since 2005, more than 31 million children have benefited from increased access to nutritious foods, high quality physical activity, improved social-emotional skills, and tobacco-free environments.
Finally, we established the Hillary Rodham Clinton Leadership Project at the Clinton Foundation. As the home for her continued nonprofit endeavors and advocacy work, the Hillary Rodham Clinton Leadership Project is dedicated to strengthening democracy, advancing the health and rights of women and girls, and empowering a new generation of leaders — and will take the first steps to build a permanent Hillary Rodham Clinton Institute.
We are incredibly proud of all that has been accomplished together through this work. We also know that every success and opportunity should be treated as the challenge to do more, do better, and help even more people build better lives for themselves and their communities.
So we thank you for being part of this community and accepting that challenge. Your continued partnership, support, and engagement with this work has reaffirmed what has guided us from the very beginning — the simple idea that we can accomplish more together than we can apart. 
With gratitude,