In-Person
Clinton Foundation Gala

Join us on May 25 in New York City
Join us for our in-person Annual Gala with President Clinton, Secretary Clinton, and Chelsea Clinton to benefit our programs and partnerships that are expanding economic opportunity, improving public health, confronting the climate crisis, and inspiring civic engagement and service. This event will also pay tribute to Secretary Donna E. Shalala and Ambassador Andrew Young for their extraordinary leadership and commitment to public service.
We are committed to the health and safety of all attendees and will follow public health and safety guidelines as recommended by the CDC and state and local governments, including requiring COVID-19 vaccinations.
Honoring the 2022 Clinton Global Citizen Award Recipients
Established in 2007, the Clinton Global Citizen Awards honor outstanding individuals for their exemplary leadership and groundbreaking work that have effected positive, lasting social change. Through their uncommon abilities to strengthen civil society, these visionaries inspire us all to take action and to become true global citizens. Click here to make a donation in honor of Secretary Donna E. Shalala and Ambassador Andrew Young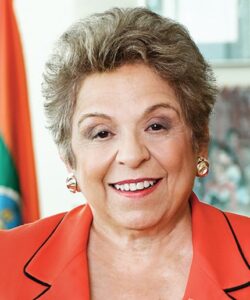 Secretary Donna E. Shalala
Donna Shalala is Trustee Professor of Political Science and Health Policy at the University of Miami. She served as president of the University of Miami from 2001 to 2015. She also served as President of Hunter College and Chancellor of the University of Wisconsin-Madison. In 2019-2021, she served in the US House of Representatives. In 1993, President Clinton nominated her as secretary for Health and Human Services where she served for eight years. In 2008, President Bush presented her with the Presidential Medal of Freedom, the nation's highest civilian award. She is a member of the Council on Foreign Relations and seven academies, including the National Academy of Medicine, the National Academy of Education and the American Academy of Arts and Sciences. Ms. Shalala received her bachelor's degree in history from Western College for Women, and her doctorate from Maxwell School of Citizenship and Public Affairs, Syracuse University.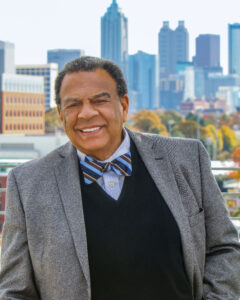 Ambassador Andrew Young
Andrew Young started his career as a pastor in 1954 which essentially shaped his entire life. He negotiated for Civil rights and voting rights in the 1960s and in 1972, he was elected to the United States Congress, making him the first black man to serve the state of Georgia in Washington since the Reconstruction era. After three terms in Congress, he was appointed United States Ambassador to the United Nations by President Jimmy Carter in 1977 and became a champion of human rights around the world, particularly in South Africa, where he spearheaded the administration's efforts to end apartheid. In 1982, he was elected Mayor of Atlanta, and is credited with transforming the city into an international metropolis and laying the groundwork for the city to host the Centennial Olympic Games in 1996, serving as co-chairman. As Chairman of the Andrew J. Young Foundation, he is working to feed the hungry and is devoting much of his life's work to the underserved in US, India, Africa and its vast economic potential. Ambassador Young is the author of three books, and has produced, co-written and narrated over 35 acclaimed documentaries. As a speaker on the lecture circuit, and as an ordained minister with the United Church of Christ for over six decades, Ambassador Young continues to preach and considers the work of the Andrew J. Young Foundation an extension of his ministry and the Civil Rights movement itself.