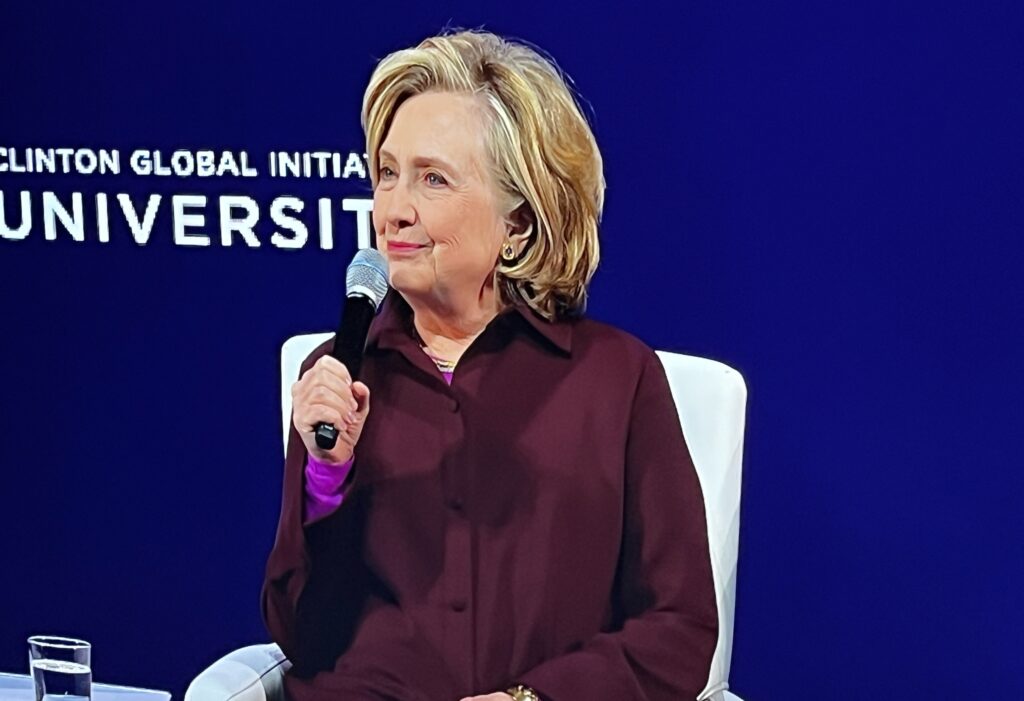 This article originally appeared in WPLN News on March 4, 2023.
Former President Bill Clinton told Vanderbilt University students on Saturday that many current elected leaders are clinging to power by sowing division through wedge issues like transgender rights.
"People who are in power and want to stay in power love identity politics," said Clinton. "It used to be racial — and it still is, where it works — and then there was a lot of prejudice against gay people."
Clinton spoke alongside his wife, former Secretary of State Hillary Clinton, and daughter Chelsea Clinton at Vanderbilt's Langford auditorium on Saturday morning as part of the Clinton Global Initiative University. Clinton's namesake foundation was founded in 2001 and has over the years launched programs, including CGIU in 2007, to empower a younger generation of leaders to tackle problems in their communities.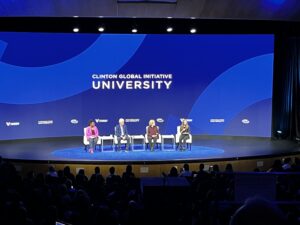 The CGIU conference kicked off a day after Tennessee's governor signed into law a measure that restricts drag performances in public. He also signed a separate law blocking transgender teens from seeking hormone therapy and surgical procedures, the latest in a wave of anti-LGBTQ bills that have been filed in Republican controlled states.
"That's how this whole transgender thing came out, because there aren't many people that are transgender," said the former president of identity politics. "Although if you know them, you feel it deeply."
During a Q&A with students, Secretary Clinton told attendees that while polarization in the U.S. and across the globe had gotten worse, young people should stay politically involved.
"You can help us overcome the divisiveness by, frankly, electing people who don't traffic in division, who don't traffic in disinformation," she said. "Who really want to be in public service for the right reasons."
The weekend conference was the first in-person Clinton Global Initiative University held since the pandemic. It included seminars, panels and special guests, including Transportation Secretary Pete Buttigieg and Nashville Mayor John Cooper.
Buttigieg, in a separate interview with WPLN, said he was also concerned by Tennessee's anti-LGBTQ legislation. Buttigieg was the first openly gay presidential candidate to run for the Democratic nomination in 2020.
"Frankly, I just don't understand the priorities of the legislature and the governor," said Buttigieg, who also visited the Nashville International Airport to tout federal investments. "No one asked for this. No one needs this, and it's definitely not making anyone better off."
Saturday's session concluded with a question on what lessons the Clintons would like to teach their three grandchildren.
Hillary Clinton said she would hope to teach them "resilience" in the face of adversity. Bill Clinton recounted a lesson taught to him by former South African President Nelson Mandela, a close friend, who he said did not allow his decades-long imprisonment under apartheid to make him bitter or angry.
"Remember anytime you give in to an external pressure that has negative consequences, you're basically saying, 'Here's a piece of my mind, here's a piece of my heart, go ahead and do whatever you want, and I'll be a victim,'" he said. "Mandela was the greatest non-victim I ever knew because he didn't give away his mind or his heart."
Clinton said Mandela wanted people to seize their lives, and today's students should try to follow his example.