Alumni share how being part of the CGI U community has equipped them with valuable tools for their entrepreneurship and leadership journeys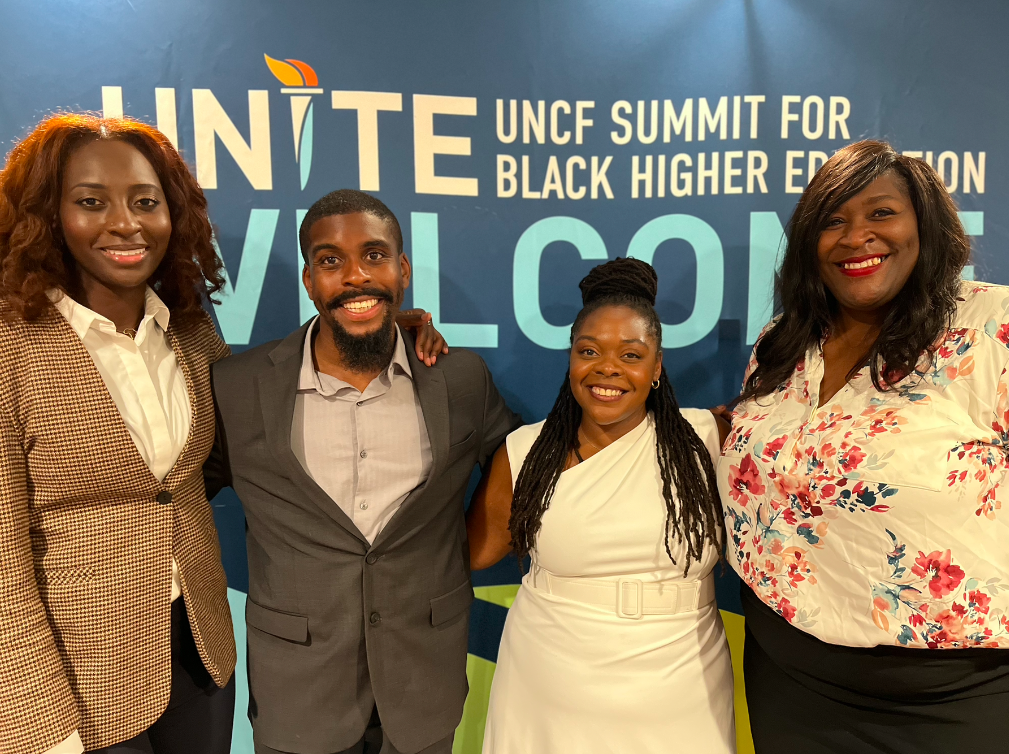 At the recent UNITE United Negro College Fund's Summit for Black Higher Education in Atlanta, Ragina Arrington, Chief Executive Officer of the Clinton Global Initiative University (CGI U), facilitated a panel discussion with three CGI U alumni to discuss how entrepreneurship is a powerful tool for making change in the world, what drives them in their work, and the importance of programs like CGI U.
Speaking on the panel were CGI U alumni Elissa Russell (CGI U '20), CEO & Founder, READI Consulting; Melissa Issa-Boube (CGI U '17), Founder, Women's Initiative in Niger; and Malcolm Lee (CGI U '22), CEO & Founder, Gabb Global. During the panel, they reflected on CGI U's impact on their personal and professional growth, the tangible impact they had as CGI U commitment-makers, and the CGI U community's continued support throughout their entrepreneurial journeys.
Founded by President Bill Clinton in 2007, the Clinton Global Initiative University (CGI U) works to inspire student and alumni leaders and global innovators to tackle pressing challenges in their communities. Through the Clinton Global Initiative's power of convening and Commitment to Action model, more than 11,800 students have made an impact in over 160 countries and all 50 states – with the support of more than $4.5 million in funding from CGI U's corporate and university partners.
UNITE is an annual gathering hosted by the UNCF's Institute for Capacity Building (ICB). ICB's mission is to partner with Historically Black Colleges & Universities (HBCUs) and Predominantly Black Institutions (PBIs) to help them propel student success, community impact, and the advancement of educational equity and racial justice.
Opening the panel, Arrington recalled the impact CGI U has had in the 15 years since its founding, emphasizing how it has been "connecting, supporting, and inspiring a global community of emerging leaders" ever since. The CGI U model includes a eight-month social impact curriculum focusing on the development of early-stage social impact ideas into scalable projects. The model also emphasizes mentorship for students, pairing them with successful social entrepreneurs, with the ultimate aim of equipping students with the tools they need to spark change in their communities.
Malcolm Lee, a Pharrell Williams Black Ambition Prize and CGI Verizon "Forward for Good" Challenge winner, is an aspiring leader in the educational technology space. He spoke about how his passion for education and neuroscience research led him to found Gabb Global, a language learning metaverse. Gabb uses virtual reality to improve the accessibility and effectiveness of immersive language learning experiences for students whose first language is not English. Following the panel, Lee shared that "presenting at the UNITE conference made [him] excited about the future of education in minority communities."
Melissa Issa-Boube applied to CGI U with the hopes of teaching women in Niger how to sew and start their own businesses to become more financially independent. This idea became the Women's Initiative in Niger (WIN) which has since helped thousands of people in the country to increase their economic well-being. During the panel, she recounted to the audience how her involvement with CGI U, as well as her experience serving as a CGI U Alumni Ambassador, were integral to her finding the inspiration to take on these projects. For Issa-Boube, "meeting other like-minded individuals with ambitious goals to impact others was the catalyst [she] needed to help and make a difference."
Elissa Russell is the CEO and founder of READI, a virtual reality workforce training platform that instructs young adults to qualify them for open jobs in the market. Since her time at CGI U, Russell has worked in securing significant non-dilutive funding and government partnerships for her company. "As an HBCU and CGI U alumna," she said it was "[her] pleasure to share [her] CGI U experience and demonstrate why HBCUs should make a commitment to action for entrepreneurial programs and partners like CGI U."
Reflecting on CGI U's experience at UNITE, Arrington shared, "Showcasing our amazing alumni who have matriculated through HBCUs and PBIs is specifically important to underscore the fact that the best changemakers come from institutions uniquely positioned to meet students where they are."