A library in a laundromat, brightly wrapped buses, and a STEM walking trail — partners in Philadelphia are at the forefront of surrounding children and families with language and learning opportunities.
Last week, Chelsea Clinton traveled to Philadelphia with Too Small to Fail to meet with our partners who are transforming everyday spaces — from laundromats to health clinics to walking trails and parks — into playful learning and language-rich environments full of opportunities for children and families to talk, read, and sing with each other. In the photo essay below, we share key highlights from our day together. Thanks to our partners who make this work possible.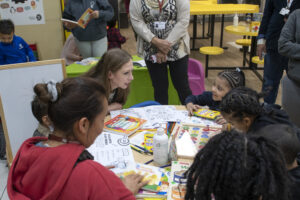 MORNING BREAKFAST REMARKS AT TEMPLE UNIVERSITY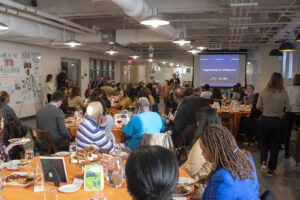 The Playful Learning Tour of Philadelphia celebrated the city's commitment to providing opportunities for early childhood learning in everyday spaces like laundromats, parks, health clinics, and more. Last week Chelsea Clinton, vice chair of the Clinton Foundation alongside the Too Small to Fail team, joined national and local partners like the William Penn Foundation for a tour.
The day began at Temple University, where early childhood partners across the city heard from Chelsea Clinton, The William Penn Foundation, and early learning expert Dr. Kathy Hirsh-Pasek about the importance of playful interactions between young children and their caregivers.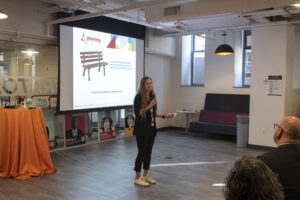 "We truly believe at Too Small to Fail that every child deserves the chance to live up to his or her god given potential — and that we all have a responsibility to support parents and caregivers in ways that can set children up for success in school and beyond. The work being done in Philadelphia with partners like the William Penn Foundation, LaundryCares Foundation, KABOOM!, Global Citizen, Read by 4th, and many more demonstrate what's possible when you put the needs of children and families first and create inclusive, engaging, and playful learning experiences for them to thrive," said Chelsea Clinton.
HITCHING A RIDE TO OUR FIRST STOP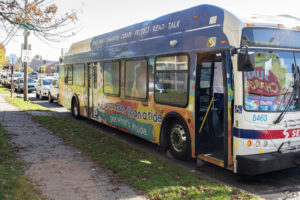 Following an inspiring breakfast forum, brightly wrapped SEPTA buses picked up tour members to continue around the city. The thoughtfully designed buses were made with children and families in mind by Read By 4th, a citywide campaign to support early literacy.
THE LAUNDRY CAFÉ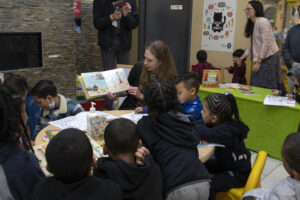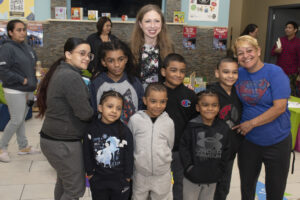 The tour continued at The Laundry Café, one of Philadelphia's leading laundromats. There, tour members watched families engage in the facilities, including a "Family Read, Play & Learn" Space that included "Talking is Teaching" materials and additional playful learning activities co-created by Too Small to Fail and KABOOM!. Meanwhile, Chelsea Clinton remarked how in "Warm, welcoming literacy spaces in laundromats like this one, literacy interactions go up 30 times what they are without spaces like this. 30 times." Chelsea later read "I'll Build You a Bookcase" by Jean Ciborowski Fahey with a group of little ones.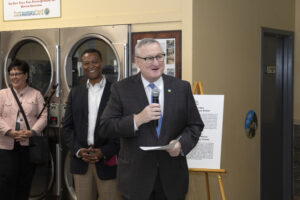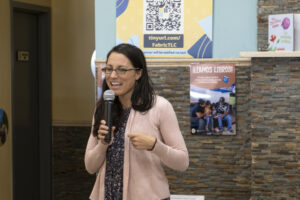 The community also heard from Jim Kenney, Mayor of Philadelphia, Karisa Barlow, Philadelphia Reading Captain, and The Laundry Café co-owner Brian Holland.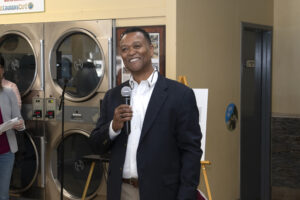 "One of the most beautiful things about laundry is I know when someone walks through that threshold, they will be with us for two, two, and half hours. We call that dwell time. During that dwell, time is often not used productively. Kids would be here. Parents would be here staring at the TV because there was nothing else to engage in and we said, let's capitalize on that. Let's use that opportunity to do healthcare awareness and financial literacy, and address things like the digital divide and literacy. The beauty of literacy is that it not only changes the child's life but the life of the next generation as well," said Brian Holland.
A WALK IN THE WOODS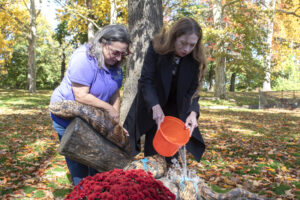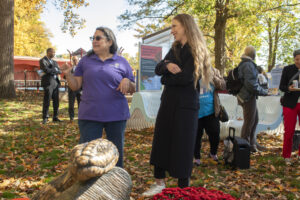 At the River Alive! Learning Trail in Tookany/Tacony-Frankford Creek, tour participants learned about watershed conservation through science-based play. The animal installations were designed with grooves to create a water path for local families to learn through STEAM activities.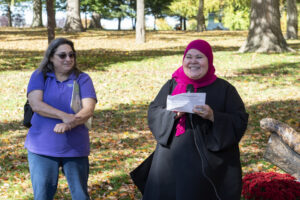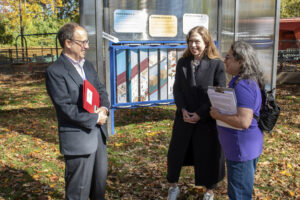 MEETING WITH HEALTHCARE PROVIDERS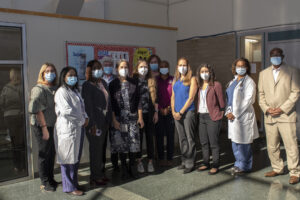 At the last stop of the learning tour, Chelsea Clinton privately visited a local Philadelphia health center to speak with healthcare providers who are promoting playful learning in their center's family waiting area.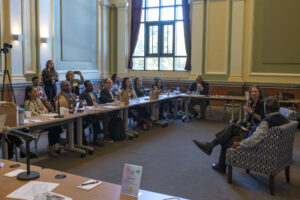 The Playful Learning Tour of Philadelphia served as a pleasant reminder that we do better when we work together. Thank you to all Too Small to Fail partners, including The William Penn Foundation, the City of Philadelphia, KABOOM!, Read By 4th, the LaundryCares Foundation, Global Citizen and so many others for coming together to improve children's lives.