This September marks the first major convening of the CGI community since 2016. With the theme "The Business of How," the CGI 2022 Meeting will bring together diverse voices to take action on pressing global issues, foster meaningful connections, and have critical conversations on contemporary challenges.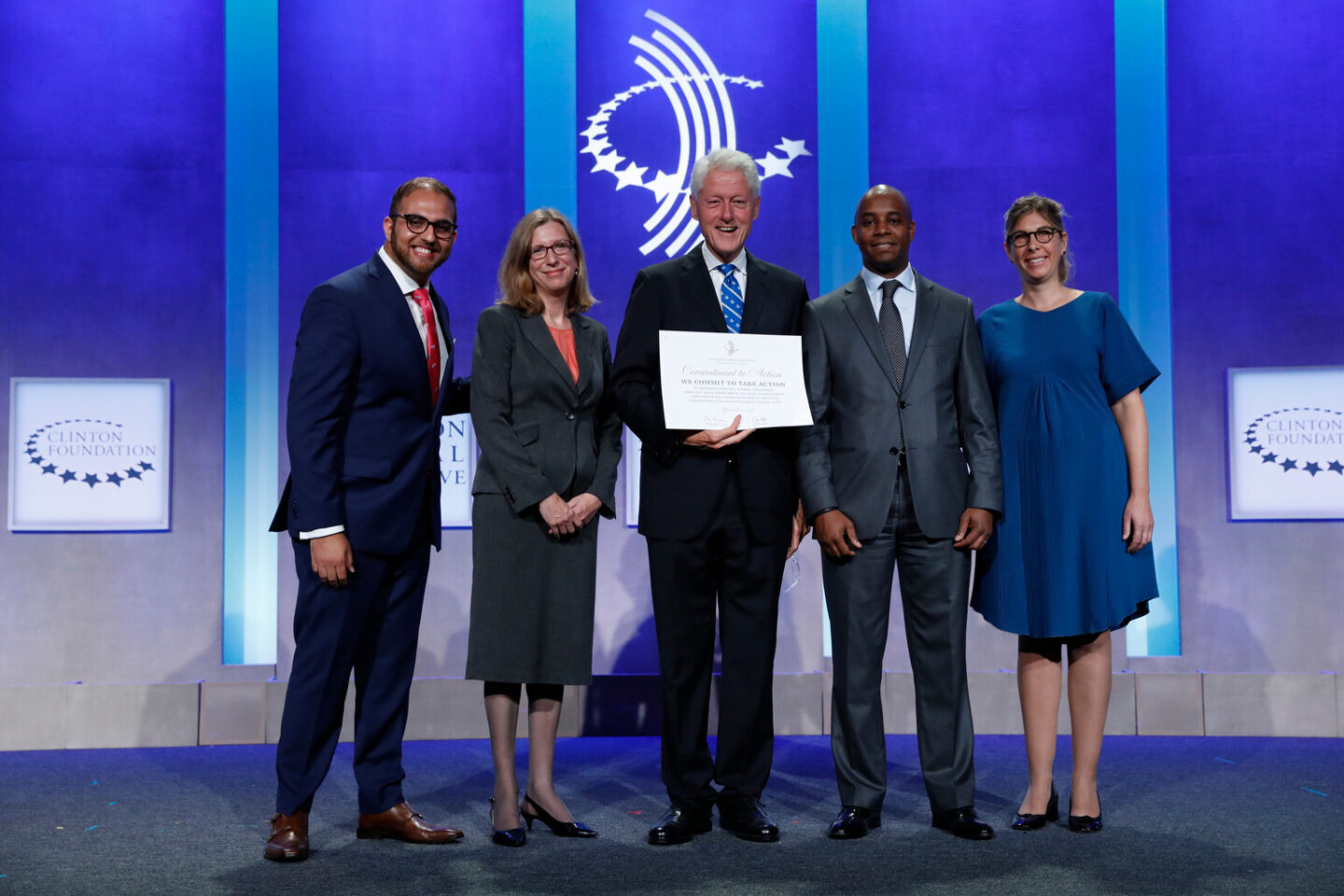 Last week, President Clinton, Secretary Clinton, and Chelsea Clinton announced the initial program and featured participants for the Clinton Global Initiative (CGI) 2022 Meeting. 
As President Clinton said in his letter to the CGI community in March, the need for cooperation and coordination has never been more urgent than it is now. We're at a moment in history where we're forced to navigate mounting existential crises, and it's up to us to meet this moment and approach it with determination and optimism.  
This September is just the beginning and CGI is committed to continuing to develop impactful partnerships and drive global change. With just over a month to go, here are five things to look forward to at the CGI 2022 Meeting. 
1. A community of diverse leaders coming together to make change
From the beginning, CGI has been about bringing together unlikely partners, and people who otherwise might not be in the same room together. The initial list of this year's featured attendees reflects a diverse set of backgrounds, sectors, geographies and experiences. Above all, they are united in their desire to take action on the interconnected challenges facing the world. 
Joining us this year are Eric Adams, Mayor, New York City; Noubar Afeyan, Founder and CEO, Flagship Pioneering and Co-Founder, Chairman, Moderna; Her Majesty Queen Rania Al Abdullah of the Hashemite Kingdom of Jordan; José Andrés, Founder and Chief Feeding Officer, World Central Kitchen; Charlie Baker, Governor, Massachusetts; Xiye Bastida, Climate Justice Activist; Jesper Brodin, Chairman and CEO, INGKA Holding; Matt Damon, Co-Founder, Water.org; Thasunda Brown Duckett, President and CEO, TIAA; Larry Fink, Chairman and CEO, BlackRock; Tedros Adhanom Ghebreyesus, Director-General, World Health Organization (WHO); Kathy Hochul, Governor, New York; Laurene Powell Jobs, Founder and President, Emerson Collective; Alan Jope, CEO, Unilever; Lin-Manuel Miranda, Award-Winning Songwriter, Actor, Director; Mia Mottley, Prime Minister, Barbados; Vivek Murthy, U.S. Surgeon General; Ngozi Okonjo-Iweala, Director-General, World Trade Organization (WTO); Hamdi Ulukaya, CEO and Founder, Chobani, and Founder, Tent Partnership for Refugees; Malala Yousafzai, Activist; and many more.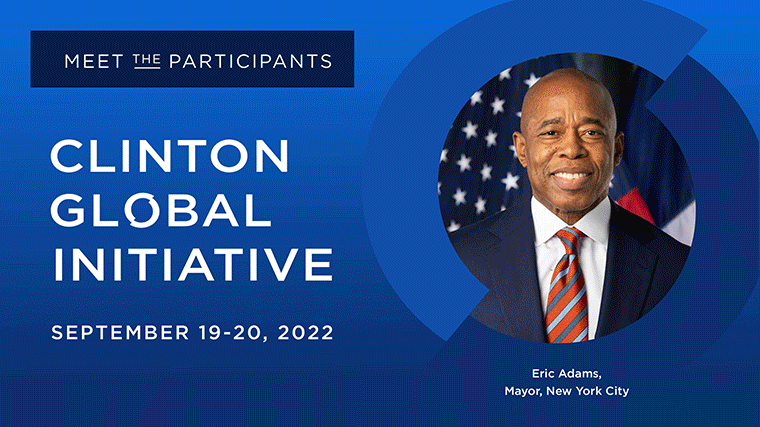 For the full list of participants, please visit clintonglobal.org/2022. 
2. P

artners announcing n

ew

Commitments to Action

on climate, global health, and economic recovery
Commitments to Action – new, specific and measurable programs that address a pressing global challenge – have been a defining feature of our model since President Clinton began CGI in 2005. The CGI 2022 Meeting will include announcements of new Commitments that aim to serve individuals and communities around the world through cross-sectoral action. Commitments vary in their size, scope, communities served, and areas of focus, but are connected by the common thread to make tangible change and progress.  
To date, members of the CGI community have launched more than 3,700 Commitments to Action, making a difference in the lives of more than 435 million people in over 180 countries around the world.  
3.
Programming that is keeping the focus on
putting people first
Over a lifetime of public service, President Clinton has always championed the idea of putting people first and centering the stories of individual citizens and leaders. It's an idea reflected across the CGI 2022 Meeting Program.  
Behind every Commitment to Action, every solution, and every effort to tackle the greatest challenges of our time, is a story. We believe these stories – the stories of frontline leaders and those with important lived experiences – can inspire meaningful action. That's why this year, we're committed to centering community voices throughout the meeting. We'll be introducing the Story Studio, a hub for stories to ignite future action in the CGI community by cultivating a unique opportunity to hear from community leaders, social innovators, and those on the frontlines of our biggest common challenges. 
4.
Facilitating brand new opportunities to elevate social entrepreneurs from around the world
CGI has always created a space for individuals and organizations committed to social good to come together and develop the partnerships that lead to real, significant impact out in the world. The CGI 2022 Meeting will create these networking opportunities throughout the meeting – at Spotlight Sessions, roundtable discussions, and new programming. 
A new part of the CGI program is the CGI Greenhouse, designed to support entrepreneurs and social innovators. These social entrepreneurs hail from across the globe and are working to develop the most innovative and cutting-edge solutions to global and local challenges. At the meeting, a number of entrepreneurs will have the opportunity to present to an independent audience of potential partners and funders including Fortune 500 companies, large private and corporate foundations, family offices, and impact investors ready to implement their products and services. 
5.
Holding deep dive conversations to drive action on some of the most pressing contemporary global challenges
In addition to various plenary sessions, CGI will also feature Spotlight Sessions to enhance our program throughout the meeting. The Spotlight Sessions will reflect the interconnectedness of longstanding and systemic issues, examining the nexus of climate, health, the empowerment of girls and women, refugee resettlement, economic inclusion, and more. These sessions will also explore the necessity of addressing urgent problems as news cycles, economic trends, and global dynamics rapidly shift. The Spotlight Sessions were created with solutions in mind, not just issues, and were built with input and feedback from many CGI partners and organizations on the frontlines of these issues and are an opportunity for participants to share their own insights and perspectives and consider others.  
Please visit clintonglobal.org/2022 for the latest program details and confirmed participants. Follow CGI on Twitter, Facebook, and Instagram for meeting news and highlights.