"Exercise your curiosity, creativity, and beginner's mindset."
Meet Charlie, Eugene, Alec, and Luis — four outstanding Clinton Global Initiative University (CGI U) student commitment-makers from the class of 2021 who have launched projects that tackle critical challenges in communities from California to Ghana — all while embarking on their own educational journeys.
Charlie, Eugene, Alec, and Luis are applying the lessons they've learned from CGI U to keep food on the table for under-resourced families, promote inclusion and support for amputees, and cultivate community among historically excluded populations. They're just some of 600 CGI U 2021 participants who committed to creating, launching, and implementing more than 400 student-led social impact projects ranging from access to health care, COVID-19 response, systemic racism, and more.
To mark the beginning of the school year, we asked these four students to share their best advice for keeping social impact at the center of their education and experience.
Charlotte "Charlie" Hoffs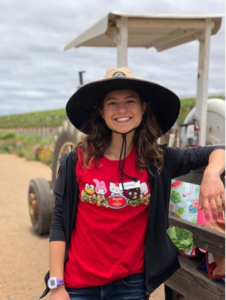 Charlotte "Charlie" Hoffs, an undergraduate at Stanford University, sprang into action in March 2020 when COVID-19 school closures threatened to deprive many families of daily school meals. To help address this, Charlie leveraged vetted community databases and aggregated them on a website to centralize the information, easing access barriers for low-income and underserved individuals seeking community and low-cost social services in the California Bay Area. Through CGI U, she committed to formally launch the website BayAreaCommunity.org (recently acquired by the nonprofit organization, One Degree), which provided individuals seeking resources with trustworthy information on community services through a multi-lingual, mobile-friendly map.
Charlie's advice? "Lean into your youth! It is an invitation to safely exercise your curiosity, creativity, and beginner's mindset. Don't race to be an expert; take the time and space to listen as a student, listener, and mentee."
Eugene Ablordeppey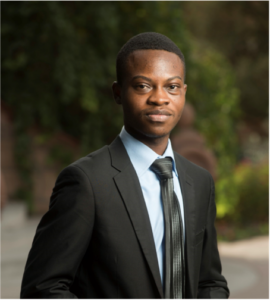 Eugene Ablordeppey, a Virginia Commonwealth University Ph.D. student in biomedical engineering from Ghana, committed to destigmatize disability and address the lack of access to affordable prostheses in his community's health care system. His Commitment to Action will develop, fit, and train amputees with low-cost but durable prostheses made from recycled prosthetics and 3D technology in Ghana.
His advice? "There is no such thing as the 'perfect time' to start an initiative that will bring hope to individuals in a community. Every day brings a new opportunity to make a difference — no matter how big or small the effect."
Alec Calac and Luis Gasca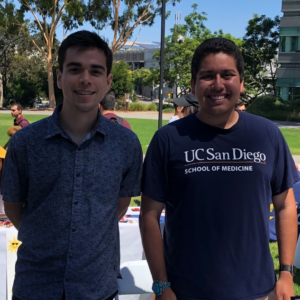 ---
About CGI University and the Class of 2021
Building on the successful model of the Clinton Global Initiative, President Bill Clinton launched the Clinton Global Initiative University (CGI U) in 2007 to engage the next generation of leaders on college campuses around the world. Each year, we challenge students to make Commitments to Action: new, specific, and measurable initiatives that address pressing challenges.
Through the program, students participate in leadership development, mentorship, skills training, and partnership building, with the experience culminating in the CGI U Annual Meeting, where commitment-makers across the world come together to learn how to turn their ideas into action. Since 2007, more than 7,000 commitments have been made and $4M in funding has been awarded to commitment-makers through CGI U.
The CGI U 2021 program kicked off in March with the annual CGI U meeting hosted by President Bill Clinton and Chelsea Clinton. Accepted students were invited to four days of virtual panels with high-profile speakers that included U.S. Vice President Kamala Harris and Stacey Abrams, networking sessions for students to exchange ideas and connect based on regions, and a virtual day of service led by co-host Howard University.
If you or a student you know wants to apply to CGI U 2022, visit cgiu.org/apply.