---

Bridging science and faith during a pandemic
This piece was authored by 44 faith leaders from Jacksonville, Little Rock, Houston, and Atlanta, in collaboration with the Clinton Health Matters Initiative.
Faith creates communities across the country, communities where we help people tackle some of the most difficult problems they face. No matter what faith we individually identify with, we are united with a sense of responsibility to others and a determination to act on the pressing challenges that society faces.
Two years ago, we came together as part of a national network of interfaith leaders, convened by the Clinton Foundation, to address the opioid crisis. Over our time together we have worked to address this deadly, pressing public health crisis. Now, we are facing a global infectious disease outbreak in the COVID-19 health crisis pandemic — and it requires all of us to fundamentally change the way that we work together, and how we congregate with our communities.
This month provides reason for celebration and congregation for all of our communities. This year, Passover began on the evening of April 8. Easter falls on April 12. Ramadan begins the evening of April 23. We owe our congregants, our country, and our earth to change the way we typically mark these holidays and tend to our communities of faith from afar.
We recognize that the spread of COVID-19 around the world is a monumental public health crisis that is disrupting our routines and threatening the lives of countless individuals across our nation and around the globe. For those of us who identify with a particular faith tradition or attend religious services, the pandemic compels us to find new ways of seeking hope and obtaining solace in our faith without threatening the health and safety of our fellow people. This pandemic reminds us that our lives are inextricably linked together.
The pandemic is upsetting our rituals and the rhythms by which we live out our faith. According to the Pew Research Center, 36% of American adults attend religious services at least once a week. In times of such uncertainty and anxiety, we depend on our rituals and faith traditions to offer much-needed hope, guidance, and solace. However, it is no longer advised to gather in large groups for worship, to pray in close quarters with one another, or to study sacred texts elbow-to-elbow with our fellow believers.
As faith leaders, while each of us is steeped in our own faith-based traditions, values, and morals, we all agree that human life is sacred and deserving of protection and care. Therefore, we share a commitment to continue to express our deeply held beliefs and practices in a way that is mindful of the best available science on what is safe for all of us.
Across the country, communities of faith have been adapting in a number of inventive and fulfilling ways. Many faith leaders now host virtual services that are broadcast live. Some Christian communities are delivering communion to congregants' doorsteps. Other places of worship continue to host small gatherings that encourage attendants to refrain from close contact with others or with ritual objects that others touch frequently.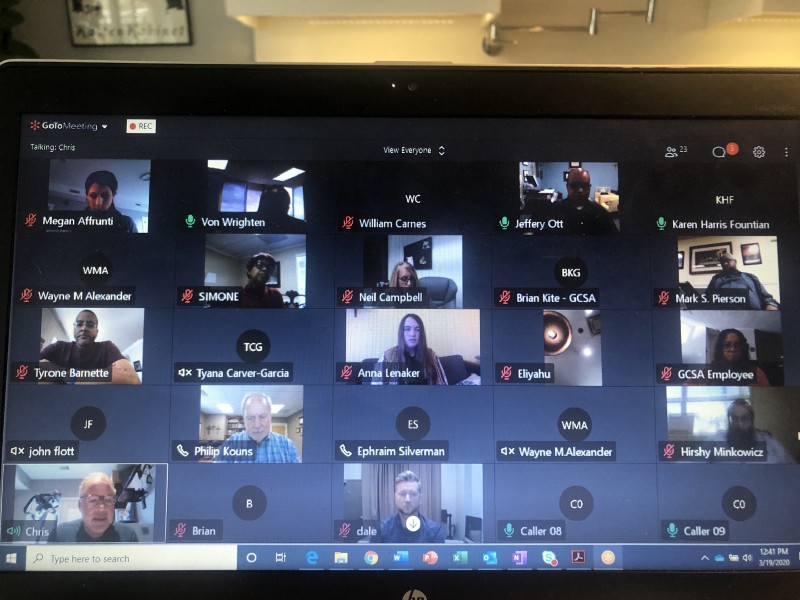 Though there may be increased physical distance between us, there need not be increased spiritual and emotional distance. Faith leaders must continue to reach out to those living alone, to the elderly, and to other vulnerable populations, utilizing the vast technological resources available to stay in close contact with those who are most affected by this crisis. We must continue to provide hope and solace to our fellow human beings in need, even if it is at a distance.
Hermeneutics suggests that there are vast interpretive viewpoints of scripture and with the COVID-19 pandemic continuing to spread, many of us have turned to our sacred texts to find some hope. From a Christian perspective, in Mathew 18:20 — KJV it reminds us that for where two or three are gathered together in my name, there am I in the midst of them. From the Muslim perspective in the Quran in chapter 2:195, it reminds us…and do not put yourself into harm…and finally, in Jewish Scripture from Deuteronomy 4:9, it says guard yourself and take care of your life. Regardless of our specific tradition, we all can remain faithful while at the same time, trust in the science to help inform and guide our thoughts and actions as we continue to understand and fight COVID-19 as one people.
It is our duty as faith leaders to do our best to preserve human life while enriching the spiritual lives of those who come to us for support. It is up to each of us to determine how to achieve these two goals amidst our current circumstances. We urge our colleagues to accept this moment as an opportunity to appreciate the beauty of individuals' resiliency. Use it to reflect on all the ways we are connected to and dependent upon one another.
We came together two years ago through the Clinton Foundation to address the opioid crisis. Now we're lending our collective voices to the fight against the COVID-19 pandemic. Over 40 faith leaders from communities across the nation have signed onto this message.
People of faith can and should continue to play a role in creating a community of support around those who are sick, lonely, at risk, or in need of resources during these turbulent times. By heeding public health warnings, we are not abandoning our faith; rather, we are living out our commitment to care for one another in an unprecedented and radical way. One death that could have been prevented by proper social distancing is one death too many.
For the latest updates — and critical resources — on how our programs and partners are helping to confront this crisis and address the urgent needs facing our country, follow @ClintonFdn on Twitter and visit https://www.clintonfoundation.org/covid19.
---
Written with input from the following faith leaders:
Rev. Dr. Joanna Seibert, St. Mark's Episcopal Church
Rev. William Givens Sr., St. Johns Missionary Baptist Church
Dr. Terry Jefferson, Health for Life Clinic
Father Fred Ball, San Damiano Ecumenical Catholic Church
Rev. Ray Williams, City Church Network
Rev. Karen Y. Harris, First St. Paul AME Church
Rabbi Hirshy Minkowicz, Chabad of North Fulton
Father Jeffery Ott, Our Lady of Lourdes Catholic Church
Imam Furqan Muhammad, Masjid Al-Mu'minun
Rev. Simone Jones, Berean Christian Church of Gwinnett
Rabbi David Lyon, Congregation Beth Israel
Rev. Diane McGehee, Bering UMC
Sister Bibi Khan, An Nisa' Hope Center
Mr. Tony Springer, Mercy Street
Pastor Johnny Gentry, Free Indeed Church International
Rev. Nathan Lonsdale Bledsoe, St. Stephens United Methodist
Imam Dr. Basem Hamid, Wasat Institute and Islamic Society of Greater Houston
Rev. Kerry Nelson, Faith Lutheran Church
Rabbi Barry Gelman, United Orthodox Synagogues
Rev. Melissa Maher, Mercy Street
Fatih Ozcan, The Dialogue Institute Southwest
Imam Daniel Hernandez, ISGH Pearland Islamic Center
Rev. Dr. Kyle Reese, OneJax Institute
Rev. Bill Hoff, Riverside Presbyterian Church
Rabbi Jonathan Lubliner, Jacksonville Jewish Center
Rev. Louis R. Lothman, Presbyterian Church, U.S.A
Pastor Lucious Lee, Baker Community Church
Mr. David Hicks, Gateway Community Services
Rev. Britt Hester, Hendricks Avenue Baptist Church
Minister Shirley Robert, The Bethel Church
Pastor Kevin Lee, Berean Christian Church of Gwinnett
Patricia McElroy, Baptist Health Spiritual Care, Jacksonville, FL
Lama Namgyal Dorje (Harvey B. Aronson, Dawn Mountain Tibetan Buddhist Temple, Houston
Rabbi Eliyahu Schusterman, Chabad of Atlanta
Ashley Mayham, Christian Church (Disciples of Christ), Houston, Texas
Leigh Howton Philips, Episcopal Diocese of Jacksonville, Florida
Rev. Cassandra Nuñez — Bering Memorial UMC, Houston, Texas
Clerk William Holland, Atlanta Quakers
Mark Yurewicz, MD. Dawn Mountain Tibetan Buddhist Temple, Houston
Rev. Dr. C. E. McAdoo, United Methodist Church
Rabbi Ephraim Silverman, Chabad of Cobb County Georgia
Pastor Dale Stephens Jr., Riverside Church, Atlanta
Dr. Dan Stallard, Hendricks Avenue Baptist Church
Pastor Cristopher McKee, Jr., The Church of Oakland, Jacksonville, FL