The Clinton Global Initiative inspires leaders to come together to take action on the world's most pressing issues. This year, thousands of leaders convened in New York, timed to the U.N. General Assembly, to launch 144 new Commitments to Action that address climate change, health equity, inclusive economic growth, and the global refugee crisis. The Clinton Foundation has applied the CGI model to specific challenges through Action Networks; geographies through CGI America and CGI International convenings; and to the next generation of leaders through the CGI University (CGI U) program.
The CGI U program, launched in 2008, has since grown to a community of over 11,000 young leaders that not only inspire each other to take action in their communities, but carry this inspiration and sense of responsibility further into their careers.
One such leader is Ryan Ubuntu Olson – a globally recognized gender and human rights expert who works to dismantle stigma against the LGBTQ+ community through policymaking, training, and more. From documenting human rights abuses in Ghana to working with activists in Jamaica, Olson finds purpose in helping communities work towards equality for all. Ryan first attended CGI U's Annual Meeting in Miami, 2010, and went on to serve as a Commitment Mentor for more than a decade.
We sat down with Ryan to learn about his work, how he was affected by meeting with so many other inspirational young leaders, and the lessons he has for future changemakers.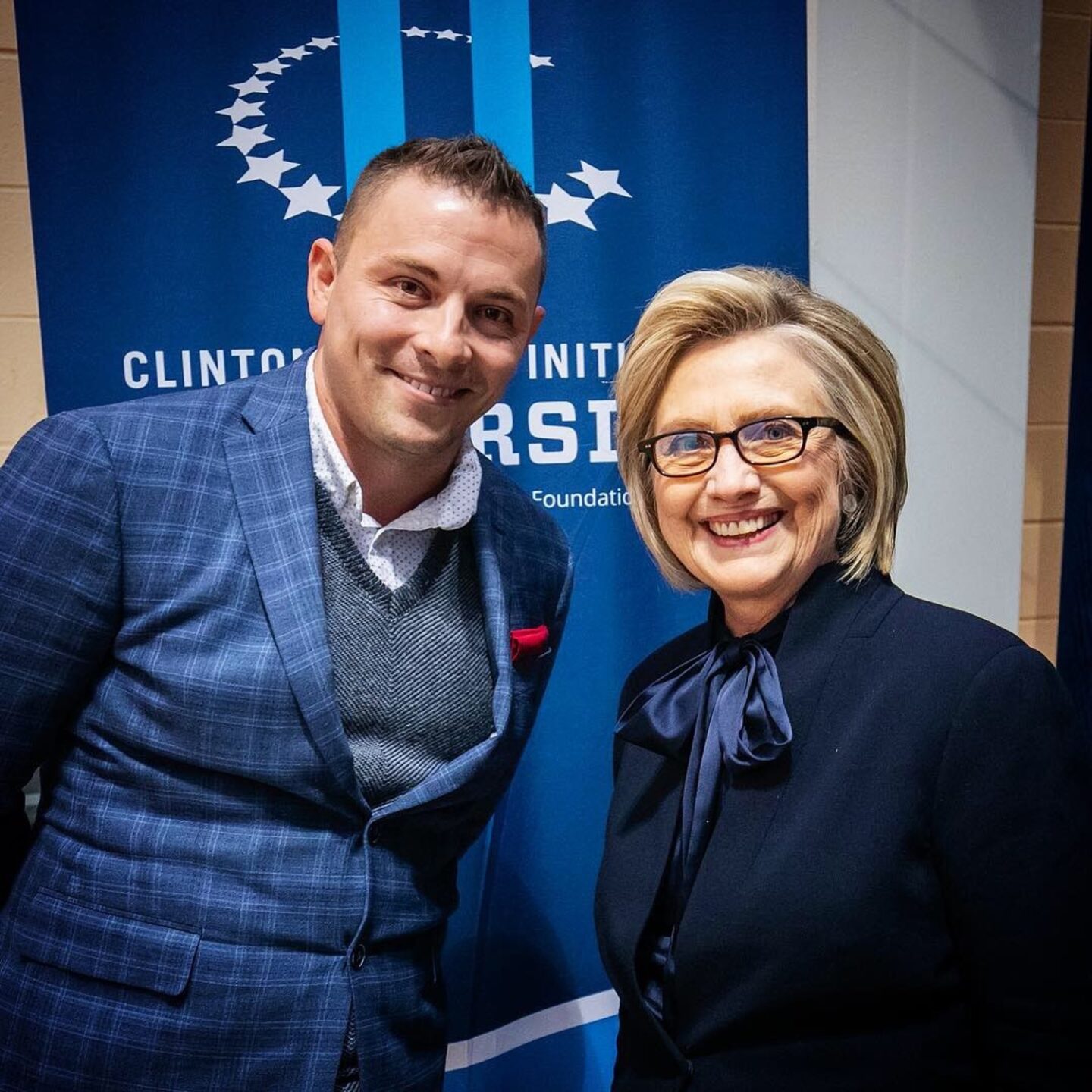 Clinton Foundation: What has inspired you to stand up and take action on a global level?
Ryan Ubuntu Olson: As a marginalized person myself, I felt called to take action, particularly on behalf of gender and sexual minorities around the world, and based upon my own lived experiences as an out gay man. I did not feel like it was okay for people around the world to be persecuted, thrown in jail, or murdered, simply for being who they are or loving who they love.
I translated my domestic work on LGBTQ+ rights into a much broader lens of interconnected human rights after traveling around the world on a program called Semester at Sea which took me to over 15 countries my senior year of college. I'm passionate not just about gender and sexual diversity, but gender equality more broadly, disability rights, racial, ethnic, and Indigenous equality, and beyond. My passion comes from the African philosophy of "Ubuntu" which underscores our interconnectedness as human beings. Someone else's hurt is my hurt, my hurt is also the world's hurt. Seeing the humanity in people everywhere and wanting a level of universal human dignity is what I've dedicated my ongoing work towards.
We're at a juncture in history where we're facing multiple, existential crises. What does it mean to you to meet this moment with determination, but also a sense of optimism and cooperation?
What's interesting to me is realizing that there is profound opportunity found within the resilience of local communities who are most at risk. I say that because so many of us, and I include myself in that, have had to overcome deep and rigid traumas that are both individual, but also communal in nature, that give us new insights and profound understandings of the world in which we live. Local communities who have survived and thrived under difficult circumstances often have meaningful purviews that should shape the ways in which any solution is identified.
The solutions themselves lie within the communities who are most in harm's way. I think about those individuals in shattered communities who are still finding ways to survive and thrive. They are finding solutions in manners that no one from the outside could have fully understood.  Through the CGI U program, I met hundreds, if not thousands of people who all had a single idea that wanted to transform their local communities, their schools, their governments, the societies in which they worked. There are countless others that have come through the CGI U program who are putting their ideas into action, and it's great to see. Thanks to CGI U for helping elevate them and giving them that opportunity, not just to do it individually, but to collectively have impact as well.
The CGI model aims to not only drive action on the greatest challenges we face, but to examine how each of these challenges intersect – and that the problems are intertwined, and solutions to each cannot exist in a vacuum. What does intersectionality mean to you, and how have you seen it take root in your work and your sector?
What we're recognizing more and more in the field of development is that our sectors are currently in a siloed state. Global Health, Education, Democracy, Governance and Human Rights, Economic Development, and so on. So rather than finding solutions that are systemic in nature, or speak to the root of the issues, we have one-off impacts that aren't necessarily considering the intersectional ways in which people are harmed or made vulnerable due to global health issues, climate change, or economic justice issues. One of the catalytic ways in which we're reconceptualizing humanitarian assistance and aid is to really think about placing people first, and understanding their own intersectional identities, and the disproportional power dynamics that play themselves out in the field of development, and how people are disproportionately harmed by health crises, by environmental injustices, by economic inequalities.
Therefore, at the heart of what I do is to really help interweave human centered design and the story of resilience, overcoming of stigma, discrimination, and even violence.  Being able to show disproportional impacts through frameworks like environmental justice, which understands how climate change harms people on the margins, how pandemics like COVID-19 or HIV epidemic have disproportionately harmed marginalized persons and how empowering and reaching these communities actually enhances our interventions.
That is why understanding the complexities of the work that we do and the people for whom our work serves is where we need to go to understand the intersectionality of the work. This includes appreciating concepts like diversity, equity, inclusion and accessibility. We need to be adaptive and responsive to the needs of people who are experiencing the worst of the harm in these three areas. To do so we must first center those people, get behind their leadership and do our best to bring in what resources and tools are available to us. Not to dominate, but to share and adjust so that they meet the needs of those most in harm's way.
As you know, each student at CGI U – just like every attendee at a CGI meeting – is asked to make a Commitment to Action. What was your commitment with CGI U and how did this model allow you to scale up your work?
I originally submitted an idea for engaging a diverse set of actors to advance LGBTQ rights in the U.S. by thinking of ways in which the LGBTQ community through volunteerism might contribute to the broader society in which we live, thereby cultivating new paradigms with which we were understood as a community. I was tired of that outdated stereotypes used against my community while also growing tired of outdated modes of activism drawn from a previous era but poorly adapted to this one.
Through CGI U, the wonderful network that existed there, and my ongoing involvement, I was able to really think outside of the box and enter a field of development which looked at and tackled the root causes of discrimination and human rights. It allowed me to take that earlier passion for volunteerism and create innovative ways to think of advocacy to then actually work with advocates around the world who were fighting for their fundamental rights, and to identify new and creative inroads for how they might overcome some of the legal, social, and cultural barriers that prevented them in their own countries from being seen as full, free, and equal fellow human beings.
Why was it important to you to return to CGI U as a mentor for current students?
I think life as a marginalized person offers important ways to break through and bring along. I would not be successful without my mentors or the people that have paved the way in small and huge ways for me. In some ways, it is just simply being who they are and being a beautiful light as an example for me. In other ways, it is people who have opened doors. I love the idea of supporting people who are deeply passionate about making a difference in the world and just need an outlet to help them get to that next stage of their journey, whatever that may be. Maybe that's going to graduate school, or getting a job, or getting a grant for their idea. Maybe it's just me being one of their many cheerleaders that believes in them and their capabilities.
Something else that's important is recognizing that while I may have accomplished certain things, other people have also accomplished their own things. My form of leadership and mentorship has always been not about being the expert that people follow, but really building and facilitating co-mentorship and cross-generational mentorship where I learned so much from the people I mentored. I would like to think that they not only learned something from me, but maybe they learned something from their other peers in our small group and about helping each other grow through these trying times of our lives. That's the most beautiful part of it.
What's a proud moment you have experienced in your career?
There are so many. There are moments in training that I've conducted where I would have individuals who came in and sat with their arms crossed and didn't want to be there at the beginning of the day. But by the end of the day, they became our staunchest advocates because they had realized something either about themselves or members of their community that helped them to realize the humanity in us all, including in gender and sexual minorities. They saw how they were maybe oppressing others and how they did not want to contribute to that anymore, and just maybe, things could be better.
We always bring in members of the local community to help inform our training sessions. In one instance, we had a panelist who had been excommunicated from their home for being a queer person, which led them to become an activist. They shared their experience — and it just so happened that their relative was in the training session. As a result of the training, they were reunified and were able to reconnect and start the process of healing. That was a powerful moment.
There are so many.
If there is one message you want people to take away from your work, what would it be?
There's a wider shared humanity yet to be fully tapped when it comes to global LGBTQ+ human rights. We must recognize that gender and sexual diversity is a human quality that we all possess. When we understand this, we can have empathy and compassion for gender and sexual minorities who are still suffering around the world in a multitude of ways. Beyond that, LGBTQ+ individuals have insights and beauty to offer the entire world through our unique purviews and lived experiences that could upend and catalyze solutions for some of the world's most pressing problems. Our ability to love, to be free as ourselves in worlds that often heap hate onto us is a form of resilience that might help us conceptualize a better world for us all.
Olson is publishing his first memoir, "Finding My Humanity", in the spring of 2023 where he shares more about his insights from his global human rights efforts.
The Clinton Global Initiative University (CGI U) is looking for higher education students, undergraduate or graduate, who are addressing pressing global challenges.
Students selected for CGI U will receive access to personalized mentorship, a social impact curriculum, funding opportunities through CGI U partners, and invitations to student engagements, including the CGI U 2023 Annual Meeting at Vanderbilt University from March 3-5, 2023.
The regular decision deadline is December 16, 2022. Application information and additional resources can also be found at cgiu.org/apply.