7 stories that brought us together, moved us emotionally, and motivated us all to act.
As we close out yet another year unlike any other, we're looking back at the defining moments that inspired our community.
This year, we brought back the Clinton Global Initiative community to drive action on the climate crisis, the economy, health equity, our global refugee crisis, humanitarian aid in Ukraine, and much more. At the Clinton Presidential Center, we lifted up influential voices who are at the forefront of the global fight for gender equality at the Women's Voices Summit and exhibition. And our initiatives continued to mobilize student leaders as creators of change on their campuses, supported children and families through community-led partnerships for kindergarten readiness, and engaged new audiences in combating the U.S. overdose crisis.
Keep reading for the moments that brought us together and motivated us all to act.
---

"We share the same values. We love freedom, democracy." –Ukrainian President Volodymyr Zelenskyy addresses the Clinton Global Initiative.
The Clinton Global Initiative returned to New York in September with over 140 Commitments to Action and opportunities for collaboration among world leaders and community voices – including conversations with José Andrés, Bono, Matt Damon, Thasunda Brown Duckett, Melinda French Gates, Laurene Powell Jobs, Ashley Judd, Lin-Manuel Miranda, Prime Minister Mia Mottley, Prime Minister Justin Trudeau, Malala Yousafzai, and many others. One highlight from the event was a live interview with Ukrainian President Volodymyr Zelenskyy, who called for world leaders to abandon neutrality, step up support for his country, and stay united against a Russian invasion. In response, CGI commitment-makers announced more than nine new projects to support Ukraine.
You can watch the full interview between President Clinton & President Zelenskyy on CGI 2022's Digital All Access.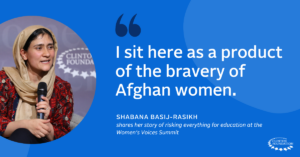 Leaders and advocates for women's rights gathered at the Clinton Presidential Center in December for the Women's Voices Summit. Shabana Basij-Rasikh has been on a mission to help educate young Afghan women and girls since 2016 through the School of Leadership, Afghanistan (SOLA), the first and only all-girls boarding school for girls in Afghanistan. As a child, Basij-Rasikh was educated through the efforts of women who ran secret schools in Afghanistan.
Check out Shabana's story, plus eight more takeaways from Summit participants, in "A playbook for advancing women's rights."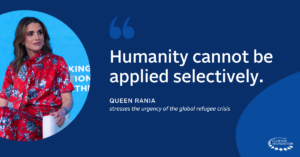 In a conversation on the refugee crisis and what it means to be "home" during the CGI meeting, Queen Rania called on leaders to respond urgently to the global refugee crisis – noting the importance of inclusion, cooperation, and commitment to supporting resettlement.
Check out more of the top highlights from their conversation and the CGI 2022 Meeting in our story, "How we can respond to the refugee crisis to create greater integration and belonging."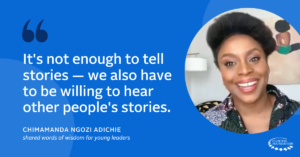 In March, hundreds of student leaders from around the world came together for the Clinton Global Initiative University (CGI U), hosted in partnership with the American Association of Community Colleges. First Lady Dr. Jill Biden, a prominent advocate for community colleges across the country, shared a powerful message on perseverance that resonated with CGI U students, alumni, and our community.
Take a look back at the top moments at CGI U from leaders like U.S. Surgeon General Vivek Murthy, climate activist Clover Hogan, and many more.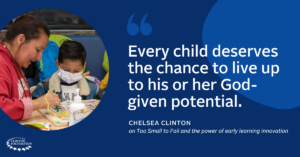 This year, Too Small to Fail teamed up with partners to support community-led innovations for early learning. Partners like the Great Wayne Collaborative in Detroit and William Penn Foundation in Philadelphia are transforming everyday spaces – such as laundromats, playgrounds, health clinics, grocery stores, hiking trails, and community centers – into vibrant early learning opportunities for children and families to talk, read, and sing with each other.
Our team went on assignment with Chelsea as she visited the work in Philadelphia and shared highlights.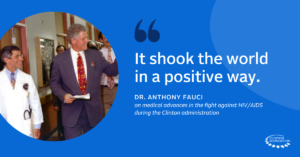 As the nation emerged from the COVID-19 omicron variant, President Clinton and nationally recognized experts came together to share first-person accounts of how the Clinton administration's unprecedented investment in research and science at the National Institutes of Health (NIH) led to some of the most significant scientific breakthroughs in the last century – including sequencing the human genome, developing antiretroviral treatments for HIV/AIDS, and accelerating research which ultimately made it possible to develop COVID-19 vaccines.
Listen to this special bonus episode – and conversations with other luminaries and influential voices, on President Clinton's podcast, "Why Am I Telling You This?"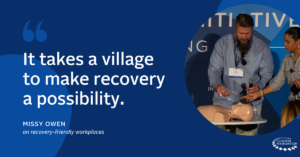 As part of a national campaign to educate Americans on recovery support services and treatment, Mobilize Recovery, an Overdose Response Network partner, rolled its bus into Marietta, Georgia, to inspire the community. Together, they hosted a community-focused convening on the importance of bridging faith and science and strategies for creating recovery-friendly workplaces.