Student Presidential Leaders Series
at the Clinton Presidential Center
The Clinton Presidential Center's Student Presidential Leaders Series is a modular educational program for high school students and educators designed to shape and inspire the next generation of leaders.
The Clinton Presidential Center Student Presidential Leaders Series is a modular, multi-session educational program designed to inspire the next generation through curriculum and activities rooted in social engagement. The program offers an in-depth look at the process of presidential leadership, the importance of civic participation, and the tactics of turning knowledge into action. Through this program, the Clinton Center aims to build capacity within future leaders and enhance the abilities of educators to support student development.
Each year, 15 sophomores and 15 educators will be selected to participate in the program to build connections with peers and educators from across the state, get inspired by established leaders, and learn how to make a meaningful impact.
Designed with accessibility and long-term impact in mind, this annual program is offered at no cost to selected participants thanks to the generous support of the Roy & Christine Sturgis Charitable Trust.
Educators will receive tools, strategies, metrics, and techniques to:
• Promote psychological safety among students.
• Create allyships.
• Cultivate diverse networks where inclusion can flourish.
• Measure equity outcomes.

Selected educators may choose to receive either 12 hours of professional development or a $400 stipend for their participation.
Students will receive tools, strategies, metrics, and techniques to:
• Build a foundation for leading complex and meaningful social change.
• Explore the realities and inequities that negatively impact their respective communities.
• Foster a shared aspiration for creating equitable, inclusive change as Arkansas's next generation of leaders.
• Bridge the gap between reality and aspiration by focusing on systemic solutions.
My voice really can be used to make positive change and to uplift the voices of those that may not be comfortable speaking in those spaces.

2020 Student Presidential Leaders Series Participant
ABOUT THE PROGRAM
Session 1 | Student Presidential Leaders – Virtual Retreat | November 5 – 7, 2021
November 5 • 6 p.m. – 9 p.m. | November 6 • 10 a.m. – 2 p.m. | November 7 • 10 a.m. – 2 p.m.
The Student Presidential Leaders Series' Virtual Retreat provides students and educators with the opportunity to learn, connect, and grow as leaders in a psychologically safe space that empowers their ability to identify structural injustices, and develops new tools to lead to systemic change. The virtual retreat is facilitated by Just Communities of Arkansas. Their organization has nearly 60 years of expertise and experience in facilitating difficult but necessary conversations, amplifying individual's diverse lived experiences and , promoting collective healing, empathy, and humility. Participants will be able to build new relationships with others around the state, creating a new network of solidarity and capacity for leading change needed now more than ever in a state and country experiencing a social revolution within a pandemic. Through facilitated dialogue, organic discussions, and hands-on activities with real-world applications, participants will gain a sense of unity, urgency, empowerment, and enlightenment to look within themselves and to each other to lead positive, equitable change.
Session 2 | Presidential Perspectives on Leadership and Civic Engagement | December 3, 2021
This interactive workshop will explore effective leadership in modern times by drawing on examples from past presidents and contemporary leaders. It will challenge students to discover how their core values impact how they make a difference in their communities. This workshop will be open to additional student groups.
Session 3 | Student Presidential Leaders – Planning Session | January 22, 2022
Student Presidential Leaders will meet again in January 2022 to reconnect, reflect on their leadership growth, and to frame the topic for the third annual Student Presidential Leaders Forum in May 2022.
Session 4 | Global Youth Service Day | April 22, 2022
Students and educators will participate in a service-learning program in celebration of Global Youth Service Day, the only day of service dedicated to children and youth. By serving others, the Student Presidential Leaders will become more motivated to inspire others to work together to make a difference. This program will be open to additional student groups.
Session 5 | Student Presidential Leaders Forum | April 29, 2022
This workshop, designed around the practice of leadership, will serve as the culminating experience for this special group of students and educators. The Presidential Leaders will assist in facilitating this forum for their peers, allowing them to explore an issue that is important to the next generation of leaders. It will put the power of dialogue on display through civic discussions and conversations with subject-matter experts. Students and educators will leave knowing that their ideas matter. This program will be open to additional student groups.
Session 6 | Student Presidential Leaders Immersion Experience | Summer 2022
This session will provide the Presidential Leaders with an opportunity to participate in a project rooted in social justice or civic engagement. Rising seniors who have participated in all sessions of the series will travel to a US site to experience how one of the Clinton Foundation's Initiatives assists people across the globe.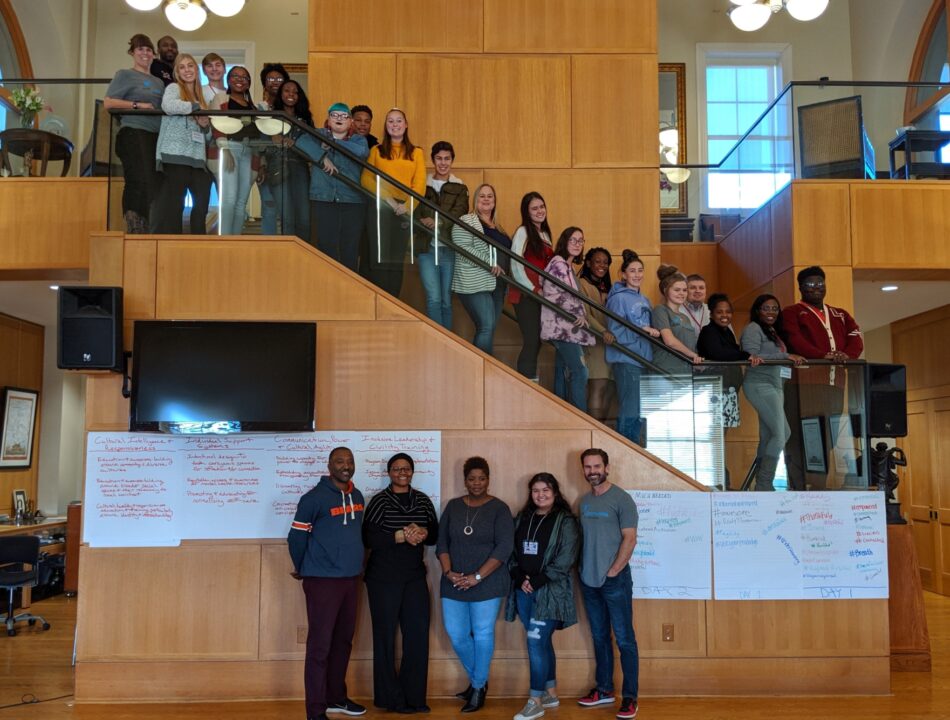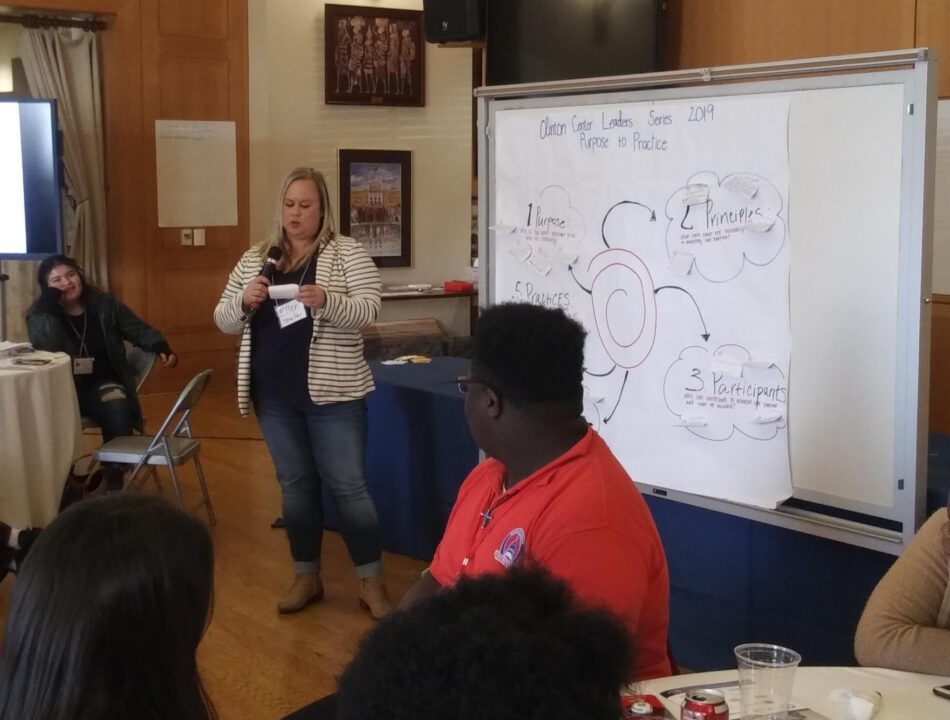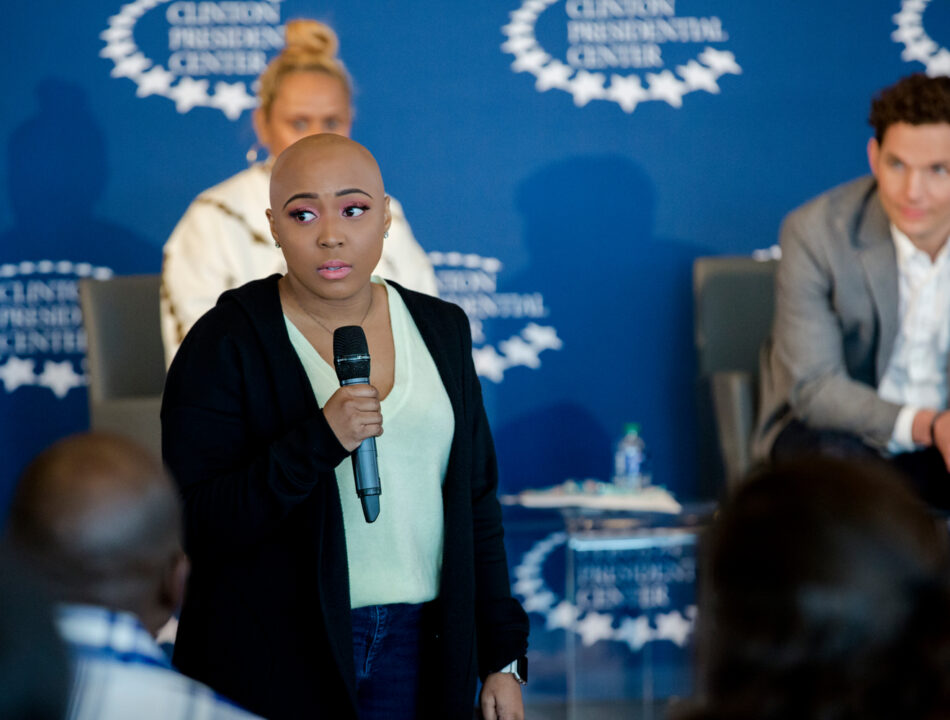 Making an Impact
The Clinton Center's Student Presidential Leaders Series will bring together a combined group of 15 high school educators and 15 high school students who seek to make an impact on their communities. Throughout the year-long experience, students and educators will grow in leadership ability, civic engagement, and vision.