Clinton Presidential Center
Dedicated to continuing President Bill Clinton's lifetime commitment to advancing opportunity for everyone, instilling responsibility throughout our society, and cultivating a shared sense of community.
HOURS
Monday: 9 a.m. – 5 p.m.
Tuesday: 9 a.m. – 5 p.m.
Wednesday: 9 a.m. – 5 p.m.
Thursday: 9 a.m. – 5 p.m.
Friday: 9 a.m. – 5 p.m.
Saturday: 9 a.m. – 5 p.m.
Sunday: 1 p.m. – 5 p.m.
ADMISSION
Tickets to tour the Clinton Center's exhibitions can be purchased at the museum. Tickets are not required to dine at 42 bar and table, shop at the Clinton Museum Store, or explore the Clinton Presidential Park.
COVID-19 Guidelines
All visitors ages five and over entering the Clinton Presidential Center must be fully vaccinated as defined by the CDC.
All visitors over the age of two must wear masks while indoors.
ABOUT the Clinton Center
Our interactive permanent exhibitions, including replicas of the Cabinet Room and Oval Office, invite you to experience presidential history as if you were a White House insider. Our special exhibitions range in topic from historic to entertaining and offer a new experience with every visit.
Our public programs feature compelling conversations with change makers and influencers, as well as events that bring the community together.
In the Clinton Presidential Park, you can explore the Bill Clark Wetlands, cross the Clinton Presidential Park Bridge, and reflect on the poignant Anne Frank Tree installation.
Arkansas educators, join us for the 2022-2023 Educators' Reception and Educational Programs Preview and get a sneak peek of the programs, virtual experiences, workshops, and newest temporary exhibition we'll be offering as an extension of your classroom.
View All Events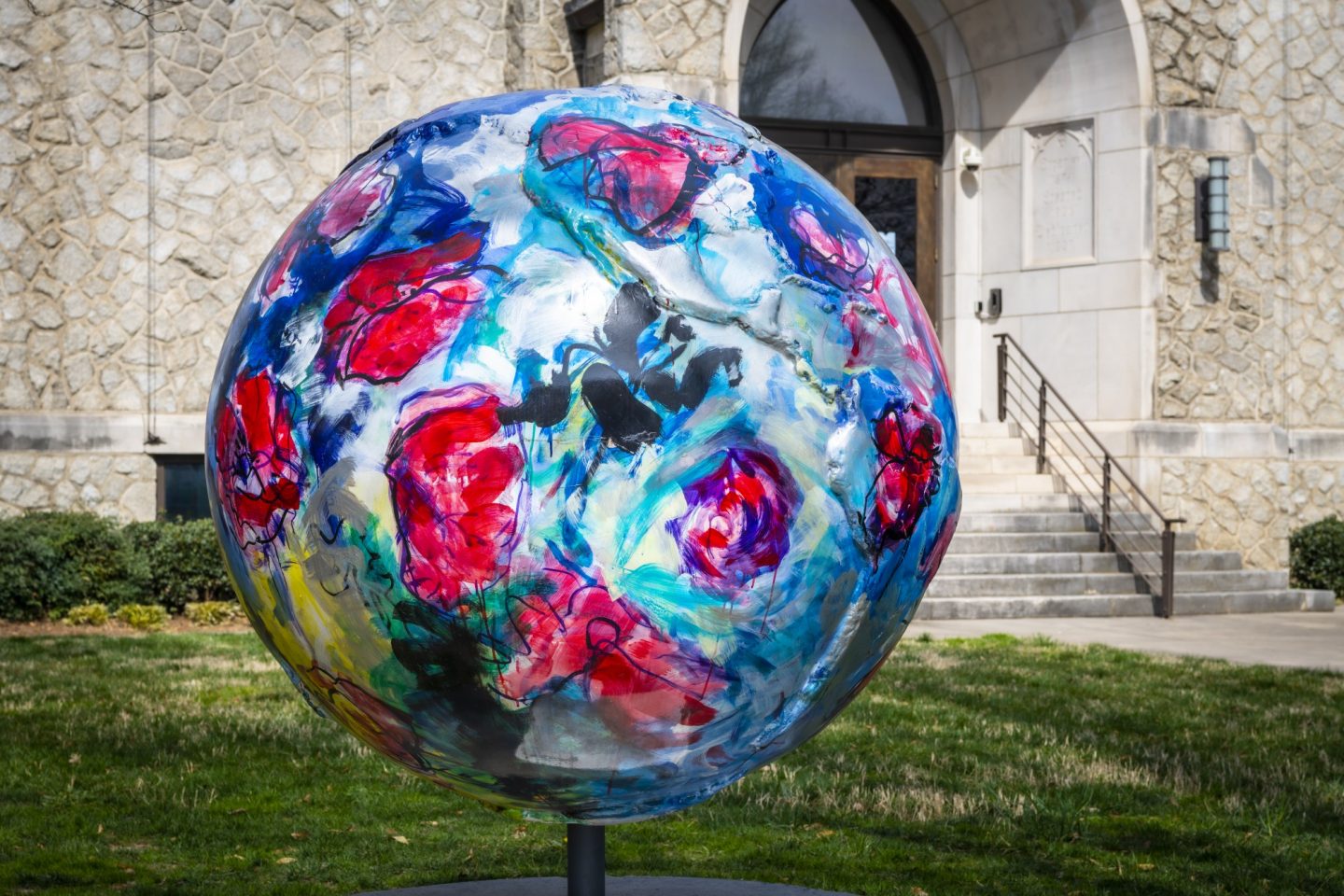 Current Exhibitions
This special exhibition will recount the struggle to adopt the 19th Amendment, pass the Voting Rights Act of 1965, and mount a global movement for women's equality.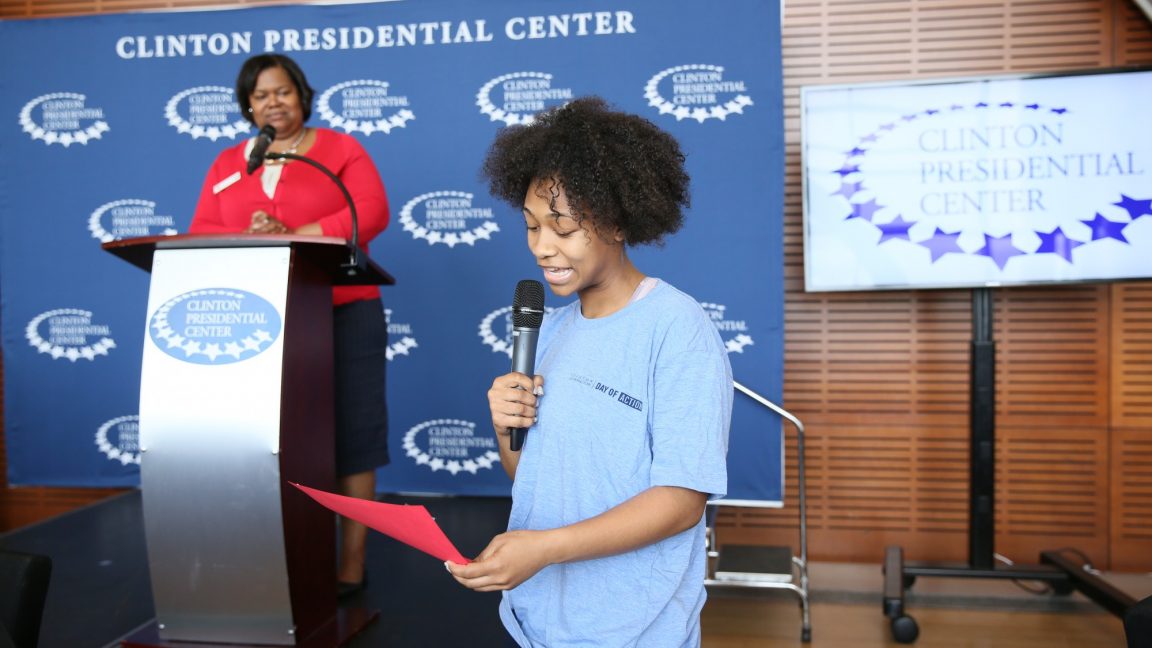 EDUCATIONAL PROGRAMS
We provide educational and cultural programming free of charge throughout the year. More than 460,000 students and teachers have participated in our educational tours, programs, and workshops. We invite you to browse our Educational Programs Web Portal to see all of the available experiences.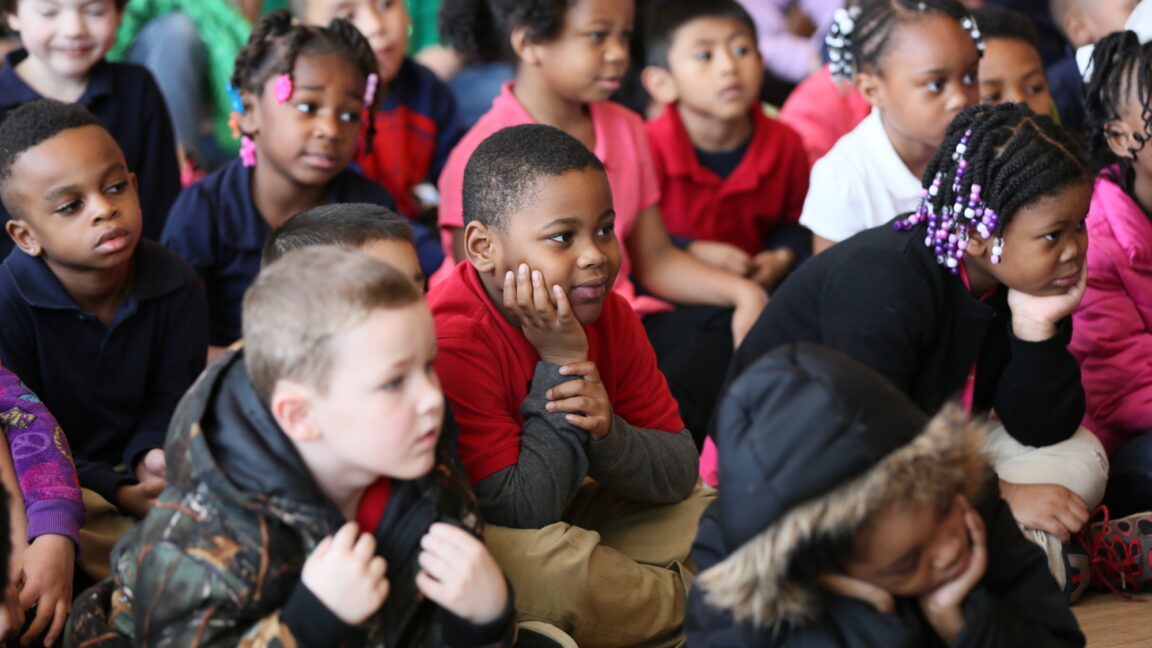 BECOME A MEMBER
Become part of a special community of individuals and organizations that share President Clinton's belief that everyone deserves a chance to succeed and everyone has a responsibility to act.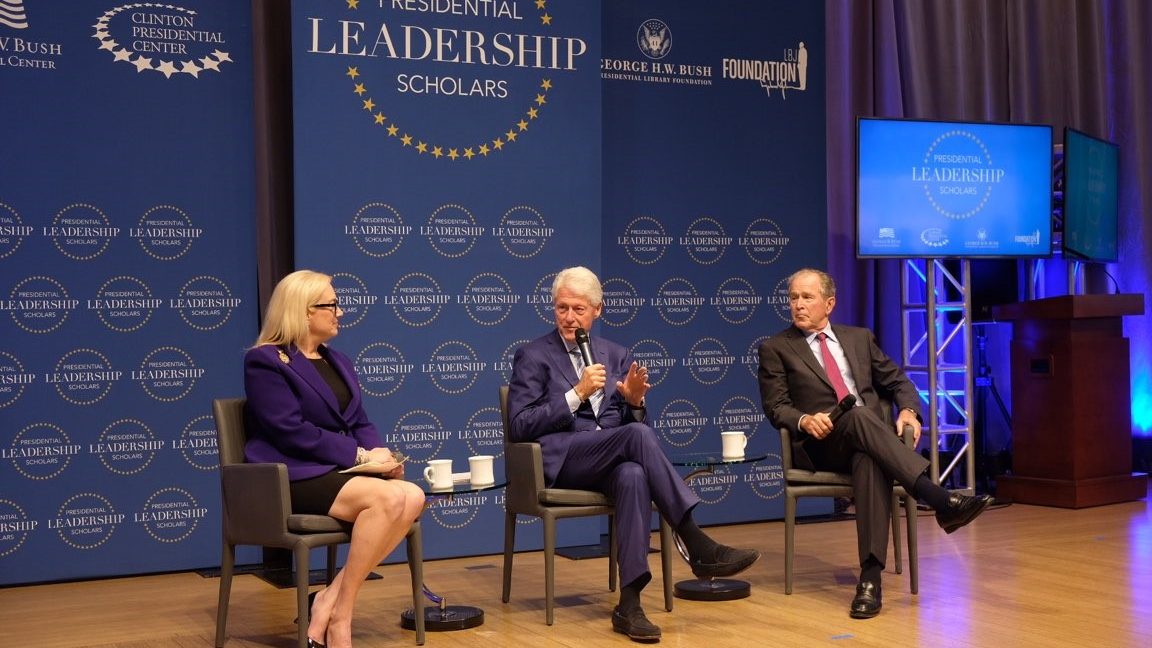 PRESIDENTIAL LEADERSHIP SCHOLARS
This program brings together a diverse network of leaders dedicated to making a difference in their communities and around the world. Through a historic collaboration, scholars learn about leadership first-hand through the presidential experiences of William J. Clinton, George W. Bush, George H.W. Bush, and Lyndon B. Johnson.
Dine at 42
Our award-winning restaurant, located on the lower level of the Clinton Center, blends local favorites with international flavors served in an intimate, river-front dining experience.
Make a Reservation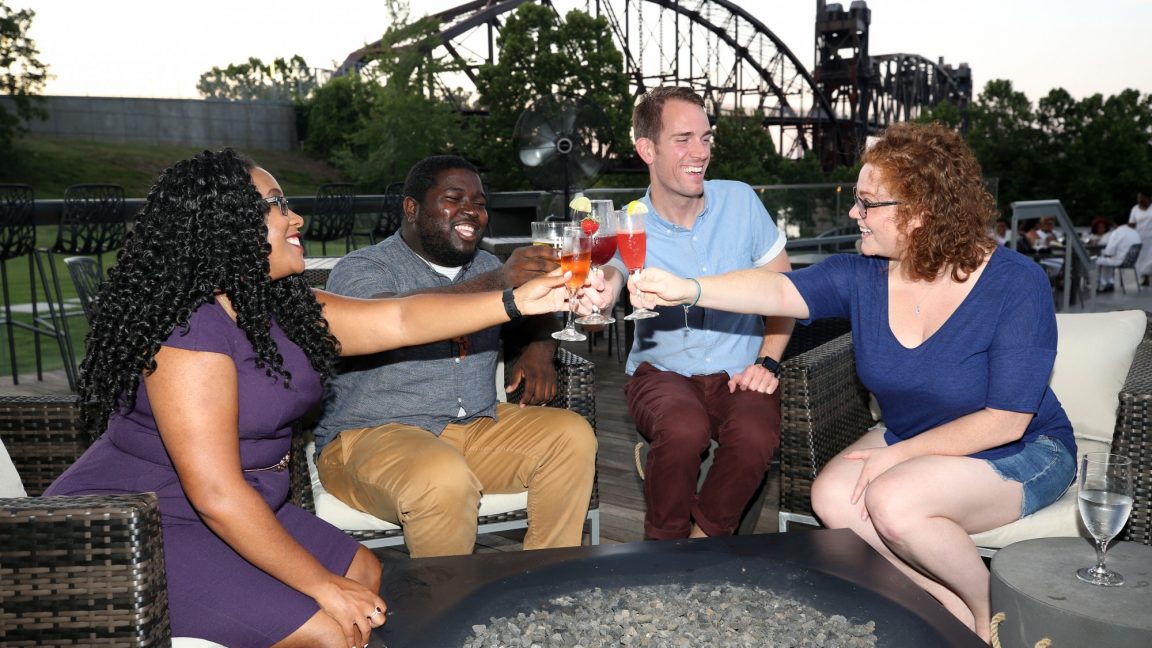 Shop the Store
Located inside the lobby of the Clinton Center, the Clinton Museum Store is a beautifully curated boutique offering everything from Clinton-themed memorabilia to treasures from across the country and around the world.
Shop Now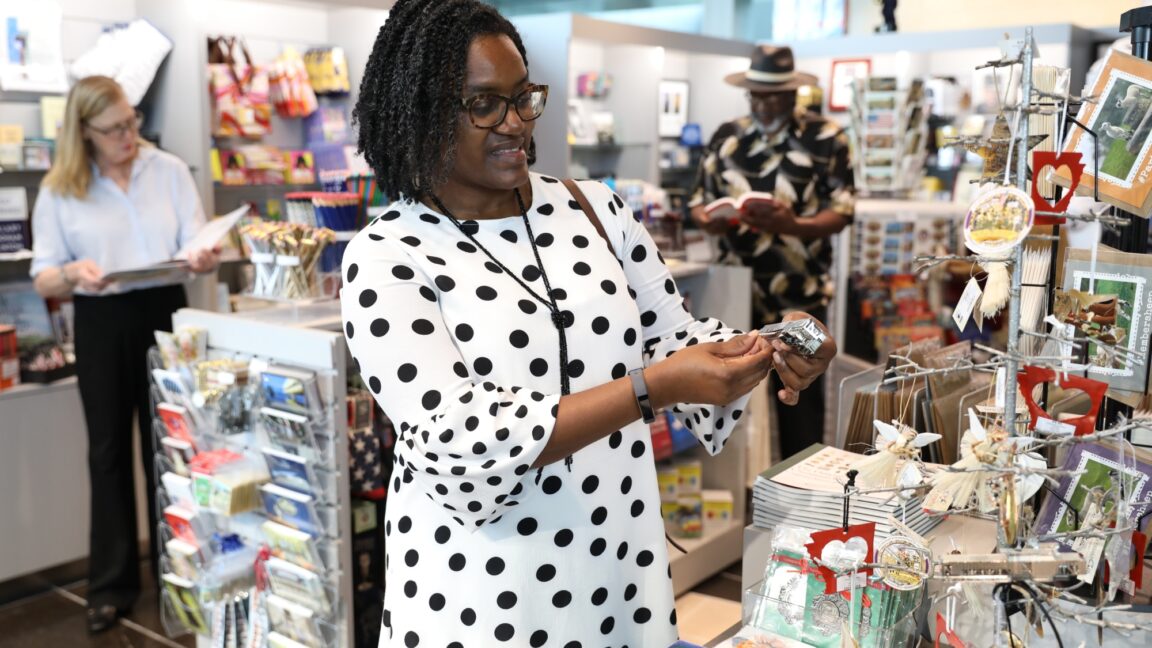 Host Your Event
The Clinton Center boasts award-winning event venues, stunning views of downtown Little Rock, and delicious cuisine served with Southern hospitality.
Plan an Event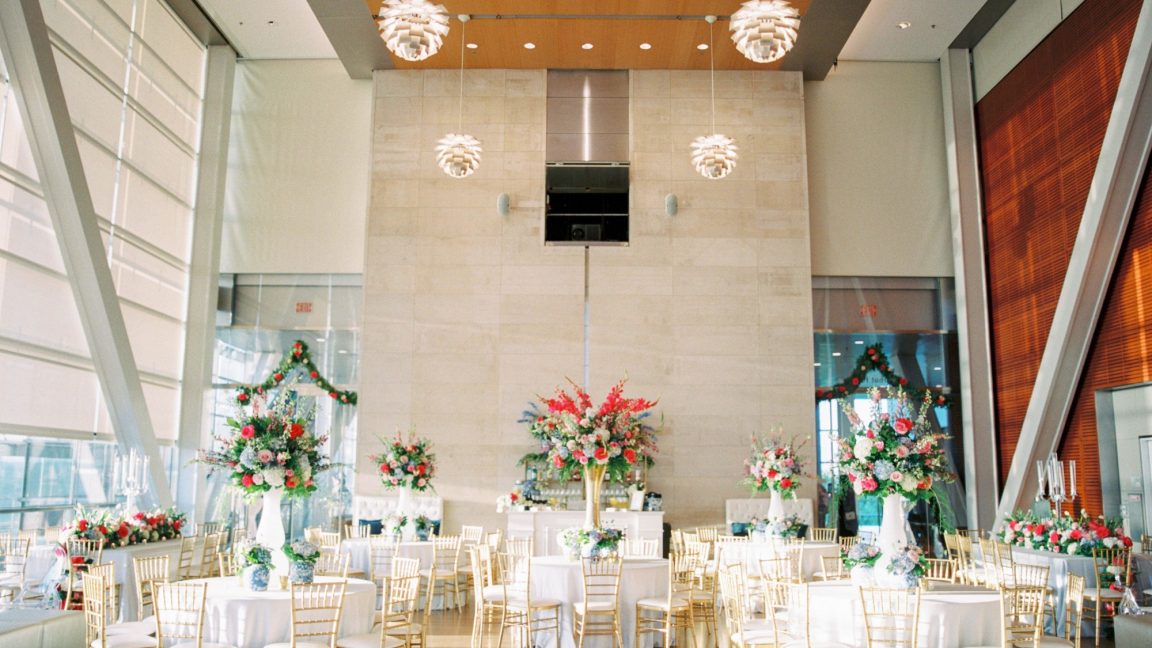 "While this library will expose the past through the documents and explain the policies, as you might imagine, we won't stop thinking about tomorrow. The mission of this library and Foundation indeed will be largely devoted to the future."

President Clinton, December 5, 2001