Investing in Kenyan Youth and Women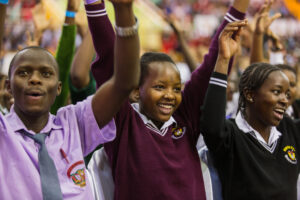 Summary
In 2010, the MasterCard Foundation, the Equity Group Foundation, Equity Bank and the Government of Kenya committed to build financial capacity and entrepreneurship skills of 619,500 Kenyan youth and women. The partners will also provide transformative leadership training (including support to complete secondary education) to 672 secondary students. This commitment expands access to financial services to young people and ensures gender equity. The goal is to fuel entrepreneurship and enhance employability skills to enable young people to become economically productive.
Approach
APPROACH AND METHODOLOGY
This commitment brings together a critical combination of actors to effect lasting change. The gender parity issue is explicitly addressed by targeting an even split between the sexes in all the programs:
The MasterCard Foundation will provide .5 million in catalytic funding and thought partnership for the provision of education opportunities, financial literacy training and leadership development to the identified beneficiaries.
The Equity Group Foundation (EGF) will provide financial education and facilitate access to financial services to a total of 619,500 low-income and unbanked youth and women in Kenya over three years. Of these individuals, 7,500 high potential entrepreneurs will receive additional mentoring to boost their development.
EGF will also administer comprehensive scholarships to 336 academically gifted, but economically and socially marginalized young Kenyans, to enable them to complete secondary school. EGF works with community leaders who will select a male and female student who ranked among the top fifth percentile of the Kenyan Certificate of Primary Education examination in their respective districts. Community leaders further screen students based on vulnerability, financial need, and leadership and transformational impact potential. The process leverages the Bank's national network and ensures every dollar made available goes directly into the scholarships. EGF will deliver leadership and life skills, mentoring, and career advice to the 336 scholarship recipients as well as another 336 top students regardless of financial need to promote social integration among students regardless of economic status.
Equity Bank will avail up to million in credit to the 619,500 youth and women identified and trained above. Through its Group Lending Unit, Equity Bank will mobilize the 619,500 individuals who will receive financial literacy training from EGF. Additional financing to the 7,500 entrepreneurs will also be provided as needed.
The Government of Kenya, through its focus on expanding opportunities for youth, has set up a approximately Million Fund for financial institutions to leverage lending to youth, speeding up access to credit for this critical demographic.
IMPLEMENTATION, TIMELINE, AND DELIVERABLES
The MasterCard Foundation: Provide .5 million. Provide thought-leadership and act as a catalyst to bring together this critical ecosystem of actors for successful and sustainable interventions. (2010-2015)
Equity Group Foundation: Lead financial literacy training and enable access to financial services for 619,500 low-income youth and women entrepreneurs. This includes development of a novel entrepreneurial learning model that will be made widely accessible across the continent. (2010-2013). In addition, EGF will administer comprehensive scholarships and a leadership development program to 672 talented but underprivileged young people to enable them to complete secondary school and prepare to enter higher education or the workforce. (2010-2015).
Equity Bank: Provide access to basic financial services such as savings, and up to million in loans to approximately 619,500 youth and women entrepreneurs over the next four years. (2010-2014).
Government of Kenya: Provide a million Guarantee Fund focused on increasing lending to youth via financial institutions (2010-2014)
Background
This commitment addresses a continuum of challenges – beginning with low secondary school completion, limited access to financial services for low-income youth and women, and high unemployment rates.
Low secondary school completion: Despite the highly successful Free Primary Education Policy instituted by the Government of Kenya in 2003, only 4% of students who complete the 8th grade make it to universities. Every year, approximately 670,000 students drop out of the education system at a number of key transition areas: 36% do not enrol in high school; 20% do not complete high school and 40% miss university placements. In real numbers, this means that over 250,000 individuals exit the formal education system with a basic 8th grade education; 140,000 drop out during high school, and 280,000 who graduate from high school do not proceed to formal university. The key reason for the high dropout rate is the lack of finances, forcing these individuals onto a path of low-wage, dead-end jobs with limited growth prospects.
Secondary school is a critical time that shapes a young person's civic engagement, future educational and job opportunities and the quality of a nation's workforce. According to the World Bank, every year of secondary school completion translates into increased future wages; for girls, an extra year of schooling beyond the average boosts eventual wages by 10-20 percent (Psacharopoulos, George, and Harry Anthony Patrinos. 2002. 'Returns to investment in education: a further update.' World Bank ). Another World Bank report confirms that financing mechanisms such as scholarships are often the best means of retaining poor children, particularly girls, in secondary education
Limited Access to Financial Services: Nearly half of the population lives on less than a day. According to the FinAccess 2009 Survey, only 22.6 per cent of the population in Kenya has access to formal financial services. Although the number of bank accounts have tripled between 2006 and 2009 to 6.7 million accounts, approximately 11 million Kenyans still do not have access to financial services, especially youth and those living in rural areas. Women in Kenya face particular challenges with regards to accessing employment, finance and technical skills to run business enterprises. The Microfinance Act of 2006 highlighted the government's recognition of microfinance, particularly access to savings and credit services, as an important component of efforts to alleviate poverty in the country.
High unemployment: Forty percent of Kenya's population is unemployed. Over 75 percent of those unemployed are youth (11 million people), which the government defines as anyone between the ages of 18 and 35 years. Women face additional challenges due to social, economic and cultural barriers. The World Bank's 2008 Poverty and Inequality Assessment recommends that 'to effectively consider longer term structural issues, existing skills development and microfinance initiatives aimed at unemployed youth need to be reviewed.' (Kenya Poverty and Inequality Assessment'. The World Bank, June 2008). Equipping this age group with employability and entrepreneurial skills opportunities is therefore a critical component of the country's vision of becoming a middle-income country by 2030 (Vision 2030).
Progress Update
July 2015
The MasterCard Foundation and the Equity Group Foundation committed to build financial capacity and entrepreneurship skills of 619,500 Kenyan youth and women. The partners also committed to provide transformative leadership training including support to 672 secondary students. The partners have successfully completed their 2010 Commitment to Action, far exceeding all of their original goals for the project.
Having originally committed to provide leadership training and secondary education support to 672 secondary students, the project, named the Wings to Fly Program, has to date trained 10,363 students. The scholars attend some of the best public schools as a result of the scholarship, schools they might otherwise not have attended. They have also performed exceptionally well in their studies: with school retention rates as high as 98 to99 percent (the 2011 and 2010 rates, respectively), over 30 percent of students earned an A or A- on the Kenyan Certificate of Secondary Education (KCSE) examinations, compared to a national rate of just three percent; over 50 percent of students earned a B+ or higher; 79 percent of Wings to Fly scholars occupy a leadership position at school or in their community; over 90 percent (94 percent and 93 percentin 2010 and 2011, respectively) of students qualify for university; and a third of scholars from the 2010 and 2011 cohorts were accepted to the Equity African Leaders Programme.
Besides academic performance, the scholars have demonstrated great leadership capability with a large percentage of them holding various leadership positions in their schools.
Extensive financial education efforts were carried out by the commitment makers, with 1.2 million youth and women trained in all of Kenya's 47 counties. The 12-week financial education curriculum included four modules: budgeting, savings, bank services, and debt management. This training has had a positive impact on beneficiaries, increasing their use of formal financial services, improving loan repayment rates (as demonstrated by low default rates), reducing informal borrowing, and increasing savings. As a result, the majority of beneficiaries reported that the training gave them a greater sense of dignity and self-esteem. This far exceeded the target of 619,500.
The commitment partners also implemented entrepreneurship training for youth and women drawn from the financial education beneficiary group. The following training was provided: the Start and Improve Your Business curriculum, which includes a range of topics including marketing, record keeping, costing, business planning, people and productivity, stock control, and buying; mentorship through one-on-one business consultations and Local Business Improvement Groups; and the distribution of business tips through mobile technology.
11,119 entrepreneurs have been trained to date, with an additional 20,000 beneficiaries to be trained in 2015. These trainees have grown in a number of areas critical to micro-business success: over 67 percent of trainees are keeping business records; over 87 percent have increased their profits; 73 percent now have increased access to finance for their businesses; and over 95 percent have improved business practices across the range of topics introduced in the training curriculum
There has been enormous learning from these programs and this has set the stage for improvements and scaling up.
Partnership Opportunities
There remains a significant need for secondary education support for deserving students in Kenya. The MasterCard Foundation, Equity Group Foundation and Equity Bank invite all funders who are interested in providing scholarships to contribute to this commitment. Through funding from USAID and UKAid, this project has been able to provide scholarships to an additional 2,277 students. Our goal is to reach 10,000 academically gifted, yet financially disadvantaged young people and enable them to complete secondary school through scholarships. Both organizations welcome other funders to be a part of this project.
SEEKING: Financial Resources, Best Practice Information
While Equity Group Foundation and The MasterCard Foundation have committed to providing scholarships and leadership training to Kenyan students, there remains a significant need for secondary educational support for deserving students. In this first year over 8,000 applications were received and vetted, but only 168 scholarships could be offered. Both organizations welcome other donors to support scholarships for top-performing and vulnerable students. The students will be selected in a transparent, scalable process. It will be embedded in each local community and leverages the Bank's extensive infrastructure, making it one of the most efficient, cost-effective and community driven processes available.
OFFERING: Implementing Partners, Best Practice Information
Equity Group Foundation would act as an implementing partner to other donors who would like to take advantage of the infrastructure that Equity Group Foundation has created and provide scholarship funding for bright but needy students in Kenya. The MasterCard Foundation and Equity Group Foundation will collaborate to document and disseminate the process and learnings from the programs with the aim of enhancing the ability of the philanthropic and social innovation sector to scale strategies and investments that work.

NOTE: This Clinton Global Initiative (CGI) Commitment to Action is made, implemented, and tracked by the partners listed. CGI is a program dedicated forging new partnerships, providing technical support, and elevating compelling models with potential to scale. CGI does not directly fund or implement these projects.