In-Person, Virtual
Kumpuris Distinguished Lecture Series featuring Pulitzer Prize-winning author Isabel Wilkerson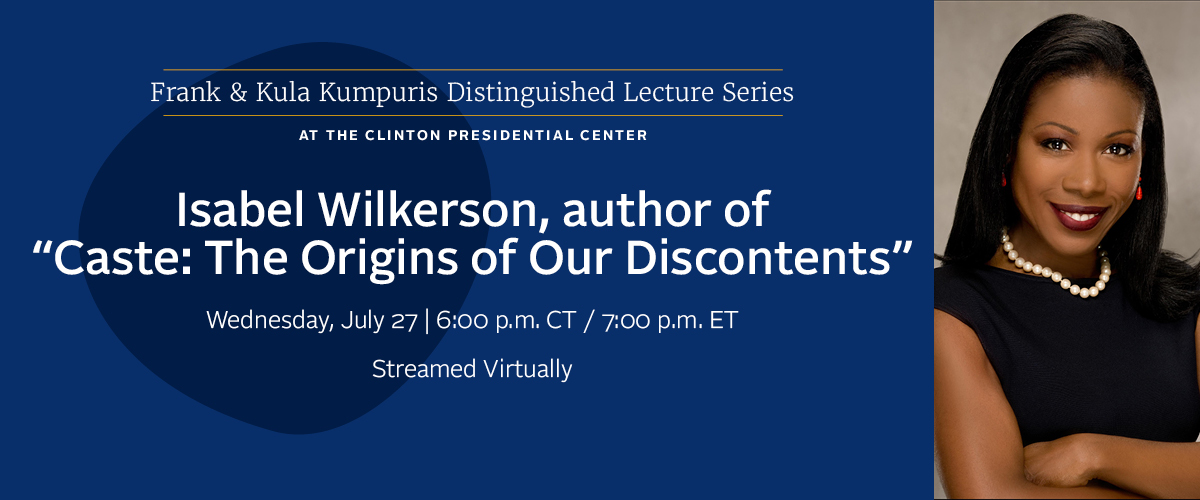 Join us on July 27 for our next installment of the Kumpuris Distinguished Lecture Series featuring Pulitzer Prize-winning author Isabel Wilkerson, with special remarks from President Bill Clinton. Wilkerson is a leading figure in narrative nonfiction, an interpreter of the human condition, and an impassioned voice for demonstrating how history can help us understand ourselves, our country, and our current era of upheaval. Dr. Victoria DeFrancesco Soto, Dean of the Clinton School of Public Service at the University of Arkansas, will moderate the conversation.
We have reached maximum capacity for in-person attendance, but we are still accepting registrations for virtual viewing. Registration is required for both in-person and virtual viewing. Please note that in-person attendees must have a negative COVID-19 test (antigen or PCR) within 24 hours of the event, and masks are required to be worn inside the building at all times.

CLICK HERE TO REGISTER FOR THE PROGRAM.
Isabel Wilkerson is the author of the critically acclaimed New York Times bestsellers, "The Warmth of Other Suns" and "Caste: The Origins of Our Discontents."
Autographed copies of "Caste: The Origins of Our Discontents" are available for purchase from the Clinton Museum Store. Click here to purchase your book.
Her first book, "The Warmth of Other Suns," tells the story of the Great Migration, a watershed moment in American history. It won the National Book Critics Circle Award for Nonfiction, the Heartland Prize for Nonfiction, the Anisfield-Wolf Award for Nonfiction, the Lynton History Prize from Harvard and Columbia universities, the Stephen Ambrose Oral History Prize and was shortlisted for both the Pen-Galbraith Literary Award and the Dayton Literary Peace Prize.
Her second book, "Caste: The Origins of Our Discontents," explores the unrecognized hierarchy in America, its history and its consequences. "Caste" became a No. 1 New York Times bestseller, was the 2020 summer/fall selection for Oprah's Book Club, and was longlisted for the National Book Award. It was named to more "best of the year" lists than any other work of nonfiction. TIME named it the No. 1 nonfiction book of 2020.
Through her writing, Wilkerson brings the invisible and the marginalized into the light and into our hearts. Through her lectures, she explores with authority the need to reconcile America's karmic inheritance and the origins of both our divisions and our shared commonality.
Wilkerson is a native of Washington, D.C., and a daughter of the Great Migration, the mass movement that she would go on to write about. She won the Pulitzer Prize for Feature Writing in 1994, as Chicago Bureau Chief of The New York Times, making her the first African-American woman to win a Pulitzer Prize in journalism. She then devoted fifteen years and interviewed more than 1,200 people to tell the story of the six million people, among them her parents, who defected from the Jim Crow South.