For Immediate Release: April 8, 2022 
Contact: press@clintonfoundation.org 
NEXT WEEK: President Clinton, Secretary Clinton, Chelsea Clinton to host hundreds of student leaders at the 2022 CGI U Annual Meeting, featuring conversations with First Lady Jill Biden, Chimamanda Ngozi Adichie, and U.S. Surgeon General Dr. Vivek H. Murthy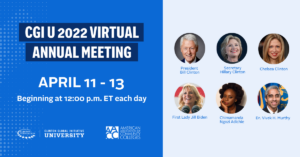 This year's virtual meeting, from April 11-13, will bring together more than 900 student leaders, CGI U alumni, higher education professionals, and entrepreneurs from across the globe to learn how to better serve their communities and act on pressing challenges 
The meeting includes conversations with Dr. Biden and Secretary Clinton on community colleges and the future of workforce development; President Clinton and Dr. Murthy on youth mental health; a virtual town hall with students hosted by Secretary Clinton and Chelsea Clinton; and remarks by Dr. Walter G. Bumphus, President and CEO of the American Association of Community Colleges 
The events will be streamed at cgiu.org/2022, beginning 12:00 p.m. EDT from April 11-13. 
New York, NY – Next week, President Bill Clinton, Secretary Hillary Rodham Clinton, and Chelsea Clinton will host more than 900 student leaders, CGI U alumni, higher education professionals, and entrepreneurs from across the globe at the 2022 Clinton Global Initiative University (CGI U) annual meeting. The American Association of Community Colleges will serve as the virtual co-host for the annual meeting, where students from over 200 educational institutions – worldwide – are expected to gather with other student leaders; engage with some of the greatest minds in business, technology, and social impact; and take action in their communities. 
This event is part of the Clinton Global Initiative's efforts to convene leaders, find solutions and take action on urgent challenges. Last month, President Clinton announced how CGI's work would expand in 2022, including a meeting of the CGI community in person this September in New York City. Through CGI's efforts, more than 3,700 Commitments to Action have been launched, making a difference in the lives of more than 435 million people in over 180 countries. 
Launched in 2007, CGI U is a year-round leadership development program run by the Clinton Foundation for undergraduate and graduate students, seeking one-of-a-kind training, resources, and personalized mentorship with experts, academics, and influential leaders. Since its inception, CGI U programs have engaged more than 11,000 students, representing more than 1,000 schools, 160 countries, and all 50 states. The theme of this year's annual meeting, "Building Resilience: Strengthening Pathways for Lifelong Learning, Advocacy & Social Impact" reflects the innumerable challenges students around the world have faced throughout the COVID 19 pandemic. 
This year, student leaders declared commitments to diversifying the outdoors for girls of color, expanding education initiatives in refugee settlements, providing sinks for the homeless, and a variety of other projects addressing challenges within the global community. The partnership with the American Association of Community Colleges has expanded CGI U's reach to include new perspectives and new projects, including students from a variety of learning backgrounds. 
CGI U 2022 is possible thanks to partnerships with Verizon, IBM, and the Peter G. Peterson Foundation, who all support students develop innovative technology solutions to pressing issues and supporting young people who are reinventing civic engagement, in addition to the CGI University Network, which consists of 47 higher education institutions and professionals from six countries that support, mentor, and provide seed funding to student innovators and entrepreneurs.  
Program details will be available at cgiu.org/2022. Portions of this event were pre-recorded. You can follow along for key highlights, student stories, and noteworthy clips from the event on social media. Follow along on Twitter @CGIU using the hashtag: #CGIU2022. 
WHAT:
2022 CGI University Annual Meeting
WHEN:
Monday, April 11 through Wednesday, April 13, 2022
WHO:
President Bill Clinton;
Secretary Hillary Rodham Clinton; 
Chelsea Clinton, Vice Chair, Clinton Foundation; 
First Lady Jill Biden; 
Chimamanda Ngozi Adichie, Writer; 
Vivek H. Murthy, U.S. Surgeon General, Department of Health and Human Services; 
Dr. Walter G. Bumphus, President and CEO of the American Association of Community Colleges; 
Clover Hogan, Executive Director of Force of Nature Education; 
Elizabeth Wathuti, Founder of Green Generation Initiative; 
Alex Diaz, Senior Manager of AI for Social Good & Crisis Response at Google.org; 
Chido Cleo Mpemba, Special Envoy on Youth, African Union Commission; and 
Jessica Malaty Rivera, Infectious Disease Epidemiologist and Senior Advisor at the Pandemic Prevention Institute. 
The event will be streamed at cgiu.org/2022, beginning 12:00 p.m. EDT on April 11, 2022.  
The full program is available at cgiu.org/2022.  
About the Clinton Foundation 
Building on a lifetime of public service, President Clinton established the Clinton Foundation on the simple belief that everyone deserves a chance to succeed, everyone has a responsibility to act, and we all do better when we work together. For nearly two decades, those values have energized the work of the Foundation in overcoming complex challenges and improving the lives of people across the United States and around the world. 
As an operating foundation, we work on issues directly or with strategic partners from the business, government, and nonprofit sectors to create economic opportunity, improve public health, and inspire civic engagement and service. Our programs are designed to make a real difference today while serving as proven models for tomorrow. The goal of every effort is to use available resources to get better results faster – at the lowest possible cost. 
We firmly believe that when diverse groups of people bring resources together in the spirit of true cooperation, transformative ideas will emerge to drive life-changing action. 
Learn more at https://www.clintonfoundation.org/, on Facebook at Facebook.com/ClintonFoundation, and on Twitter @ClintonFdn.