In a visit to the Foundation for Recovery, Secretary Clinton meets with overdose survivors, and announces 720,000 doses of naloxone distributed through a CGI partnership since 2019
Access to naloxone can mean the difference between life and death for someone suffering an overdose. The drug, which can reverse the effects of an opioid overdose, gives first responders time to arrive and gives people the chance to stay alive and move into recovery.
Today, Secretary Hillary Rodham Clinton was at the Foundation for Recovery in Las Vegas, Nevada — a community organization that has partnered with the Clinton Global Initiative (CGI) to distribute naloxone throughout the local community. Secretary Clinton today announced that through a partnership with Direct Relief and community organizations like the Foundation for Recovery, CGI has helped distribute over 720,000 doses of naloxone across 21 states since 2019.
"There is reason for hope – a recent study found that 3 in 4 people who struggle with addiction eventually recover. But they can't recover if we ignore them and deny resources to them, which is why we've got work to do to make lifesaving naloxone to those who need it," said Secretary Clinton. "At CGI, we bring together people who have different experiences, different expertise, different resources, and put them all together to take action and make a difference that one of us alone could not."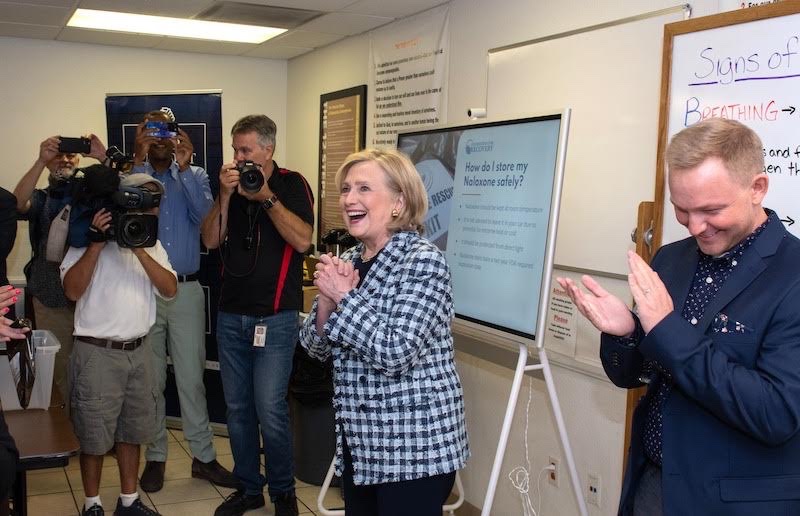 The Clinton Foundation has worked to fight the overdose crisis for over a decade, with President Clinton and Chelsea Clinton leading efforts to forge community partnerships to distribute naloxone. As part of today's visit, the Mayor and Las Vegas City Council issued a proclamation calling May 24 "Secretary Clinton and the Clinton Foundation Day" in Las Vegas, citing the distribution of 20,000 doses of naloxone to the Foundation for Recovery, and commitment "to supporting the Foundation of Recovery's mission to support recovery and end overdose in Nevada."
Last week, the Centers for Disease Control and Prevention released provisional data for 2022 estimating that 109,680 people died from drug overdoses throughout the year, the highest on record. This is a slight uptick from 2021 after a decade of steady increases. Over two thirds of overdose deaths are from opioids, with the majority of those occurring from synthetic opioids like fentanyl. This month, the White House separately released data showing that over the past 12 months, there were more than 210,000 nonfatal opioid overdoses.
At today's visit, Secretary Clinton spoke with Donica and Rob, two individuals in recovery whose lives were saved by naloxone provided through the Foundation for Recovery. They expressed how critical naloxone was — not just in saving them during an overdose, but creating the pathway to recovery.
"Where I was at, is where the naloxone was at, and that's what's so important, said Rob. "Today I live an amazing life, I'm the outreach director for the Shine a Light Foundation, I'm the programs manager at Crossroads, I'm an active member of this community, and none of that happens without stuff like this."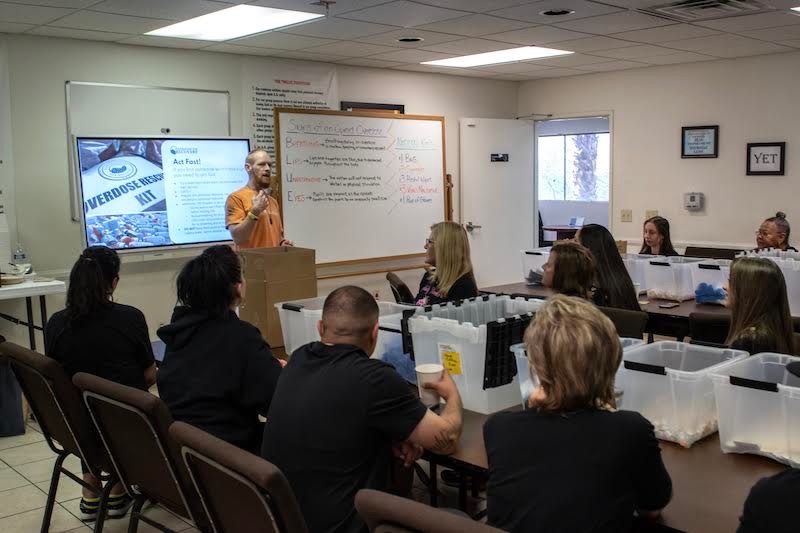 The Foundation for Recovery has received 20,000 doses of naloxone through a CGI partnership. Since 2019, CGI's Overdose Response Network has worked with Direct Relief, the Voices Project (Mobilize Recovery), the National Association of Recovery Residences, and community organizations across 21 states to distribute more than 720,000 doses of injectable naloxone to prevent overdose deaths. The Foundation for Recovery was the first CGI community partner to distribute naloxone to first responders, health care professionals, and other community-based organizations across the state of Nevada.
"We've distributed 20,000 doses of naloxone to recovery homes, community health workers, first responders, families and to our peers, at no cost," said Sean O'Donnell, executive director of the Foundation for Recovery. "We know firsthand the impact of this medication and this program, the lives that have been saved in communities across our state. The scale of distribution could never have been possible without the Clinton Foundation and the leadership of Secretary Clinton and President Clinton."
This partnership is part of CGI's model of bringing together partners across the public and private sectors to take action on pressing global challenges. Launched by President Clinton in 2005, CGI has built a community of doers who are taking action on the world's most pressing challenges, together. CGI works with partners to develop Commitments to Action — new, specific, and measurable solutions. At the 2022 meeting — the first one in six years — members of the CGI community made more than 140 Commitments to Action that will improve access to health care, advance sustainability, create employment opportunities, support refugee resettlement, and more.
At today's visit, Secretary Clinton was joined by Joe Kiani, the founder, CEO, and Chairman of Masimo, who showcased two new technologies that Masimo is unveiling to support people impacted by the overdose and addiction crisis. The Opioid Halo monitors physiological data and alerts loved ones and dispatch for first responders in the event of a possible overdose; and the Bridge, a small electrical nerve stimulator device worn just behind the ear, helps significantly reduce opioid withdrawal symptoms and is proven to support people on their journey into Medication-Assisted Therapy.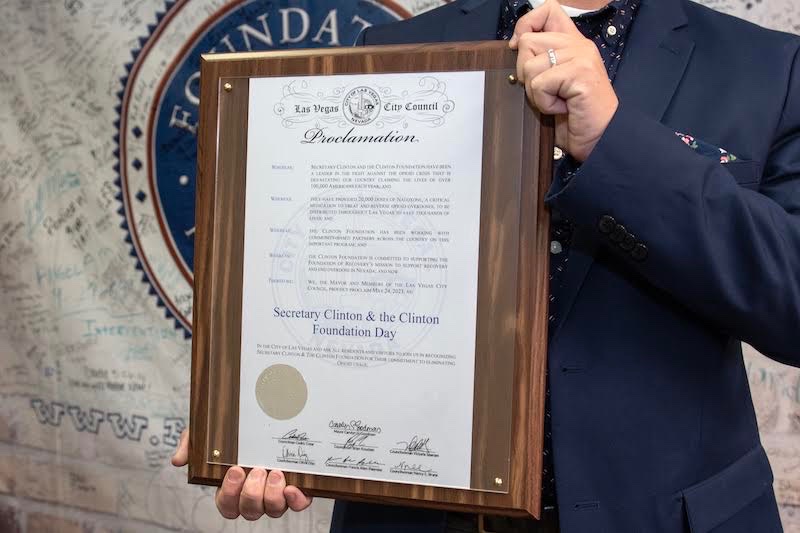 "Saving people's lives from overdose is a part of what needs to get done; we also need to help people treat their addiction and get into recovery," said Joe Kiani. "I think the combination of the Bridge, which helps people treat their addiction and symptoms of withdrawal, and the Halo, which can alert in the event of an overdose, will help in this fight and save lives."
For more information on CGI's efforts to fight the overdose crisis, please visit: https://www.clintonfoundation.org/programs/education-health-equity/clinton-global-initiative/overdose-response-network