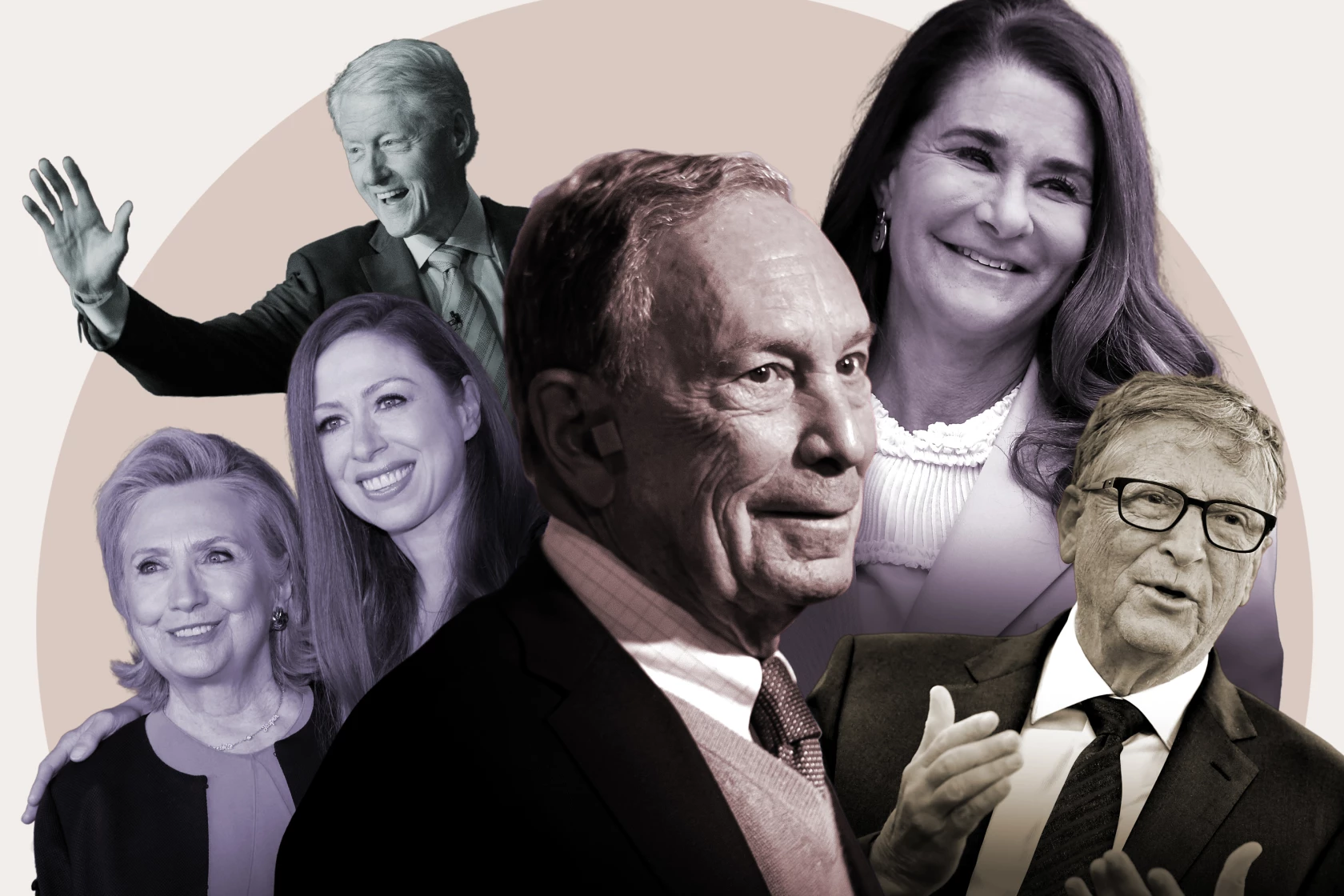 This originally appeared in Chronicle of Philanthropy.
The crush of foundation and donor get-togethers that jam New York City during the annual United Nations meetings will resume next week, along with the return of the Clinton Global Initiative meeting that has been on hiatus for six years and several other philanthropy meetings that have been on hold for two years because of the pandemic.
With its ability to attract heads of state, movie stars, corporate CEOs, and social-movement leaders, the Clinton Global Initiative dominated the slate of events planned alongside the U.N. meetings for a decade. Then, following the 2016 presidential campaign that pitted Hillary Clinton against Donald Trump, and as other philanthropy-related events in New York gained steam, the Clinton Foundation pulled the plug on its annual meeting.
In a March letter announcing the return of the conference, former President Bill Clinton wrote that threats to democracy, climate-related disasters, the global refugee crisis, and inequities made clear by the disparate impact of the pandemic made it necessary to take action. While he was skeptical that the meetings would generate much traction when they began in 2005, the Clinton Global Initiative has resulted in 3,700 "commitments to action" to address pressing challenges.
"It turned out there was a hunger to create change, and to do it with unlikely partners who might otherwise never have the opportunity to meet or work together," he wrote. "The need for that kind of cooperation and coordination has never been more urgent than it is now."
This year's speakers include José Andrés, founder of the World Central Kitchen; Sam Bankman-Fried, co-founder of the cryptocurrency exchange FTX; U.S. Secretary of Energy Jennifer Granholm; and Maia Sandu, president of the Republic of Moldova.
Although philanthropic dollars are a small part of overall international aid, they are often deployed more quickly and test new approaches governments may believe too risky. The meetings give nonprofit leaders an opportunity to showcase their work, meet business and political leaders, and perhaps most important, run into people by chance and have serendipitous conversations in a way that is impossible over a scheduled Zoom call.
All About Cooperation
Though the events planned for next week compete with each other for attention, they each stress a need for cooperation among nonprofit leaders and with leaders of business and governments. Perhaps in that spirit, the Clintons will also host a talk by Melinda French Gates, who since her divorce from Bill Gates has staked out her own approach to philanthropy. Meanwhile, Hillary Clinton will give a talk at the Gateses' annual Goalkeepers conference, which will return after a two-year absence.
The Gates conference is dedicated to tracking progress in the United Nation's Sustainable Development Goals, a set of 17 standards in global health, education, and human rights that member nations committed to achieve by 2030. Global economic problems, climate disasters, and the pandemic's toll on worldwide health have clouded those aspirations.
"The setbacks are fairly dramatic," Gates chief executive Mark Suzman told reporters on a call last week. "The result is nearly every indicator is now off track for meeting its 2030 goal."
The Goalkeepers meeting, Suzman says, "is a call to action for the world, including philanthropists … any and all who have those resources, that this is the time to invest them and there are very investible areas that would benefit."
A Packed Calendar
There is no shortage of events planned next week in Manhattan to help steer those resources.
Other large events clustered around the annual U.N. gathering include the Concordia Summit, which will feature First Lady Jill Biden, and two climate-change meetings hosted by philanthropist Michael Bloomberg: the Earthshot Prize Innovation Summit, and the United Nations Climate Action: Race to Zero and Resilience Forum.
In addition to those large conferences, dozens of smaller events are planned for the week. For instance, Rockefeller Philanthropy Advisors and the Skoll Foundation will resume a program it hosts on "shifting systems" to generate a broad impact on social problems. The Ford Foundation will host that event at its Center for Social Justice, located walking distance from the United Nations. The center will also host discussions presented by the Conrad N. Hilton Foundation, the Council on Foundations, and Wings, a philanthropic support network, on the "localization agenda" — efforts to shift decision-making power to the countries and regions where aid dollars flow.
Because many philanthropy leaders will be in New York next week, other informal gatherings are planned, including several invitation-only meetings hosted by Co-Impact, a donor collaborative that launched in 2017 with a $500 million fund and in March announced plans to raise $1 billion for a gender-equality fund. The group, whose members include Bill Gates and Melinda French Gates, MacKenzie Scott and Dan Jewett, and the Rockefeller Foundation, plans to hold several meetings, including one on corporate foundations' role in advancing gender equality.
Philanthropy Stepping Up
The meetings take place as philanthropy is being called to shoulder more responsibility in responding to global crises, says Una Osili, associate dean for research and international programs at Indiana University's Lily Family School of Philanthropy.
According to the school's Global Philanthropy Tracker, philanthropy accounted for about 8 percent of the $834 billion in giving in 2018. The tracker, which measures cross-border development assistance from governments, private investors, person-to-person remittances, and philanthropic grants, will be updated in 2023. In 2014, the tracker found, the proportion of international giving by philanthropy was about the same.
Osili believes the philanthropic response to the pandemic, which included announced increases in giving, more collaborative approaches, and a reduction in the bureaucracy involved with making a grant, bode well for future increases in development funding.
"Government is still the primary player in development," she says. "But private donors are playing a bigger role."
A Focus on 'Doers'
There's no denying that the celebrities and heads of state that drop in at the events planned for next week give the meetings star appeal, says Gregory Milne, chief executive of the Clinton Global Initiative. But he stressed that with its return, the event has attempted to include speakers based on whether they are "doers" rather than the title they hold.
Milne and other philanthropic leaders stressed that they wanted the events to spotlight people working "proximate" to the problem they were trying to solve.
"There's still obviously a lot of divisiveness in the world, and we're still seeing a lot of gridlock," he says. "We are so focused on engaging at the community level because while there has been lot of challenges at the national and at the global level, at the community level, people are getting things done."
Elizabeth Barajas-Román, president of the Women's Funding Network, an international group of women donors and grant makers, will be attending General Assembly side meetings for the first time. She says she'll be especially interested in hearing from feminist social-change leaders from other countries. Over the past several years, culminating in the Supreme Court decision in June that reversed the right to an abortion guaranteed in the Roe v. Wade ruling, there has been a "rollback" of rights for women, she says.
Often, she says, American grant makers and social-change leaders come to international conferences with an attitude that they will teach leaders from other countries the lessons they've learned. Now, she says, Americans need to pay attention.
"We're in a place of crisis where we can really learn from what other global actors have done to move so much further ahead than where we are," she says. "There's an opportunity now to really listen to where those other solutions might be."
Building Relationships
The New York meetings not only help grant makers keep tabs on the latest ways they can make a difference around the world, but for many, they are also the ultimate philanthropy networking event.
The annual meetings helped Rachel Flynn land her current job as Skoll's director of funder alliances three years ago. Skoll's Silicon Valley headquarters is about five miles from her former employer, the Omidyar Network, but she had never stepped foot in Skoll's offices. Meeting Skoll leaders across the country in New York introduced her to the foundation's work and eventually led her to joining the organization.
Flynn says during the peak of the pandemic, the foundation was largely unable to meet its international philanthropic partners in person and conduct its regular due diligence on projects supported by grant makers in other parts of the world. As a result, Skoll and other grant makers have placed a higher importance on "trust-based philanthropy," an outlook that includes having organizations close to problems take the lead in determining what approaches should be used.
The meetings, she says, are less about seeing whether grants made with that approach had the desired impact and more about meeting people face-to-face to establish a deeper connection.
"It's an opportunity to meet people and organizations that we haven't been able to meet yet," she says. "It's less about accountability and more about relationship building."
Beyond the Meetings
For those relationships to matter, they have to be supported throughout the rest of the year, long after the U.N. meetings come to a close, says Antha Williams, who leads environmental programs at Bloomberg Philanthropies.
Michael Bloomberg serves as a U.N. Special Envoy for Climate Ambitions and Solutions. The Bloomberg events, Williams says, will help him use that position and his experience as a big-city mayor and business leader to encourage participation from members of the corporate world and the international ranks of municipal leadership.
The timing of the meetings has special significance, Williams says, as they will allow city leaders to preview their work on an international stage less than two months before the next major U.N. climate conference, which is scheduled for November in Egypt.
"It's pretty important to have a moment well before that convening happens to actually show what's happening in the private sector with localities, with these nonstate actors," she says. "National governments alone aren't going to be able to get the job done."