Leading voices from the U.S. and around the world share 9 ways we can fight to achieve women's equality — once and for all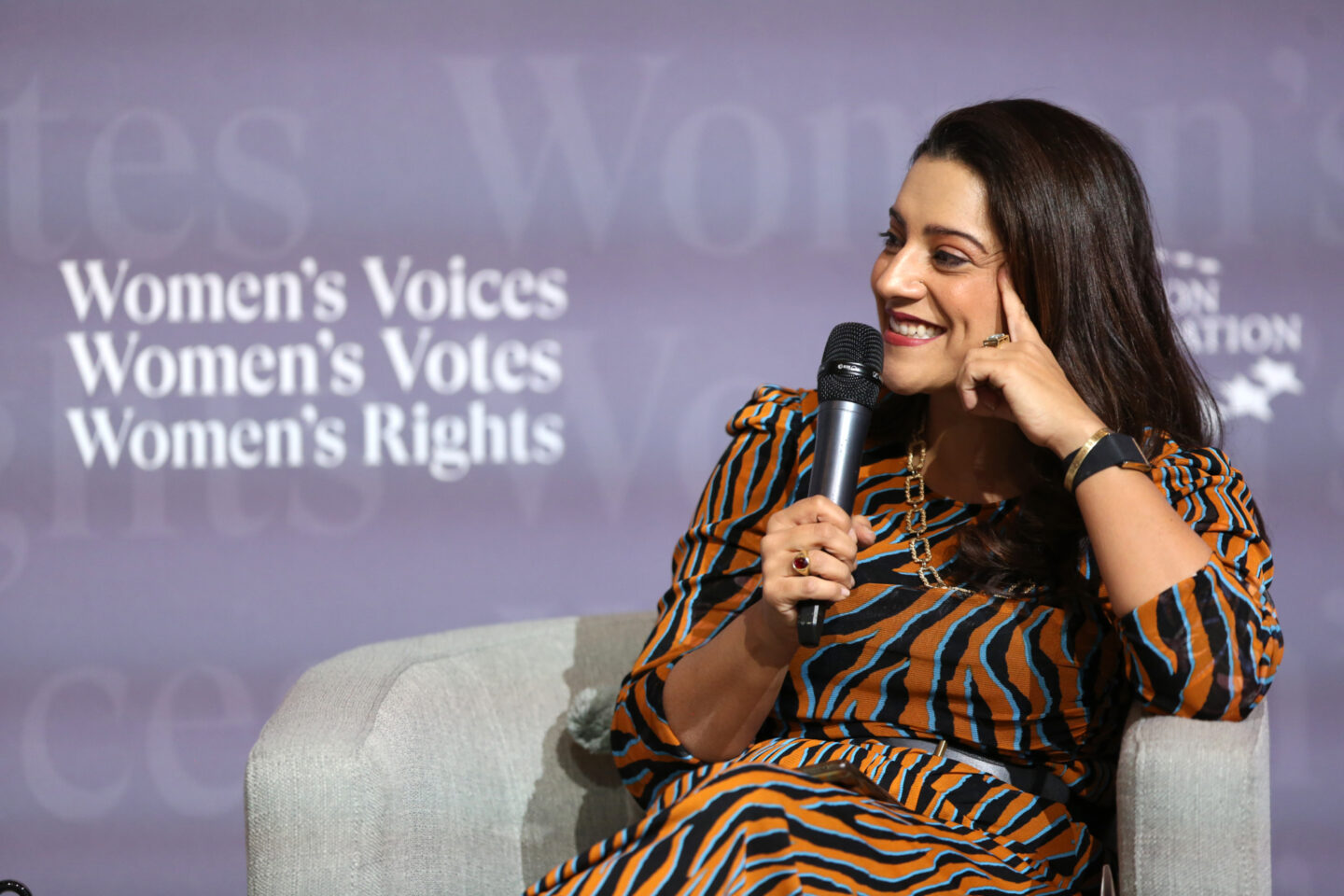 The air was electric as more than 200 leaders and advocates for women's rights converged on the Clinton Presidential Center in Little Rock last week. They gathered for Women's Voices: an international summit and exhibition exploring the unfinished business of the 21st century – women's equality.
Old friendships were rekindled, new relationships were forged, and the atmosphere was buzzing in anticipation of the day ahead. Waiting for the program to kick off, participants shared career advice, swapped parenting stories, and – in the case of our youngest attendees – discussed college applications. Images of the 18 art quilts featured in the Women's Voices exhibition brightened the venue, while several attendees incorporated purple or white into their outfits, a nod to colors associated with the U.S. suffrage movement.
Each participant brought a diverse breadth of experience and a shared focus – to lift up each other's voices, have the hard conversations that matter, understand and honor the experiences of our ancestors, and drive action for a more equitable future for girls, women, and everyone to share.
We're sharing nine takeaways from Summit participants who are creating change and advocating for progress on issues that impact girls and women – from voting rights to reproductive and maternal health care, workforce participation, defending human rights across the globe, and much more. Keep reading to get inspired. Find the Women's Voices Playbook for Action and watch the full program at www.clintonfoundation.org/womensvoices.
Telling the real stories: Secretary Clinton on the importance of RECOGNIZING AND CELEBRATING all women throughout history
Secretary Clinton kicked off the program by recounting her own experiences learning about women's history in school. Addressing the audience, she recalled learning about prominent historical figures like Joan of Arc and Queen Elizabeth I, but not many more.
It's a curriculum gap the Women's Voices exhibition is aiming to take the first step in bridging, by spotlighting the women throughout history who have fought for a better future. It's a first step in tackling the issue of women's equality in the 21st century and beyond.
"Part of what we are trying to do [with this exhibit] is tell the real story, including the women from around the world, who deserve to be recognized and integrated into the stories we tell share. This is essential to progress because learning from our past determines the kind of future we create," said Secretary Clinton.
Check out the Women's Voices exhibition, now on display at the Clinton Center, to see inspiring stories of women throughout history.
View this post on Instagram
Know the data and then challenge the predictions through your actions: Former Liberian President Ellen Johnson Sirleaf and former Australian Prime Minister Julia Gillard on elevating women to the highest levels of leadership
More than 100 years ago, women in the U.S. first gained the right to vote with the ratification of the 19th Amendment. But according to UN Women, it will take another 130 years to reach gender equality globally in the highest positions of power.
In a candid conversation with Secretary Clinton, former Australian Prime Minister Julia Gillard and Former Liberian President Ellen Johnson Sirleaf discussed the importance of elevating women to positions of leadership. President Sirleaf urged the audience to challenge UN Women's prediction for gender equality. Here's how:
.@MaEllenSirleaf shares why it's critical that we protect and safeguard democracies. #WomensVoices | https://t.co/YYg2RTouaq pic.twitter.com/ffTn72p0G4

— Clinton Foundation (@ClintonFdn) December 2, 2022
Prime Minister Gillard discussed how women in politics serve as important role models for younger generations, encouraging younger women and girls to follow in their footsteps – and chart paths of their own.
"Women being in politics matters." – @JuliaGillard on lessons learned throughout her career and work with @GIWLkings. #WomensVoices | https://t.co/YYg2RT6TiS pic.twitter.com/WcMeXdP2Bb

— Clinton Foundation (@ClintonFdn) December 2, 2022
Don't count out Gen Z: Jaclyn Corin of March for Our Lives on the persistence of young women voters, communities of color, and queer youth making waves at the polls
Jaclyn Corin is proof that experience does not come with a minimum age. At the age of seventeen, in the wake of the deadly 2018 school shooting at Marjory Stoneman Douglas High School, Corin co-founded March For Our Lives, a youth-led movement dedicated to promoting civic engagement, education, and direct action by youth to eliminate gun violence.
During a conversation on the power of young voters with Reshma Saujani, Founder of Girls Who Code, Corin talked about centering her organizing around voting, recalling the day after the shooting when she and her classmates travelled to the Florida State Capitol to talk to elected officials about the importance of enacting gun safety policy.
.@JaclynCorin speaks with @reshmasaujani about what the last election taught her about the importance of mobilizing young people. #WomensVoices https://t.co/YYg2RTouaq pic.twitter.com/s77mhIT7yU

— Clinton Foundation (@ClintonFdn) December 2, 2022
A gentle nudge can lead to endless ripples for change: Paola Ramos on the power of finding – and using – her voice.
Paola Ramos, Correspondent at Vice and Contributor at Telemundo and MSNBC, shared her story on how one person's gentle nudge encouraged her to find and use her voice to do good, be a champion, and to defend the ideals of democracy.
"Everyone is worthy of finding their voice and of using their voice. And when you do find that voice, use it to do good. Use it to be a champion. Use it to be a defender of democratic ideas."
.@PaoRamos shares how @HillaryClinton helped her find her voice. #WomensVoices https://t.co/ryfcBpJtO9 pic.twitter.com/xp9OGC28PX

— Clinton Foundation (@ClintonFdn) December 2, 2022
We can turn our struggles into strength and create change: Christy Turlington Burns on the maternal health crisis
During a panel on maternal health, Christy Turlington Burns talked about the importance of sharing stories and experiences, saying "By sharing our birth stories, sharing our healthcare provider stories, when we have a positive experience, sharing to our friends, and our neighbors and our communities learn what that experience was like, what to expect for ourselves, and what to demand."
.@CTurlington on how her own pregnancy experience inspired her to start @everymomcounts to improve access to quality and equitable maternity care here in the United States and around the world. #WomensVoices | https://t.co/iDFuCixWMn pic.twitter.com/PrX0SY9yZE

— Clinton Foundation (@ClintonFdn) December 2, 2022
Care, no matter what: Planned Parenthood's Alexis McGill Johnson on the very personal stories and stakes at the heart of women's healthcare
Alexis McGill Johnson, President and CEO of Planned Parenthood Federation of America and the Planned Parenthood Action Fund, reminded us that reproductive healthcare is more than legislation and statistics. At the heart of this issue lies the patients: women – with childcare, eldercare, and other personal and professional responsibilities – who, at times, are forced to travel hundreds of miles to access the reproductive healthcare they need. Her mission? Facilitate the delivery of community-based health care to every woman who needs it – no matter what.
.@alexismcgill: "We've lost the constitutional right to abortion, but we haven't lost our autonomy. We haven't lost our full freedom, our agency to fight back." #WomensVoices | https://t.co/YYg2RT7r8q pic.twitter.com/6bZCdUStQn

— Clinton Foundation (@ClintonFdn) December 2, 2022
Making our voices heard on the issues that matter to us: Amy Tu on the power of women's voices in the boardroom
During a panel discussion on women's voices in the economy, Amy Tu, President, International and Chief Administrative Officer, Tyson Foods, recounted an executive meeting where the topic of women's rights and women's healthcare was being discussed. After hours of back-and-forth, including hesitation by some to discuss what they termed a "political issue," one of her male colleagues, thinking out loud, said that perhaps he should be looking at the issue from a woman's perspective. "Bingo," said Tu. "It's not about politics… this is an issue about access to health services. Yesterday they had it, today they don't."
Amy Tu of @TysonFoods on the power of #WomensVoices in the boardroom (trust us, you'll want to watch until the end). https://t.co/iDFuCiPxDV pic.twitter.com/wevG8ZZcXY

— Clinton Foundation (@ClintonFdn) December 2, 2022
Unlocking the power of education to uplift women and girls: Shabana Basij-Rasikh and the path to continue educating Afghan women in the face of restrictions
Afghanistan is the only country in the world where girls' education is illegal. This isn't stopping Shabana Basij-Rasikh, who has been on a mission to help educate Afghan young women and girls since 2016 through the School of Leadership, Afghanistan (SOLA), the first and only all-girls boarding school for girls in Afghanistan. This desire comes largely in part from her own experiences in education as a child. Basij-Rasikh was educated through the efforts of women who opened and ran secret schools through their living rooms. SOLA may not be in her living room, but the message is the same: education for girls is a human right.
"I sit here as a product of the bravery of Afghan women."—@sbasijrasikh on risking everything for education #WomensVoices pic.twitter.com/ukg0I8TNu1

— Clinton Foundation (@ClintonFdn) December 7, 2022
The battle for the future runs through the stories of the past: Chelsea Clinton on the importance of acknowledging untold histories as we look to the future
At the Summit, Chelsea Clinton recounted her early-morning run by the Arkansas State Capitol, where she passed a monument created by the Daughters of the Confederacy. Notably absent were any monuments dedicated to the Arkansans who fought for the Union. This selective retelling of history prompted her to share that "the battle for, not only the future, but even who we are today, runs directly through the stories that we tell ourselves and our children about who we are as a country and who has value here."
.@ChelseaClinton: "The battle for, not only the future, but even who we are today, does run directly through the stories that we tell ourselves and we tell our children about who we are as a country, who has value here" | See more from #WomensVoices: https://t.co/YYg2RT6TiS pic.twitter.com/KZWIhHxsMz

— Clinton Foundation (@ClintonFdn) December 3, 2022
***
The Women's Voices Summit was a profound reminder to all of us that we cannot move forward in the fight for women's rights without acknowledging the past. The Summit is just the beginning of more vital conversations, more tangible partnerships, and more action. Two Commitments to Action were made at the Summit.
Health Information Project, in partnership with the Little Rock School District and the University of Arkansas for Medical Sciences, committed to implementing a peer-to-peer model in five high schools starting in fall 2023. This commitment will offer relevant, reliable health education and support for over 6,000 students and their families in Little Rock to more easily access healthcare resources.
Global Response Management and Massachusetts General Hospital Global Disaster Response and Humanitarian Action committed to addressing the humanitarian crisis in the U.S.-Mexico border by providing basic health services for the vulnerable migratory populations through three core objectives: 1) increasing provider capacity for direct care, 2) ensuring consistency in accessibility of that care, and 3) increasing access to specialty services specifically in maternal and child health.
To watch the program on demand via Digital All Access, visit www.clintonfoundation.org/womensvoices.
And to find more ways to get inspired, visit our Women's Voices Playbook for Action including specific actions everyone can take to advance women's equality worldwide.