---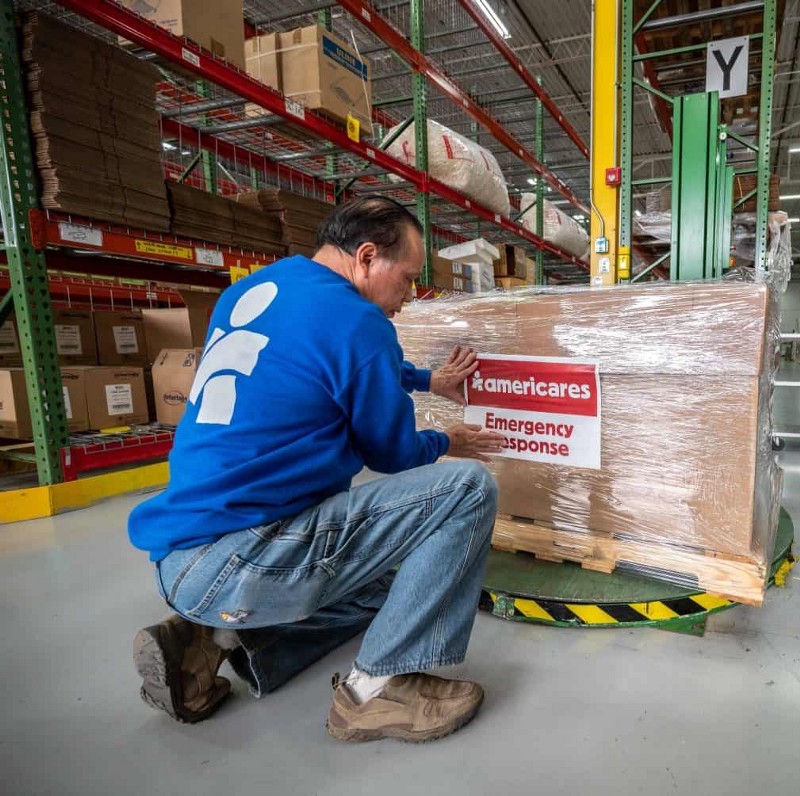 Credit: JEFF KENNEL / AMERICARES
Scientists, health care professionals, first responders, and other leaders around the world have been responding to the outbreak of a novel coronavirus. This virus caused a disease called COVID-19 which has been detected in more than 100 locations internationally. Reported cases include imported cases from travelers, cases among close contacts of a known case, and community-acquired cases where the source of the disease is unknown. Global efforts are focused on lessening the spread and impact of COVID-19 as this is a rapidly evolving situation.
A significant part of our work at the Clinton Foundation is collaborating with strategic partners to develop and implement programs that improve public health. Our Clinton Global Initiative partners are mobilizing around the world to support the immediate response and recovery of those affected by COVID-19.
World Central Kitchen
World Central Kitchen is supporting communities in need all across the country as COVID-19 continues to spread. Beginning in early March, the organization has been preparing breakfast, lunch, and dinner foods from an off-site kitchen in San Francisco for thousands of guests and crew on the Grand Princess, currently docking in Oakland, California. For students and families, World Central Kitchen has been working with local chefs and school district leadership to provide grab and go meals while schools are shut down. Founder Jose Andres is calling for the government to support the mobilization of the various members of the food and restaurant industries to save jobs and feed all those in need.
Airlink
Airlink is working with airline partners to provide airlift for staff and volunteers who are deploying for and returning from COVID-19 response efforts. Beginning in early February, they have sent out three shipments of cargo and protective gear to community health centers and hospitals, and have many more in the pipeline.
Project HOPE
Project HOPE is preparing to ship 40,000 FDA-approved N95 masks from China to the United States for distribution to New York City health facilities. Their team in China is working closely with manufacturing partners to source and export additional protective gear to the United States and other countries at the forefront of the pandemic.
Mutiny Island Vodka
Mutiny Island Vodka, in partnership with Trees That Feed Foundation, is making an alcohol sanitizer from breadfruit, a staple found across the Caribbean. They are able to produce 9,000 gallons a week for distribution to hospitals and the Virgin Islands government. Should the Virgin Islands' supply of surface sanitizers be depleted, Mutiny Island Vodka will begin mass production of their breadfruit alcohol sanitizer, supporting breadfruit growers and the local economy.
Good360
Good360 shipped protective gear, including face shields, gloves, gowns, head covers, masks, respirators, and shoe covers, to Project Hope and Red Cross of China through the generous support of The UPS Foundation. They are actively communicating with over 400 donors and 90,000 nonprofits to provide up-to-date information. Additionally, they are collecting product donations from corporations for NGOs in need.
World Hope International
World Hope International is actively working with other disaster relief partners to develop innovative means to support quarantined victims and their families. As they increase their presence overseas, they are utilizing their technical experience to create a plan that will protect vulnerable communities, anticipate outbreaks in health hotspots, establish preventative measures, and work side by side in those communities where the organization has longstanding relationships to reinforce prevention methods and understanding of COVID-19.
Americares
Americares is providing personal protective equipment and training health workers on the frontlines of the outbreak. In addition, Americares is readying and sharing educational resources on infection prevention and control and disaster preparedness for partner health care facilities in the U.S. and around the world. To date, Americares has delivered 6 tons of protective supplies for the COVID-19 pandemic.
Direct Relief
Direct Relief is coordinating with public health authorities, nonprofit organizations, and businesses in China and the U.S. to provide personal protective equipment and other items to health workers responding to COVID-19. They will be shipping 250,000 N95 masks and other personal protective equipment to as many as 1,000 community health centers and free clinics in all 50 U.S. states that are playing a critical frontline role as COVID-19 spreads.
International Medical Corps
International Medical Corps is leveraging its relationships with local and national ministries of health in more than 30 countries to provide expertise, equipment, training, and triage and treatment services. Leveraging the extensive experience of their epidemiologists and other experts from previous outbreaks and a multitude of other infectious disease response efforts globally, International Medical Corps has designed a three-pronged approach to ensure that at-risk countries and regions are able to prepare for and respond to potential outbreaks of COVID-19 in low-resource settings. This approach includes training and capacity building, prepositioning supplies, and response.
Afya Foundation
Afya Foundation, in partnership with New York-based Foremost Group and the Hubei Charity Federation in Wuhan, China, sent urgently needed medical supplies, including protective gear such as masks, gloves, and gowns to support the victims and medical professionals who are caring for patients infected by COVID-19. In an effort to support health centers and hospitals in the New York area, Afya Foundation is collecting donations of protection equipment for clinicians and doctors.
IsraAID
IsraAID sent a shipment of emergency medical supplies and protective gear to the Chinese Ministry of Health on the last flight from Tel Aviv to mainland China in partnership with the Israel-China Chamber of Commerce, INNONATION, and David Ashkenazi of ICCB Capital. In their 14 active missions worldwide, IsraAID is developing specific programming for each local community, including hygiene promotion and health education programs.