Greg Milne and Luke Schiel on the Clinton Global Initiative's next chapter and the people and partners creating solutions to the world's most pressing challenges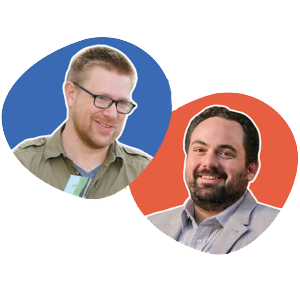 This post is part of our annual Impact Report, where you can hear directly from Clinton Foundation staff about the work they do, the programs they manage, and the partnerships they create — all in service of driving impact and helping others build better lives for themselves and their communities. 
We recently sat down with Gregory Milne, Chief Executive Officer of the Clinton Global Initiative (CGI), and Luke Schiel, Managing Director of CGI, to learn more about what inspires them for the much-anticipated September 2022 CGI meeting.
Greg and Luke are both inspired by the dynamic work of CGI's global partners and their innovative, timely, and deeply human approach to complex challenges like health equity, climate resilience, and inclusive economic growth. And, as they look to the future, they're looking forward to creating even more real life connections, new models, and approaches — and continuing CGI's pursuit of true equity and inclusion.
When you describe your work to your best friend, what do you say?
Luke Schiel (LS): CGI is really the convening arm of the Clinton Foundation, and we do two things: we host large-scale meetings that bring together folks from all different backgrounds, and then we help those people find partners and make Commitments to Action. Right now, we are organizing our work in three areas: health equity, climate resilience, and inclusive economic recovery and growth. We're building communities within and across these pillars and we're working with our partners as they develop specific, measurable, new projects that address those challenges.
Greg Milne (GM): I would say we figure out how to get things done and that means working with our partners across sectors and geographies in order to make a tangible impact in areas that can sometimes prove difficult, whether it be climate change or the COVID pandemic or the refugee crisis that we see around the world, most recently right now in Ukraine. And we figure out how we can really collaborate with extraordinary people in our network who are oftentimes on the front lines of these challenges to move the needle in a positive way.
LS: I couldn't agree more. At the end of the day, we figure out how to get things done.
Who inspired you most in the past year, what did they do or say, and how will you recreate that for the year ahead?
LS: I really would say our colleagues and the CGI team. We, like all programs, have really had to innovate over the past year and think creatively and strategically about how to elevate our partners and drive impact. Everyone who's worked on the CGI team has shown up every day thinking, "How do we help our partners?" and "How do we center our partners at the forefront of our work?" I find that really inspiring and I think going into a new year where COVID will be different — not over — that creativity and laser focus on putting our partners first is always what inspires me.
GM: The person who has inspired me since I started at the Clinton Foundation is Dr. Paul Farmer, and his sad passing has been devastating for myself, the CGI community, and anyone who had the opportunity to work with and learn from him. But his work — his approaches to partnerships, his ability to cut through the noise and get to the core of issues and challenges — is what CGI is all about and is unbelievably inspiring to me. And, now more than ever, I think myself and many others feel an increased responsibility to carry forward those tremendous efforts, and we'll never forget the mentorship and the learnings from Paul.
If you could assemble your Avengers-style dream team of social changemakers, who would you choose and why?
LS: I think if 2021 taught us anything, it's that you don't need to be a huge name or have star power to make a difference. This past year I've been inspired by people who show up, day in and day out, in the places and at the institutions that matter the most. I'm thinking of young people who have marched around the world for climate action, poll workers and election officials who fairly certify elections, activists who capture injustices on their smartphones and share them with the world, teachers who are navigating hybrid learning for their students, and trusted community leaders who are building vaccine confidence at a local level. These are the people who get things done — and embody the spirit of CGI.
GM: I would certainly echo Luke, and I think some of our other response partners, whether it be José Andrés and Nate Mook at World Central Kitchen; Sean Penn, Ann Lee, and the team at the response network Community Organized Relief Efforts (CORE) — they are just incredible, showing up and understanding how to get things done under very difficult situations and dire circumstances. I think our response partners, including Direct Relief, Americares, International Medical Corps, and the Afya Foundation are all tremendous.
What does it look like when the world achieves full equity and inclusion?
LS: Candidly, I struggle with that because I wonder, is there a world where we ever do? Instead, equity and inclusion might not be an endpoint but a process and one that we are all working on. And at CGI we hope that we are able to at least support our partners as they better achieve that and better go down that journey.
GM: I do think it's undoubtedly a journey. I would love to see a day when every community and every country is able to feed themselves and doesn't have to import food. I would love to see a day where there are proper medical facilities in every community, in every country, and people have access to the care that they need. But it is, sadly, in many ways truly hard to imagine what that looks like and even how we get there, given the global challenges we're facing right now. So, I think that it is important just to
say that we're fortunate to work with some extraordinary individuals and organizations and businesses that are putting forth important models, and we must continue to identify, elevate, and replicate those so that we do get further down the path, even if we never get to the endpoint.
LS: That's why CGI's Commitment to Action model and President Clinton's belief that everyone can and should do more are so important. We might not be able to get there fully, but if we can all do something — big or small — that can get us closer to that goal, we have the responsibility to try.
If you could see into the future, what would you want to see?
GM: I would like to see the global community come together in a much better, more meaningful way. I would really like to see more unity and an ability for people to put aside some of their differences to come together and tackle the existential threats the world faces.
LS: Similar take. That question makes me think of what President Clinton says that talent is distributed equally around the world, but opportunity is not. And I would like to see a world where the best ideas, the best solutions, the best leaders rise to the top — no matter what zip code, city, state, and country they're from.
If you're just starting out in your career, what would you want to hear from other professionals?
LS: I think I'd want them to actually listen to us. I'd specifically like to have them give us trust, responsibility, capital for our ideas, and truly allow the next generation to take a leadership role. I think Generation Z and student leaders we're seeing through CGI University are incredibly inspiring.
GM: I'd want to see them willing to commit as true partners and collaborators. And in other circumstances, a willingness to get the heck out of the way.
What are you looking forward to in the year ahead from your work and/ or in your field?
LS: I think there's something so powerful about CGI. When you put the smartest minds, most creative problem-solvers, and frontline leaders in a room together, magic really happens. And I think that hopefully, we're in a world in which we can start creating more of those opportunities, seeing each other more, and being together solving problems once again.
GM: I am looking forward to bringing everyone back together in New York in September and having that opportunity to cultivate new partnerships, dialogue, and engagement. I'm also really looking forward to hearing and understanding new ideas, approaches, and models that are working. That's something that I think is constantly exciting and inspiring to us — being able to talk to people, meet people, and just see the work that they're doing.
What would you change or expand about your program if money were no object?
LS: I would have teams to tackle every pressing issue, to meet with even more community members, to bring even more nonprofits into the fold, to expand our model, reach even more folks, and ultimately drive more impact on the ground.
GM: One hundred percent agree.