Feb. 24 marks one year since the Russian invasion of Ukraine. Members of the CGI community are continuing their efforts to support civilians both in Ukraine and in neighboring countries.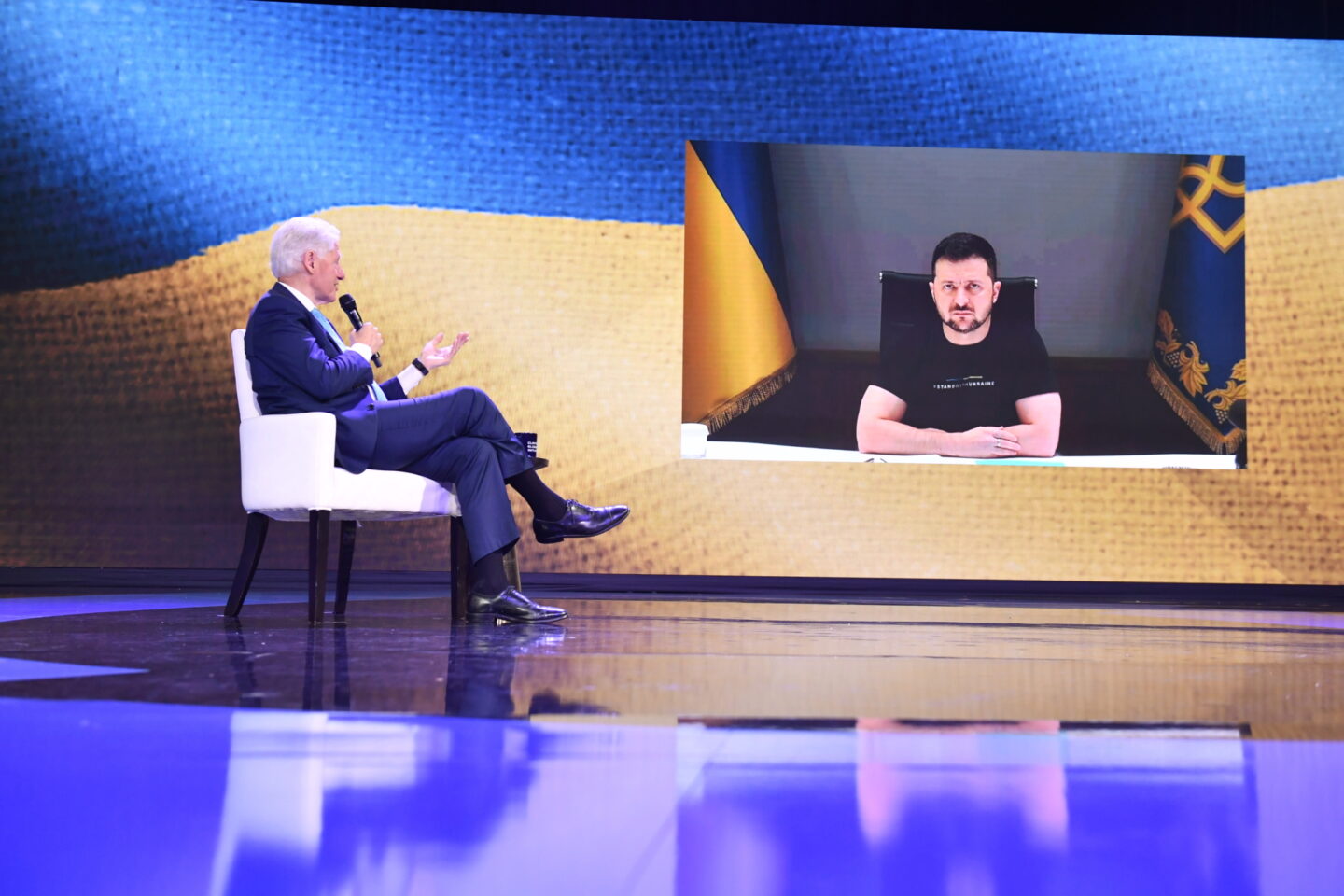 One year ago, Russia launched their invasion of Ukraine. This unwarranted conflict has caused immense destruction, suffering, and death to the people of Ukraine, and continues to be a threat to democracy worldwide. The invasion has also displaced millions of people and created a refugee crisis that persists to this day. There are an estimated 5.9 million internally displaced people in Ukraine, and nearly 8 million refugees from Ukraine have been recorded in neighboring countries and across Europe.
At the Clinton Global Initiative (CGI) 2022 Meeting, President Zelenskyy and President Clinton held a one-on-one conversation where President Zelenskyy called on members of the CGI community to make Commitments to Action to support humanitarian efforts in the region. Watch the conversation, and read the full transcript of the conversation here. The CGI community responded with nine new Commitments to Action addressing the refugee and humanitarian crisis in Ukraine and Europe.
This week, the organizations who made those initial Commitments to Action at CGI 2022 shared updates on their ongoing work – including several that have already been providing on-the-ground support in the region. Learn more about the status of these projects, and how you can help them meet their goals.
Airlifting critical aid supplies to the front lines
At CGI 2022, Airlink committed to expanding their response to the war in Ukraine by supporting at least 40 NGOs through the transportation of expert responders and critical aid supplies. Through its relationships with the aviation community and its in-house supply chain expertise, Airlink has launched a response to help NGOs overcome supply chain challenges related to delivering fast and effective aid to those in need. Through this commitment, Airlink pledged to significantly expand this response by sending a total of 1,000 responders and 1,000 tons of aid to Ukraine and neighboring countries by the end of 2023, serving an estimated five million people.
Airlink flew its thousandth ton of supplies in late November 2022, reaching the goal a full year earlier than expected. Airlink has continued to send supplies for nonprofit organizations around the world in response to the crisis in Ukraine, having supported flights for nearly 1,300 tons of aid since March 2022. As of February 2023, Airlink has provided 696 flights for responders traveling to Ukraine, Moldova, Slovakia, Romania, and Poland.
Learn more about Airlink's work here.
Making Lifesaving Information Available to Ukrainians
At CGI 2022, Ariadne Labs, in partnership with UNHCR, YouTube, International Medical Corps and Harvard Humanitarian Initiative, committed to producing 45 videos on medical and public health topics that are relevant to conflict situations, mass casualty medical situations and environments supporting refugees and displaced people. With its partners – UNHCR, International Medical Corps and Harvard Humanitarian Initiative – Ariadne Labs pledged to create new 45 new videos that will be distributed and amplified via their global networks and narrated in local languages, in order to maximize effectiveness.
Since March 2022, these partners have produced 36 videos on various emergency care topics that have over two million views in over 500 cities in Ukraine.
Learn more about Ariadne Labs' work here.
Making Crisis Response More Disability-Inclusive
At CGI 2022, Keystone Human Services committed to coordinating a national disability-inclusive relief and response effort to support the immediate and long-term of Ukrainian refugees in Moldova. To ensure an inclusive ongoing response, Keystone Moldova will carry out an interconnected strategy including mapping of at-risk persons and critical needs, operation of a hotline service for persons with disabilities, provision of responsive direct services such as social canteen and laundry, and capacity building in inclusive response for civil society and local authorities. As a result of this commitment, more than 11,000 refugees and members of local host communities will be positively impacted over the next two years.
Since September, Keystone Human Services has served nearly 6,500 individuals through this commitment, including over 1,300 people with disabilities. The Hotline Service has aided over 1,500 people calling to request services and support. In addition, eight mobile units have been established to cover the basic household and medical needs of Ukrainian refugees across the country, including support with nutrition and hygiene items, educational materials for children, medical assistance, and more.
Learn more about Keystone Human Services' work here.
Rehabilitation of Victims of the War in Ukraine
At CGI 2022, Superhumans Ukraine, Inc. committed to launching the Superhumans Center, a rehabilitation center for those injured as a result of the Russian invasion of Ukraine. Thousands of Ukrainian civilians and military personnel alike are expected to become disabled for life due to the war, and post-traumatic stress disorder (PTSD) is expected to become a major challenge for the country in the coming months and years. To address this reality, Superhumans Ukraine, in coordination with the government of Ukraine, pledged in September to refurbish and equip the Veterans' Hospital in Lviv to be a state-of-the-art facility providing prosthesis, facial reconstruction surgery, and PTSD support to victims of the war, serving more than 100 people in its first year of operation. The Center will also provide capacity building to over 6,000 Ukrainian physicians, paramedics, and surgeons, strengthening the ability of Ukraine's health system to serve individuals impacted by the war.
As of February 2023, the renovation of Superhumans' building in Lviv is in progress, and ahead of schedule. The goal is to expand the Superhumans model into numerous regions of Ukraine over time and give thousands of people access to technology and medical expertise to support them in leading active and happy lives. Superhumans' educational center started working to training prosthetics engineers with Open Bionics technicians, and prosthetists plus rehabilitation specialists with Ottobock, Germany.
Learn more about Superhumans Ukraine's work here.
Healing Ukraine's Nationwide Trauma
At CGI 2022, the Center for Mind-Body Medicine (CMBM) committed to deploying their evidence-based model for trauma healing and resilience to address the impacts of the war in Ukraine. CMBM and their partners committed to train an initial group of more than 1,000 Ukrainian community leaders in CMBM's comprehensive program of self-care, group support, and community building.
CMBM has begun to scale up these trainings in the region, with faculty beginning to provide online workshops in trauma healing for Ukrainian children and adults, refugees, and those supporting them. This includes two 2-day emergency seminars which provided participants with instruction to enable them to teach practical, easy-to-learn healing skills to traumatized children and adults.
Learn more about CMBM's work here.
Improving the Standard of Temporary Housing for Internally Displaced Persons
At CGI 2022, architecture and interior design studio balbek bureau committed to improving the standard of temporary housing for displaced individuals. The organization aims to introduce upgraded temporary housing standards through their RE:Ukraine design solution. This commitment aims to provide convenient and inclusive accommodation for as many internally displaced persons (IDPs) as possible, helping them to recover after being uprooted from their homes. Developed for Ukrainians affected the war, the project can be scaled and adapted to the needs of other individuals displaced by any calamities. To pursue their goal, balbek bureau is working on a pilot project for IDPs.
Work continues to launch this pilot project. In January 2023, their charity fund signed an agreement with the Bucha City Council, allowing them to begin assembling the residential sections on the land plots. Project managers are in talks with potential suppliers and contractors interested in providing their products (building materials and equipment, household appliances, etc.) and services for free. They expect to finish the construction by mid-summer 2023, at which point, they will move on to the next stage of our commitment: analyzing the residents' feedback to optimize the project and scale it globally, helping to deal with global challenges, including natural disaster displacement.
Learn more about balbek bureau's work here.
Mending Europe: Empowering the Establishment of Regeneration Network
At CGI 2022, MEBO International committed to expanding their work and launching a virtual online training program that will provide technical, medical, and financial support to the build-up of a regeneration network in Europe. This will equip local doctors and medical institutions with the ability and capacity to successfully fulfill Moist Exposure Burn Therapy (MEBT) training and provide aid during emergencies and disasters.
As of February 2023, MEBO International has collaborated with the International Society of Regenerative Medicine and Wound Repair and conducted two online training sessions on the Moist Exposed Burn Therapy (MEBT) for 141 healthcare professionals across Bulgaria and Ukraine. With the easing of international restrictions, MEBO is planning to offer onsite MEBT training sessions this year to create a more interactive and engaged training environment. In addition, MEBO is bringing in two additional partners to provide different training models for burn prevention (voluntary), which aims to create a new way for doctors to educate the patients so that patients could better protect themselves from burns and emergencies.
Learn more about MEBO International's work here.
Ukraine Refugee People's Pulse
At CGI 2022, Social Progress Imperative (SPI) committed to launching the Ukraine Refugee People's Pulse in Poland. The Ukraine Refugee People's Pulse aims to combine insights from the Social Progress Index on the capacity of refugee host communities with real-time feedback from refugees by utilizing a unique survey tool developed by Play Verto. The tool will map refugee needs to support and respond in a fast-changing environment, and will include immediate physical security needs, as well as psychological needs.
Since CGI, Social Progress Imperative and Play Verto led the design of the Ukraine Refugee Pulse, drawing on the extensive academic literature and practical guidance on understanding refugee needs. Deloitte sponsored this project and led on the distribution of the survey to Ukrainian refugees in Poland and on report dissemination. The initial report was distributed between October 21 – December 31, 2022, and captured over 1,200 responses of Ukrainian refugees living in Poland.
Learn more about Social Progress Imperative's work here.
CGI brings together leaders from across the public, private, and philanthropic sectors to take action on the most pressing global challenges, including climate change, health equity, inclusive economic growth, the global refugee crisis, and threats to the rights and prosperity of girls and women. The CGI 2022 Meeting resulted in 144 new Commitments to Action, with more than 3,800 Commitments to Action launched through CGI since its inception in 2005, making a difference in the lives of more than 435 million people in over 180 countries.
CGI 2023 will convene again at the Hilton Midtown Manhattan, September 18-20, 2023. For more information in the coming months, please visit www.clintonglobal.org.