Support Our Work
Give today to support our work to make a difference in people's lives across the United States and around the world.
Your tax-deductible gift makes our work possible, and every gift matters. We invite you to scroll down to learn more about the Foundation's priorities and giving opportunities, and then choose the giving program that's best for you.

When you donate, you'll be helping to fund programs that are putting people first through their focus on expanding economic opportunity; confronting the climate crisis; improving public health; and inspiring citizen engagement and service.

BECOME A RECURRING DONOR
Recurring giving is a simple and meaningful way to support the ongoing work of the Clinton Foundation — on your timeline and budget. You can join The Bridge donor community with a contribution of as little as $5 per month.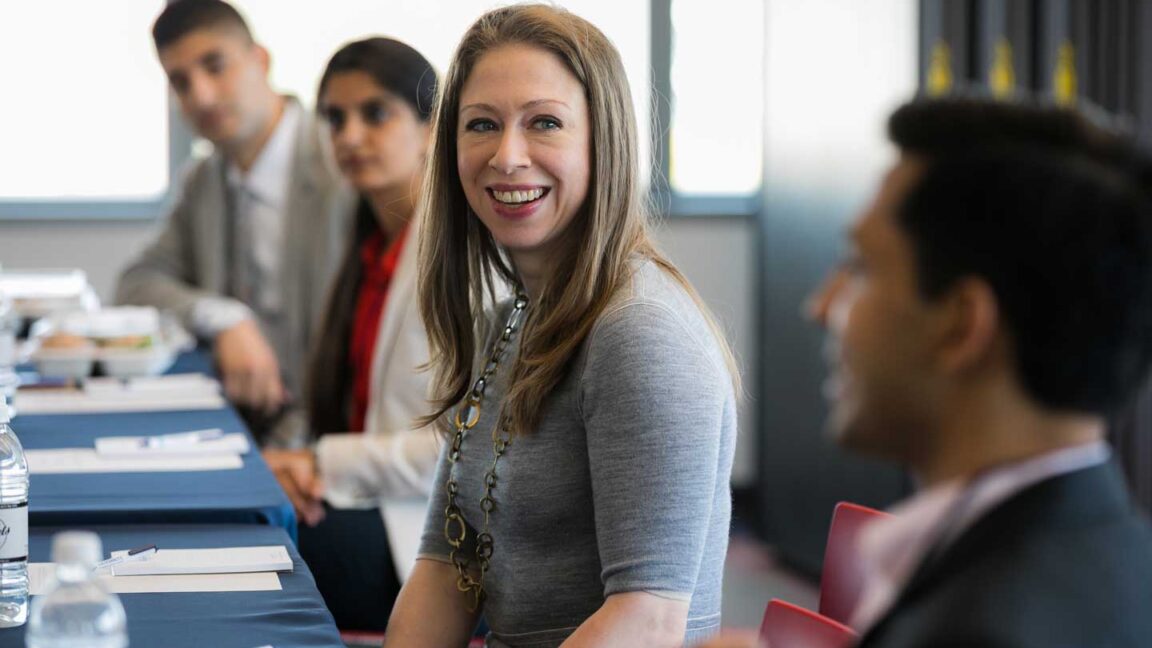 BE A CLINTON FOUNDATION AMBASSADOR
We're tackling some of the world's biggest challenges. We invite you to join us in this effort by becoming part of our premier annual giving network, the Clinton Foundation Ambassadors.
Ambassador donors provide critical and sustaining annual resources and partner with us to help solve problems, expand opportunities, help those in need, and inspire the next generation of leaders.

CREATE YOUR LEGACY
Some donors choose to include the Clinton Foundation in their charitable giving plans through their estate. By making a planned gift, you will be recognized as a member of the Clinton Foundation Legacy Council. Your gift will help sustain the Foundation and Clinton Presidential Center for generations to come.
To designate the Clinton Foundation as a beneficiary of your estate through your will, qualified retirement account, life insurance policy, or other assets, please use the following:
Designation: Bill, Hillary and Chelsea Clinton Foundation
Federal Tax ID: 31-1580204

HONOR A LOVED ONE
Make a tribute gift to the Clinton Foundation in honor of (or in memory of) a family member, friend, colleague, or for a special event like a birthday, wedding, graduation, or retirement. Send an e-card or we will send your honoree (or designated family member) a personalized card informing them of your special gift in their name.

JOIN A SPECIAL EVENT
Each year, the Clinton Foundation hosts events in New York, Little Rock, and elsewhere that showcase the Foundation's programs and provide opportunities for our community of friends and donors to gather and support this life-changing work.
If you would like to learn more about upcoming events, including underwriting and corporate sponsorship opportunities, please contact our Development Events team by calling 646-778-5179 or email us →.
For Companies & Foundations
Whether funding a Foundation program which supports their core business or an issue that the company and its employees find meaningful, we work closely with our institutional partners to explore opportunities to advance our mutual, life-changing work.

Grants and Sponsorships
Grants and sponsorships can support the Foundation's general operations, the Clinton Presidential Center, a specific Foundation program or a special event.
To speak with someone on our team and learn more about our programs and available opportunities, please contact us at 646-778-5179 or email us.
We welcome your gift and want to make the process easy for you. We gladly accept your gift by mail, phone, wire or stock transfer.
DOUBLE YOUR GIFT
One of the easiest ways to increase the value of your gift to the Clinton Foundation is through your employer's (or your spouse's employer's) matching gift program. See if your employer offers a charitable match or check with your human resources department to learn about your company's matching gift program.
Give By Mail
1. Complete our donation form electronically and then print, or print the form and complete by hand.
2. Provide your credit card information on the form or make your check payable to: Bill, Hillary & Chelsea Clinton Foundation.
3. Please check to see if your employer or your spouse's employer matches your charitable contributions.
4. Mail the completed donation form* with your check or credit card information to:
Bill, Hillary & Chelsea Clinton Foundation
Attn: Gift Processing
1200 President Clinton Avenue
Little Rock, AR 72201
*If you are unable to download or print the form, please send your check to the address above along with a note that includes the following information so that we may properly receipt and acknowledge your gift:
Donor's Full Name
Donor's Home Address
Preferred Phone Number
Preferred Email Address
If you have additional questions, you may contact us by email or by calling 646-778-5179.
Give by Phone
If you would like to make a gift by credit card and prefer to call us with that information, please call 646-778-5179 (Monday – Friday 9 a.m. to 5 p.m. ET). If you reach voicemail, please leave a detailed message, and we will return your call promptly.
Give by Wire or Stock Transfer
If you would like to make your contribution to the Foundation through a wire transfer, please contact us by email or by calling 646-778-5179 so that we can provide you with wire and/or stock transfer instructions.
Frequently Asked Questions
Trusted by charity evaluators