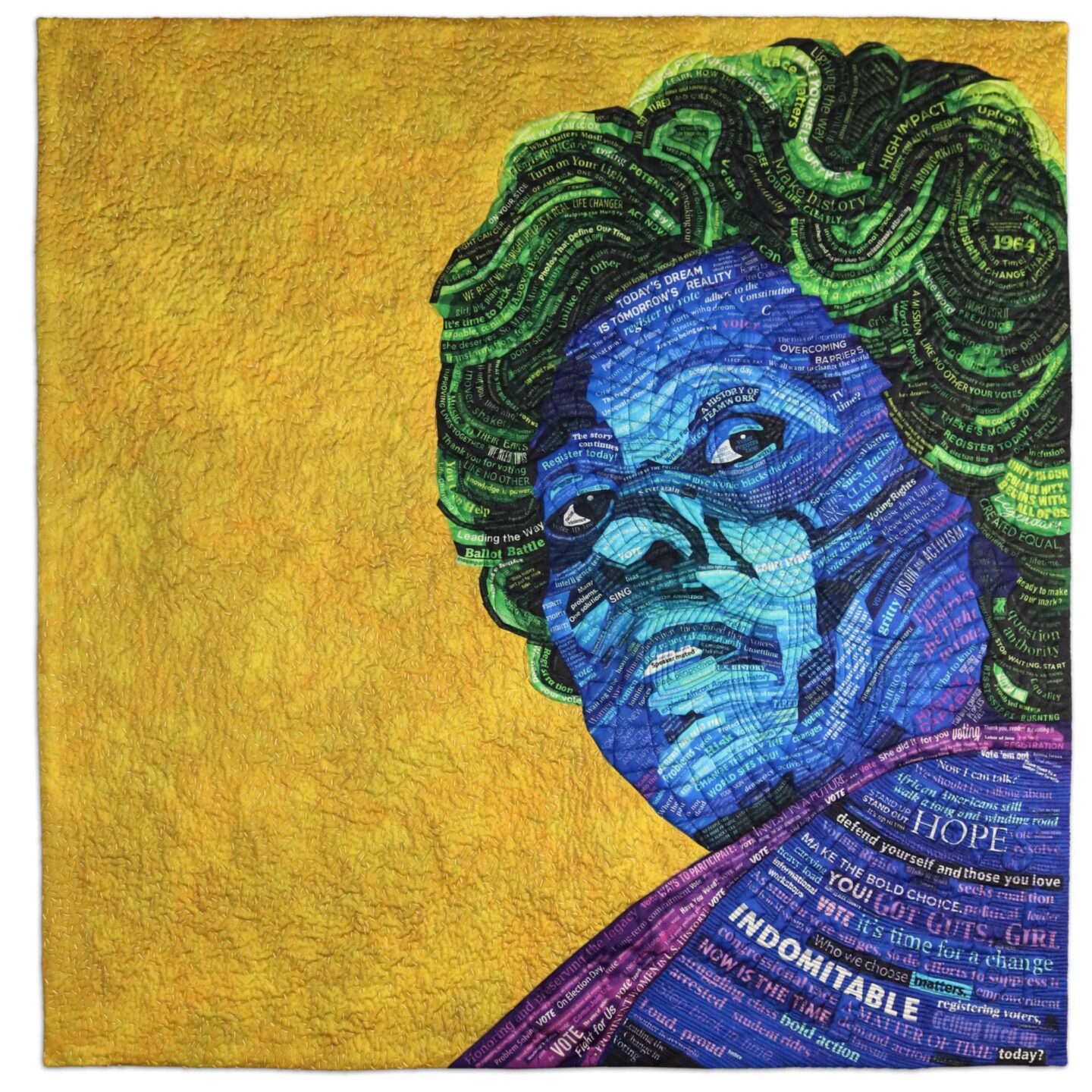 WOMEN'S VOICES SUMMIT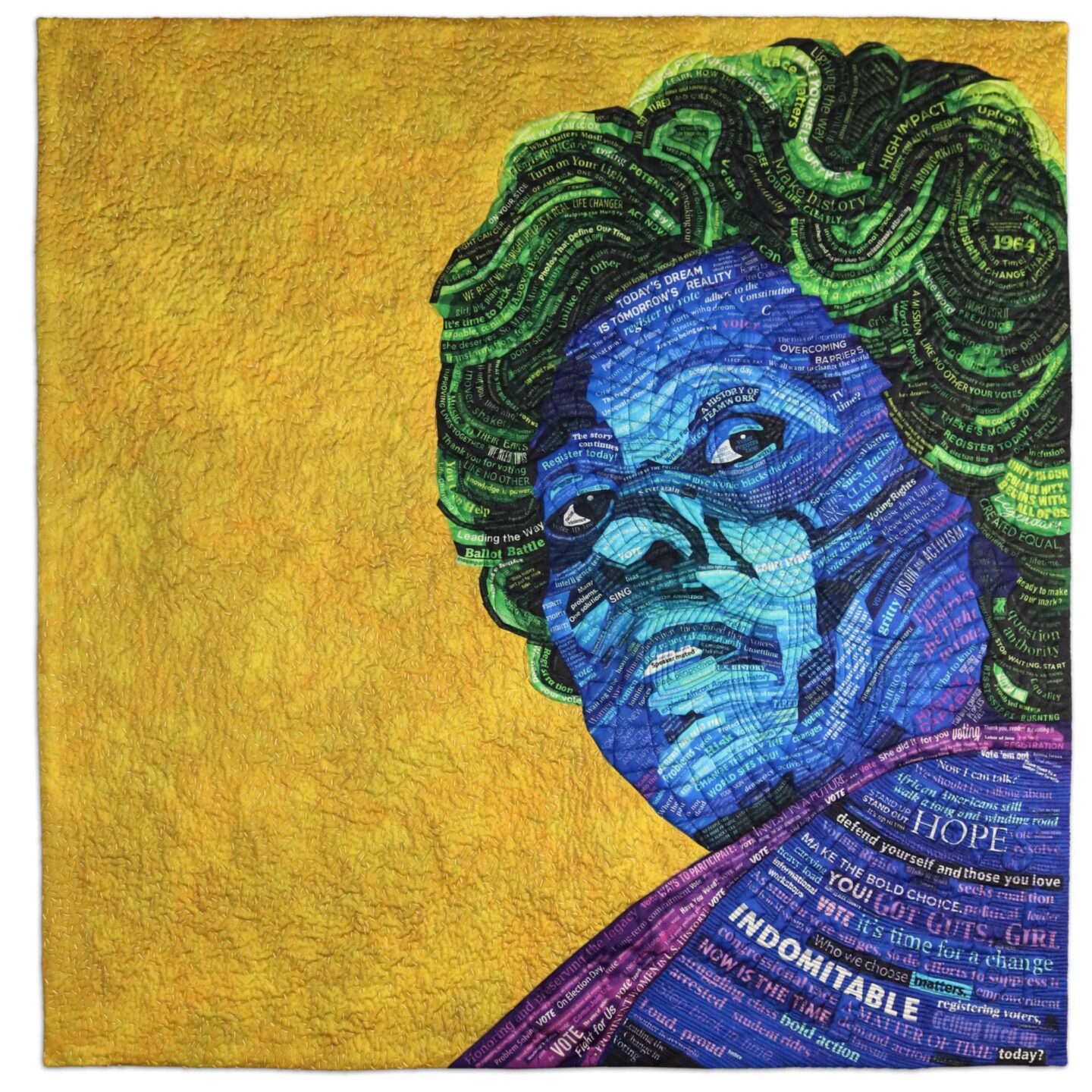 About
On December 2, Former Secretary of State Hillary Rodham Clinton and Clinton Foundation Vice Chair Chelsea Clinton will convene national and global leaders from across the public and private sectors for "Women's Voices, Women's Votes, Women's Rights," an international summit exploring the unfinished business of the 21st Century – women's equality. The Summit will be presented in conjunction with "Women's Voices, Women's Votes, Women's Rights," a vibrant, multimedia exhibition exploring the risks that individuals took, over the past two centuries, to win the vote, expand democracy, and elevate human rights.
Glassbreaker
Susie T. Buell
Trailblazer
Marsha Laufer | Persis Levy
Champion
Barbara Lee Family Foundation | Bank of America | Anu Menon and Akash Garg | Evalie Horner | Donna and Mack McLarty | Renee Ring | Walmart Foundation
Advocate
Joyce Aboussie | Ellen Chesler | Ann M. Drake | Pat Edington | Seema Hingorani | Jamie Amos and Patrick Kennedy | Maura O'Neill | Eric Johnson and Dr. Mark Parker | Carol Pensky | Sophia Yen
Agenda
Opening Discussion
Opening Remarks
SPEAKERS
STEPHANIE S. STREETT Executive Director
PAOLA RAMOS Correspondent, Vice and Contributor, Telemundo and MSNBC
SETTING THE STAGE: LESSONS FROM HISTORY
Writing women back into history not only challenges narratives of the past, it also teaches us how to confront today's barriers and shape tomorrow's future. Understanding the centuries of struggle for women's rights and learning about the stories of gutsy women, can give us strategies, inspiration, and a sense of urgency for fighting today and tomorrow's battles.
SPEAKERS
SECRETARY HILLARY RODHAM CLINTON Former U.S. Secretary of State
CHELSEA CLINTON, DPHIL, MPH Vice Chair, Clinton Foundation
DR. VICTORIA DEFRANCESCO SOTO Dean, Clinton School of Public Service at the University of Arkansas
Voting Rights
The Power of Young Women Voters
This past election, young voters registered in record numbers and showed up at the polls, especially those in battleground states. Young voters made it clear that they are a powerful voting bloc and that when issues they care about are on the ballot, they will vote. Gen Z and millennial voters are using the power of the vote to create a more inclusive, equitable, and just future.
SPEAKERS
JACLYN CORIN Co-Founder, March for Our Lives
RESHMA SAUJANI Founder, Girls Who Code
Women Defending the Vote
Women now vote more regularly than men. They lead local and national efforts to register voters, educate voters, and get voters to the polls. This past election showed that women see the vote as a way to protect their human rights. As more states continue to introduce and enact voting restrictions, women's efforts to protect and expand the fundamental right to vote is key to defending democracy.
SPEAKERS
FATIMA GOSS GRAVES President and CEO, National Women's Law Center
THE HONORABLE KIMBERLY TEEHEE Cherokee Nation's Delegate to the U.S. Congress
MARÍA TERESA KUMAR Founder, Voto Latino
DR. ANGIE MAXWELL Director of the Diane Blair Center of Southern Politics and Society at the University of Arkansas
Health care
OPENING REMARKS
SPEAKERS
CHELSEA CLINTON, DPHIL, MPH Vice Chair, Clinton Foundation
THE MATERNAL HEALTH CRISIS
More than 800 women die every day around the world from complications related to pregnancy or childbirth. The United States faces a maternal health crisis with the highest maternal mortality rate among high-resource countries, a rate that has been consistently increasing since 2000 and is disproportionately experienced by Black women. Despite these statistics, there is hope for progress thanks to the tireless work of advocates who are driving change for women's well-being.
This conversation will be preceded by a short preview of Giving Birth in America: Arkansas, a new film by Every Mother Counts.
SPEAKERS
CHRISTY TURLINGTON BURNS Founder and President, Every Mother Counts
DR. NIRVANA MANNING Chair and Associate Professor, Department of Obstetrics and Gynecology, University of Arkansas for Medical Sciences
WOMEN'S VOICES ON HEALTH
Women's voices on health are essential today in the United States and around the world. The COVID-19 pandemic exacerbated existing health issues for women around the world, including domestic violence and mental health, and rising rates of climate disasters continue to have a gendered effect, impacting women and girls the most. In June, the U.S. Supreme Court overturned nearly 50 years of precedent in its decision in Dobbs, denying women the constitutional right to an abortion and expanding states' ability to restrict abortion. However, as this past election showed, women will vote to protect abortion access. Women are leading the efforts to address these pressing health issues and create change for future generations.
SPEAKERS
ALEXIS MCGILL JOHNSON President and CEO, Planned Parenthood Federation of America and Planned Parenthood Action Fund
DR. JOY ST. JOHN Executive Director, Caribbean Public Health Agency
MK PRITZKER First Lady of Illinois
DR. JESSICA COKER Associate Professor, Psychiatry, University of Arkansas for Medical Sciences
CHELSEA CLINTON, DPHIL, MPH Vice Chair, Clinton Foundation
Women's Voices in the Economy
The seminal 2015 McKinsey Global Institute study found that advancing women's equality could add $12 trillion to the global economy by 2025. It is now nearly the end of 2022, and while there has been progress, the workplace remains severely unequal for women in the United States and around the world. The COVID-19 crisis highlighted these inequities. We know that an unequal economy creates a weak economy and that a strong economy needs full participation. Policymakers and the private sector can rebuild more equitably. They can choose to strengthen workplace protections for the most vulnerable, increase access to technology for the self-employed, elevate more women to leadership roles, and support women's entrepreneurship.
SPEAKERS
REEMA NANAVATY Self Employed Women's Association of India
MÓNICA RAMÍREZ Co-Founder and President, The Latinx House; Justice for Migrant Women
JENNIFER HYMAN Chief Executive Officer & Co-Founder, Rent the Runway
AMY TU President, International and Chief Administrative Officer, Tyson Foods
JENNIFER KLEIN Assistant to the President and Director of the White House Gender Policy Council
Global Issues
REMARKS
SPEAKERS
SECRETARY HILLARY RODHAM CLINTON Former U.S. Secretary of State
IRANIAN WOMEN AND GIRLS ASSERT THEIR RIGHTS
Following the death of 22-year-old Mahsa Amini in police custody, who was detained for failing to cover her hair, women and girls across Iran have led peaceful protests to assert their human rights only to be met with a brutal crackdown from Iranian security forces. Social media amplifies their voices, while press coverage focuses on the response their activism generates. A global coalition of women leaders are pressing to expel Iran from the United Nations Commission on the Status of Women and from the United Nations Human Rights Council to address Iranian women and girls' demands for autonomy.
SPEAKERS
ALYSE NELSON President and CEO, Vital Voices
GISSOU NIA Director, Strategic Litigation Project, Atlantic Council
WOMEN'S RIGHTS ARE HUMAN RIGHTS
The 1995 UN Fourth World Conference on Women in Beijing set a global agenda for advancing women's rights – rights to education, to civic and political freedom, and to a life without violence. Twenty-seven years later, women still face the heaviest burdens of conflict, democratic backsliding, and instability, but they remain on the frontlines of global movements for peace and human rights. Though vastly underrepresented in seats of power and at negotiating tables, women across the globe continue to work inside and outside the political system to achieve peace, democracy, and equality.
SPEAKERS
SHABANA BASIJ-RASIKH Founder, School of Leadership-Afghanistan
HELEN KEZIE-NWOHA Executive Director, Women's International Peace Centre
GAYLE TZEMACH LEMMON Author, Daughters of Kobani
MELANNE VERVEER Executive Director, Georgetown Institute for Women, Peace, and Security
WOMEN'S VOICES IN LEADERSHIP
Women's leadership in government is critical for achieving gender equality. However, according to UN Women, it will take another 130 years to reach gender equality in the highest positions of power. While there has been significant advancement in women's political participation over the years and women are running for office in record numbers, women are still underrepresented as heads of state, members of cabinets, or members of legislatures around the world. Yet when women are in leadership, positive change happens – from working across party lines to enacting policies that promote education and health to promoting stability. And when more women are represented at the highest levels of power, other women are inspired to run for office and follow their lead.
SPEAKERS
SECRETARY HILLARY RODHAM CLINTON Former U.S. Secretary of State
JULIA GILLARD Former Prime Minister, Australia
ELLEN JOHNSON SIRLEAF Former President, Liberia
As part of the "Women's Voices, Women's Votes, Women's Rights" exhibition, sixteen world-renowned fiber artists created a collection of 18 art quilts. These contemporary works of art together with historic artifacts, documents, and media give voice to those who risked all they had to secure the vote and advance human rights.
When and Where I Enter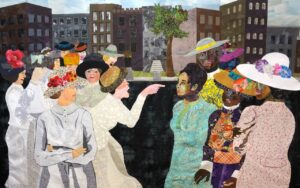 Artist:  Alice Beasley
As the suffrage battle stalled in 1879, the movement splintered.
The Fifteenth Amendment, adopted in 1870, had only extended voting rights to Black men. Racial tensions escalated. Many suffrage leaders argued that to win crucial Southern states, white women must be the focus. Others disagreed. Black women formed their own organizations. This intense and public debate ricocheted through the movement.
The poet, activist, and lecturer Frances Ellen Watkins Harper dared white suffrage leaders to look beyond their own interests. "You white women speak of rights," she proclaimed in 1866. "I speak of wrongs."
  Stand up, Speak Out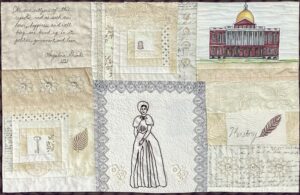 Artist:  Allison Wilbur
Women spoke up in opposition to slavery before they spoke up for themselves. They adapted the skills they learned from their abolition activism to their own struggle for equality. In 1836, two South Carolina sisters, Sarah and Angelina Grimké, shocked the nation—and risked their lives—when they dared address both.
Sarah Grimké challenged Southern women to oppose the mortal sin of slavery. Her 1836 pamphlet, "An Appeal to the Christian Women of the South," drew national attention, enraged the South, and forced her to seek safety in the North.
Ridicule did not silence the Grimkés. In 1838, Sarah released "Letters on the Equality of the Sexes" to address their critics. "All I ask of our brethren," she declared, "is that they will take their feet from off our necks and permit us to stand upright." This declaration so moved Ruth Bader Ginsburg that she often cited Grimké in legal arguments and public addresses.
Tomorrow is Now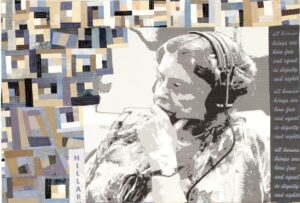 Artist: Gail Sims
As First Lady, Eleanor Roosevelt opposed poll taxes and championed voting rights. She faced harsh criticism, slander, and threats on her life. She stood her ground. In 1948, as chair of the United Nations Human Rights Commission, she insisted that voting rights were human rights—everywhere in the world.
The Highlander Folk School in Monteagle, Tennessee, offered workshops in grassroots organizing and nonviolent civil disobedience. Eleanor Roosevelt loved the school and, in 1958, visited Highlander to discuss voting rights strategy with women activists.
Dreams Realized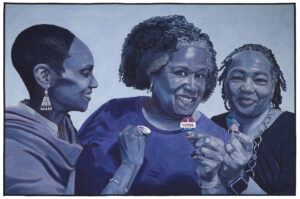 Artist: Hollis Chatelain
Women today vote in record numbers. They vote more often than men, more regularly than men, and, although women don't always vote for the same candidate, they are, most often, the deciding factor in local, state, and national elections. No candidate can afford to ignore their influence or their interests.
Threats to their safety, homes, and health impelled women to take to the streets. In Portland, Oregon, a T-shirt-clad "wall of moms" stood between police and demonstrators. Hong Kong women braved tear gas to stand for democracy. Millions worldwide marched to defend reproductive health. All insisted, "Women matter. Women vote."
Equality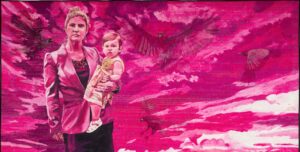 Artist: Hollis Chatelain
Each generation of women stands on the shoulders of those who preceded them, their human rights secured by their foremothers, who fought to vote, control their wages, end war, care for their families, lead their communities, and hold governments accountable. As the quilt declares, "Each time a woman stands up for herself, she stands up for all women."
In January 2017, marchers from 84 countries across seven continents stood in solidarity with millions of Americans, from 653 cities and 50 states, to declare their commitment to women's human rights.
Undaunted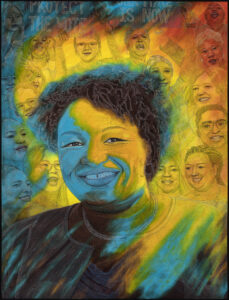 Artist: Hollis Chatelain
Across the nation, women organize to protect the right to vote. Whether as legislators, activists, poll watchers, or canvassers, they summon Americans to vote and demand each vote be counted. "Democracy only works when we work for it," they argue. "When we fight for it. When we demand it."
In 2020, more women voted than men. As the US Supreme Court redefined and Congress debated voting rights, thousands of women of all ages, races, religions, and political parties took bold action. They studied the law, joined voting rights organizations, and registered voters.
Women's Work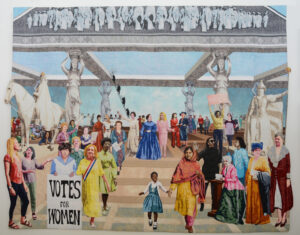 Artist: Lea McComas
Throughout history, women have worked to make their communities caring, vibrant, and inclusive. Some focused on the right to vote or the right to education, while others focused on combating disease, poverty, discrimination, and violence. They shared one overarching conviction—women are citizens, and their human rights must be respected.
"Women's Work" by Lea McComas is a reinterpretation of Raphael's "The School of Athens." While Raphael captured the spirit of the Renaissance with a portrayal of the brilliant male philosophers from across time, McComas captures the spirit of bold female activists from various eras, committed to equality, caucusing on the steps of the Supreme Court.
Women's Rights are Human Rights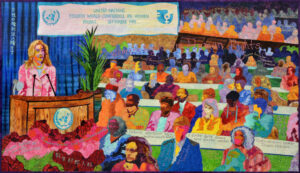 Artist: Luana Rubin
In 1995, women from around the globe gathered in Beijing, China, for the Fourth UN World Conference on Women to address the challenges women confronted. Hillary Rodham Clinton, rejecting press and congressional calls to boycott China and the conference, flew to Beijing to stand with the women. If there was one message the world should know, she declared, it should be that "human rights are women's rights and women's rights are human rights, once and for all." Her words galvanized the movement.
As secretary of state, Hillary Rodham Clinton made women, peace, and security a priority of US foreign policy. The only way to build a sustainable peace, to combat the culture of impunity for sexual violence, she insisted, "is to draw on the full contributions of both women and men in every aspect of peacemaking, peacekeeping, and peacebuilding."
  Shirley Chisholm for President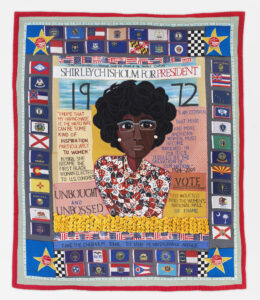 Artist: Michael Cummings
In 1969, Shirley Chisholm, an outspoken nursery school teacher from Brooklyn, surprised the establishment to become the first Black woman member of Congress. Governing as "the people's politician," she cosponsored the Equal Rights Amendment and helped found the Congressional Black Caucus and the Congressional Women's Caucus.
Shattering precedent, Shirley Chisholm ran for president in 1972. "I am the candidate of the people of America," she told the convention. "And my presence before you now symbolizes a new era in American political history."
  Bolts of Thunder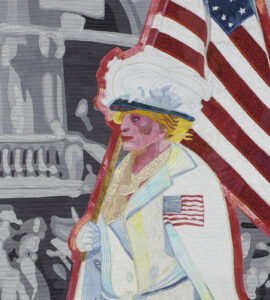 Artist: Nancy Turbitt
Carrie Chapman Catt managed a divided movement. By August 1920, after 72 years, American women's right to vote depended on ratification by the Tennessee legislature. Camped out in Nashville, Catt directed this last—and pivotal—campaign. Once again, suffragists targeted state and local leaders, lobbied the president, and pressed state legislators. They won—the Nineteenth Amendment became law.
Tennessee "antis" ran a fierce campaign to block women's right to vote. They held large rallies, button-holed legislators, and spoke from pulpits to "defend" Southern women. They lost the argument. The Tennessee legislature rejected their pleas. The women's suffrage amendment passed—by one vote.
Shoulder to Shoulder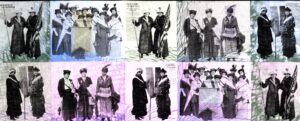 Artist: Patricia Kennedy-Zafred
Suffragists staged dramatic public events to promote women's right to vote. They held torchlight parades, delivered speeches atop soapboxes, led petition campaigns, and crammed into politicians' offices to press their case. They staged pageants and, in 1913, organized the first national march on Washington. Opponents physically harassed them and questioned their womanhood.
Thousands of suffragists from every state, all clad in white, led by Inez Milholland Boissevain astride a white horse, paraded down Pennsylvania Avenue on March 3, 1913. Thousands of hecklers encircled them, but the women persisted.
Mrs. Hamer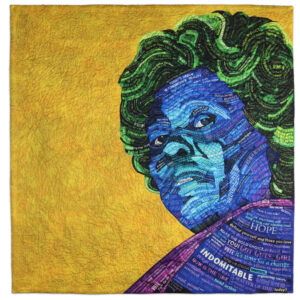 Artist: The Pixeladies, Deb Cashatt and Kris Sazaki
Fannie Lou Hamer insisted, "It's time for America to get right." Voting was the key. She tried to register in 1962, was fined by the government and fired by her employer for her efforts; tried again in 1963, only to be beaten after passing the literacy test; and ran for Congress in 1964. Undaunted, she declared in 1971, "Nobody's free until everybody's free."
Fannie Lou Hamer founded the Mississippi Freedom Democratic Party. In 1964, she challenged the Democratic Party's Platform Committee to fully integrate delegations to its national convention. She rejected its offer to seat just two members.
Right is No Sex, Truth Is of No Color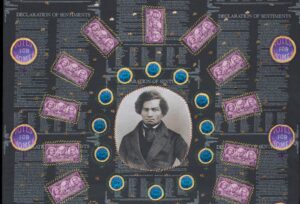 Artist: Sandra Sider
In 1848, crowds packed a chapel in Seneca Falls, New York, for the first women's rights convention. Elizabeth Cady Stanton had drafted the Declaration of Sentiments—the convention's call to action. She included a call for the vote in the declaration, proclaiming it the "first right of citizenship." That was so radical, her husband left town and the audience got nervous. Then Frederick Douglass rose. He explained the power of the vote—and the words stayed in. Their relationship would withstand the racial divide that split the movement.
The declaration's insistence upon women's equality—especially her right to vote—threatened the ideal image of American women. Its opponents, anti-suffragists, insisted that granting women the rights men held would destroy a woman's character and her family.
The Future is Female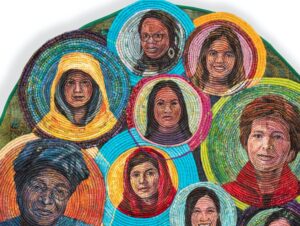 Artist: Shin-hee Chin
The combined power of women's votes and women's voices continues to change the world. The women represented here have been elected heads of state, human rights commissioners, and Nobel laureates. Their foundations, nongovernmental organizations, and grassroots activism tackle issues most ignore. Their policies promote human rights. Their voices give courage, hope, and vision to an uneasy world.
Malala Yousafzai cherished school. Zealots opposed to girls' education boarded her school bus and shot 15-year-old Malala in the head. Undeterred, after recovery she launched a foundation, was awarded the Nobel Peace Prize, and, in 2020, graduated from Oxford University, with a philosophy, politics, and economics degree.
The Radicals: A SJSA Community Quilt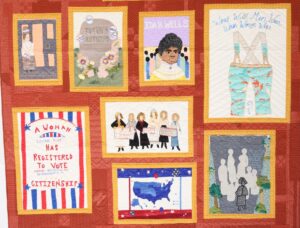 Artist: Sara Trail and the Social Justice Sewing Academy
Courage and risk transcend generations and inspire action in new arenas. The young activists of the Social Justice Sewing Academy (SJSA) who made this quilt created dozens of quilt blocks for this exhibition—all of which vividly illustrate their determination to continue the struggle for equality and their belief in the power of their votes and their voices.
Hillary 2016 Herstory 8 of Potholders in the Kitchen Tarot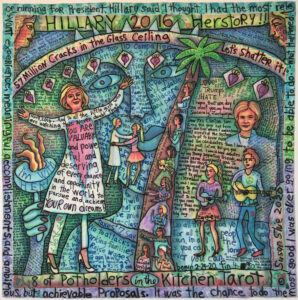 Artist: Susan Shie
Hillary Rodham Clinton's 2016 presidential campaign tapped into the hopes of women and girls worldwide. They believed that a woman who had spent her life fighting for women, children, the poor, and minority rights could lead the nation. Her loss shattered my 12-year-old granddaughter, who wrote Secretary Clinton the letter I captured in my quilt. Throughout Hillary Rodham Clinton's precedent-shattering 2016 campaign, she told America we are "Stronger Together" and that it was time "to shatter the highest, hardest glass ceiling." In her concession speech, she challenged the nation to "never stop believing that fighting for what's right is worth it. It is worth it."
La Lucha de Dolores / Dolores's Fight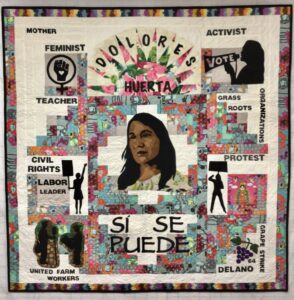 Artist: Sylvia Hernandez
Dolores Huerta challenged corporate farmers, state governments, and the American labor movement to address the rampant discrimination, violence, and poverty farmworkers confronted. Since 1955, she has organized strikes and grape boycotts, negotiated contracts, written legislation setting wages and work safety rules, and run voter registration drives. When people doubted change was possible, she insisted "¡Sí, se puede!" (Yes, it can be done!)
Dolores Huerta, now in her 90s, remains a force for human rights. Her foundation trains young organizers. In 2020, while protesting congressional inaction on climate change, she was arrested for the 23rd time.
Because of Them We Can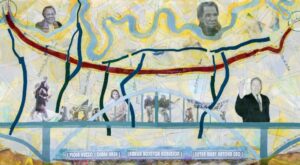 Artist: Valerie Goodwin
The Black women of Selma, Alabama, hazarded all they had to vote. Beaten as they tried to register, arrested, and fired, they continued, afraid but determined. They endured tear gas, cattle prods, and club-swinging mounted police on the Edmund Pettus Bridge. But they marched from Selma to Montgomery. Their courage resulted in the Voting Rights Act of 1965.
Outraged by the violence marchers encountered in Selma in the spring of 1965, Viola Liuzzo, a mother of five, drove from Detroit, Michigan, to help. A sniper murdered her as she drove a Black male volunteer to Montgomery.
We asked #WomensVoices speakers to share one thing anyone can do to support women's equality worldwide. Below are their responses. Together, they make a playbook for action.
Dean Victoria DeFrancesco Soto
Support educational institutions such as the Clinton School of Public Service in developing critical toolkits for future public service and change-making leaders.
Jaclyn Corin
Sign the March For Our Lives petition for the U.S. Senate to conduct a vote on banning assault weapons before the end of this Congress.
Reshma Saujani
Join Marshall Plan for Moms in its fight for paid family leave, affordable child care, pay equity, and maternal care.
The Honorable Kimberly Teehee
Learn about the movement to seat the Cherokee Nation Delegate to Congress. 
María Teresa Kumar
Get involved with Voto Latino to help empower a new generation of Latinx voters. Research Run for Something if you're considering running for office. Consider taking a leadership role in a grassroots group in your community.
Fatima Goss Graves
Get involved with the National Women's Law Center to advocate for workplace justice, education equity, reproductive freedom, and other issues facing women and girls.
Dr. Angie Maxwell
Make sure that your voice is counted in every primary, general, and special election. Make a recurring appointment in your calendar every January where you check your voter registration, transfer your voter registration to your new place of residence, or register anew in your city if you've moved. 
Christy Turlington Burns
Watch the Giving Birth in America film series to help advocate for high-quality maternal health care and birth equity in the U.S. and around the world. 
Dr. Nirvana Manning
Engage with individuals, organizations, and leaders in your community to act on improving women's reproductive health care.
Alexis McGill Johnson
Support the movement. Donate to abortion funds, independent clinics, local Planned Parenthoods, and support people who need abortions.
Dr. Joy St. John
Help lift the voices of girls and women in your community to realize a world of equity, inclusion, unity, and action. Create an environment where we are all healthy and free from the effects of climate change.
Dr. Jessica Coker
Get involved in your state's Maternal Mortality Review Committee (MMRC) if applicable or encourage the development of a committee if one does not exist. These reports, often legislative, help identify resources and ways to end the maternal mortality public health crisis.
MK Pritzker
Use your voice, your experience, and your leadership to make sure that no law is passed, no policy is discussed, and no priority is determined without your voice being heard.
Reema Nanavaty
Help establish a women's livelihood and climate resilience fund in your community to build an economy of nurturance.
Mónica Ramírez
Join this year's National Latina Equal Pay Day of Action on December 8th and help lift up Latina families and their communities.
Jennifer Hyman
Support initiatives that invest in female founders and women-founded businesses, such as All Raise, to help build a more prosperous, equitable future. 
Amy Tu
Emphasize the importance of working together to create a more equal world. This will take leadership, engagement, and purposeful action from courageous women, and men, to elevate the conversation and drive toward solutions. In order to make a difference, we must learn from those before us and advocate for those after us. Stand up. Speak up. And show up. Make your voice heard.
Alyse Nelson
Sign the open letter calling for the removal of the Islamic Republic of Iran from the UN Commission on the Status of Women. Spread the news about the issue and open letter using #IRIoffCSW.
Gissou Nia
Sign the open letter calling for the removal of the Islamic Republic of Iran from the UN Commission on the Status of Women. Spread the news about the issue and open letter using #IRIoffCSW.
Shabana Basij-Rasikh
Contact your representatives in Congress and urge them to speak out about injustices imposed on women and girls by the Taliban.
Helen Kezie-Nwoha
Advocate for women to be centered in peacebuilding. Help transform current practices within institutions. Provide support and protection for women peacebuilders.
Gayle Tzemach Lemmon
Watch the discussions on gender from COP27 and include women in the climate conversation. Push for an end to child marriage in the United States. Make certain that those deploying capital in the private and public sectors include women, invest in women, and are women. 
Melanne Verveer
Contact your representatives in Congress and urge them to provide life-saving assistance to the people of Ukraine in the face of Russia's brutal war.
The Honorable Julia Gillard
Invest in research and creating the new knowledge we need to ensure every initiative on gender equality is evidence-based and has the maximum impact.
Honorable Ellen Johnson Sirleaf
Urge all countries to adopt legal frameworks that promote women's access to leadership positions in all sectors, and implement policy actions that protect girls from violence.
The Ellen Johnson Sirleaf Presidential Center for Women and Development (EJS Center) exemplifies this by championing women's ascension to the highest levels of leadership, and by challenging systemic barriers to girls' and women's advancement. 
Jaclyn Corin:
Reshma Saujani:
The Honorable Kimberly Teehee:
Dr. Joy St. John:
Dr. Jessica Coker:
MK Pritzker:
Reema Nanavaty:
Mónica Ramírez:
Shabana Basij-Rasikh:
Helen Kezie-Nwoha:
Gayle Tzemach Lemmon:
Melanne Verveer:
The Honorable Julia Gillard:
Fatima Goss Graves: